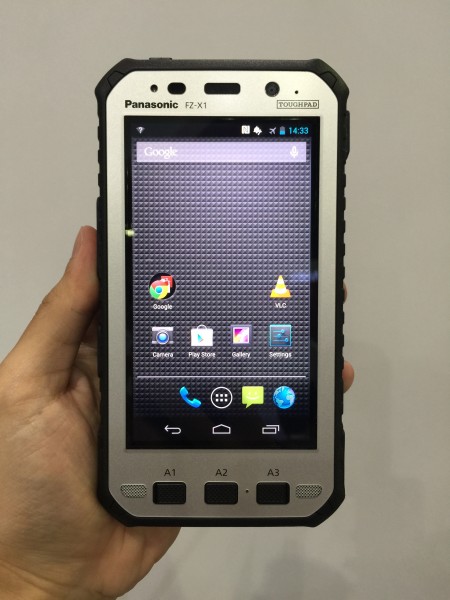 Panasonic still sells more Toughbooks than Toughpads, but that is set to change as more enterprises embrace mobility in factories and warehouses.
Soh Pheng Kiat, general manager of Panasonic's Toughbook solutions team in Asia Pacific, believes ruggedised handhelds will eventually account for a majority of the company's sales in the ruggedised device segment – at least in the Asean region.
That may be the motivation behind the introduction of the Toughpad FZ-X1, which Panasonic showed off in a product demo at CommunicAsia 2015 this week.
At first glance, the device looks like a very rugged smartphone. Its borders are thick and reinforced to meet the rigorous military MIL-STD 810G standards.
That means it can sustain a drop from a height of three metres and operate at temperatures between -20 and 60 degrees celsius, among other things.
The five-inch Toughpad is also no slouch in repelling water and dust. With its IP68 rating – the highest rating achieved by a smartphone product – the device should still work while being submerged in 1.5-metre-deep water for 30 minutes, according to Panasonic.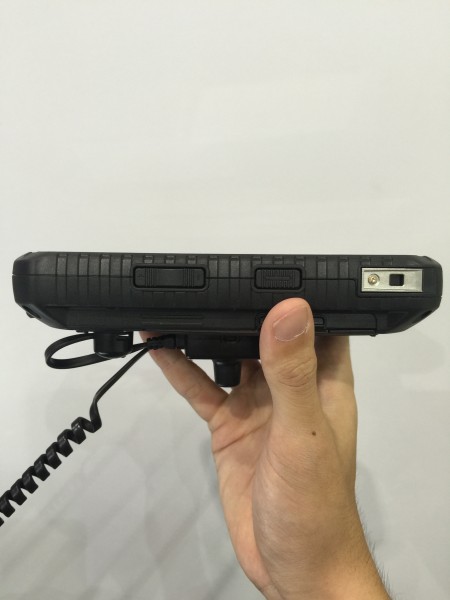 Its 1,280 x 720 display, which Panasonic claims to be enterprise-grade, is anti-reflective and offers great daytime legibility. I brought the phone outdoors and was not disappointed with its high brightness and low reflectiveness.
It is also designed to work with heavy gloves and supports touch operation – even in pouring rain – with its Glove Mode and rain-sensing capabilities.
The microphone is equipped with active noise-cancellation capabilities to handle loud-noise environments. Its dual front speakers can reach a maximum volume of 100 decibels – as loud as the average home stereo system.
Indeed, those speakers are truly loud when I played a video on the device. In fact, they seem louder than what I've heard from HTC's BoomSound audio system, for lack of a better point of comparison.
For the first time, the Toughpad is also offering options for barcode and magnetic stripe readers, to suit the needs of enterprise customers in the logistics, warehousing and retail sectors.
Panasonic claims the 6,200mAh battery will last 14 hours – enough to get by an entire shift – and can be charged to 50 per cent capacity within an hour. You can also replace the battery with a freshly charged one without turning off the device.
The Toughpad is not built for strenuous processing. A Qualcomm APQ8064T 1.7GHz processor and 2GB of RAM gets the job done while navigating the interface, at least on the vanilla Android 4.2.2 OS that powers the device.
Panasonic has enhanced the Android OS with additional security features that comply with FIPS 140-2 Level 1 requirements for its government and enterprise customers.
Additional applications may be deployed with the support of Panasonic's system integration partners.
However, one cannot help but notice the slight jerkiness when playing a demo video encoded at 640 x 360 resolution. Perhaps the Toughpad has been optimised for enterprise applications rather than media consumption.
All in all, the Toughpad FZ-X1 is built like a tank and companies with a use case for such a device will not be disappointed by its durability and performance.
For consumers, the Toughpad is an overkill. While its 430 grams frame feels fine when held in the hand owing to its large, slip-resistant body, its heft prevents it from becoming a daily driver in place of a normal smartphone.
The Toughpad FZ-X1 will be available in Singapore starting June 3. Available in Windows 8 and Android 4.4 flavours, it can be purchased through authorised Panasonic resellers at US$1,699 for the 4G model and US$1,499 for the Wi-Fi-only version.