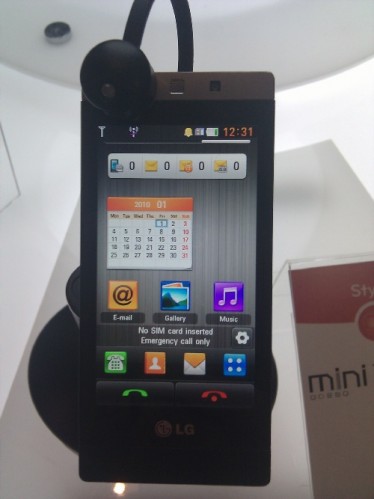 In a smartphone market crowded with gizmos of all shapes and functions, first impressions count. A lot.
Unfortunately, despite being called a "pocket rocket" by LG, the Korean electronics giant's newly launched Mini GD880 fashion phone did not get my hopes sky high at first glance.
Its main screen menus are a noticeably slow when you swipe your finger across the display to move them, especially when you compare the phone to an iPhone or Nexus One. And for many users, that is as good a test as any they will carry out at a store.
Okay, if you have the patience to try out other features, there are some nifty ones. One of them is the ability to control the phone from your desktop using Bluetooth or USB. In other words, you can see what your phone is seeing, including its camera, from your PC. A nice way of spying on your colleagues at work, without looking like you are looking at them, perhaps?
The GD880 also comes with the by-now-standard social networking features, such as Twitter and Facebook and does a pretty nice job of integrating them (though I still prefer HTC Sense).
And for a phone this small, it actually features HTML5 and Flash on the Webkit Web browser. LG claims it can run 10 Internet windows at a go, but I won't recommend that you slow everything to a crawl.
As expected, the GD880 has got the usual LG DNA – its a small, pretty package. The specs certainly look great: a 5-megapixel camera and a really bright 3.2-inch screen, plus a 3.5mm earphone jack. I just wish LG's spent some time making the main menu UIs move faster.
Maybe they will get it right with an upcoming Android-based phone, which we understand is due in Singapore in a few weeks.
Who will buy this phone? I'm sure the fashion-conscious crowd will have a look at this slim package (at just 10.6mm). After all, and I quote LG folks here, many smartphones today are big on features but are still pretty much "smartphones", that is, they are made for geeks.
The GD880, at S$568, might appeal to that crowd. It's just not for goondus like me.