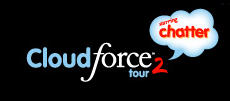 Every good story needs a hero and a villain.
In Salesforce.com's case, that villain is Microsoft, who is the poster boy for enterprise software.
Or so that is the narrative that Salesforce.com CEO Marc Benioff wanted to keep forefront and centre during his excellent presentation at the Cloudforce Tour 2 event in Singapore today.
It is a story of how traditional on-premise software behemoths — e.g. Microsoft, Oracle, SAP, IBM — are going to have their lunch eaten by nimbler Internet companies who started from the cloud, i.e. the Salesforce.coms, Amazons and Googles of this world.
It is about reclaiming and redefining the essence of what cloud computing is and is not. And I am fully in agreement with Salesforce.com's cloud definition. It should be:
multi-tenant in a public domain,
scalable or elastic,
pay-as-you-go using a Software-as-a-service (SaaS) model
as I've argued before.
Of course, clouds have talked to death by every IT vendor — security, networking, mobile handset makers, telcos, etc. — and as a cranky journalist/blogger I'm really sick of crappy cloud-computing definitions that vendors are spouting just to get on this bandwagon.
Private clouds are just simply single-tenant datacentres connected by a WAN. Hybrid clouds are an even iffier definition as it simply means some stuff is outsourced to the cloud, and some is not. What is and what is not is often not clear, which means the definition is crap. It's just jargonese being bandied around because it's the "in-thing" now.
So kudos to Salesforce.com — the "original" cloud computing company that pioneered the SaaS model — for having a clear definition of what cloud is.
Oh no! Yet another buzzword?
Salesforce.com did however talk about a new buzzword abomination today — Cloud 2.0.
Sigh. Barely has the industry even digested what in the hell cloud computing means, much less really understand it — thanks to confusing definitions from different vendors — we have to contend with yet another buzzword?
A play off Web 2.0 — another buzzword that was horribly over used and thus lost all useful meaning — Cloud 2.0 simply means adding real-time awareness to the cloud via social networking. Web 2.0 was all about adding a rich contextual media experience to the web, and in that sense Cloud 2.0 sorta makes sense as an analogy.
Salesforce.com's Cloud 2.0 is via their Chatter platform, which should be available next month. On June 22nd, in fact.
It's not a new idea, and one direct comparison is IBM's LotusLive, which also is a social network cum cloud extension of their Lotus platform.
I get where Salesforce.com is going with this, but I'm not really sold on Chatter, as I've said before.
Don't get me wrong. I think that social networks is definitely a force to be reckoned with, and I think that adding social context directly to the Salesforce.com core product — much like Google adding buzz to Gmail — is a really smart move. And I do think that the social context would make Salesforce.com a better and more compeling product in terms of usability, as Salesforce.com's demos showed today.
I just don't see it is as that groundbreaking, as every vendor is or will be adding social networking functionality to their tools. They have to, to give users the usability experience that they will demand. The harder thing to do is to scale up — the true strength behind social networks. Much of Facebook's entrenched power comes from its half a billion users. Same for YouTube, who streams millions of videos everyday.
I guess what I'm trying to say is that it's like preaching to the choir. Users already sold on the Salesforce.com platform will love Chatter, but will users come to the platform because of Chatter? They will come because Salesforce.com has on-demand tools that serve their needs, and the social networking function is just gravy (and eventually a given). I may be proven wrong — we'll see.
To me, I'm more excited about vmForce, Salesforce.com's tie-up with VMWare that will be launched later this year. Aaron's recent post sums up all the benefits of this enterprise cloud for Java developers. The promise of being able to develop Java applications anywhere without having to manage a hardware or software stack is a powerful idea, given Java's popularity amongst developers.
Microsoft had better watch out. Beyond the aggravation caused by patent suits, Salesforce.com is out to eat their lunch.