With all their complexity, it's actually a breath of fresh air for smartwatches to have long-enough battery life for health tracking and sending notifications from your smartphone. That's why the Withings Steel HR Sport is interesting.
What's also attractive is analogue look of the watch. Encased in metal with a silicone watch strap, it exudes a simple elegance. This is a watch that's comfortable to wear to the office or the gym.
You can bring it to the swimming pool since it is water resistant up to 50m. At the bottom, it emits the green LED pulse light to measure heart rate and track 35 different types of sports and exercises.
According to Withings, the battery can last as long as 25 days, thanks to the use of an actual analogue watch mechanism that does not draw as much battery, unlike the more common OLED screen that will constantly draw power. From my tests, the watch can easily last a week of normal usage.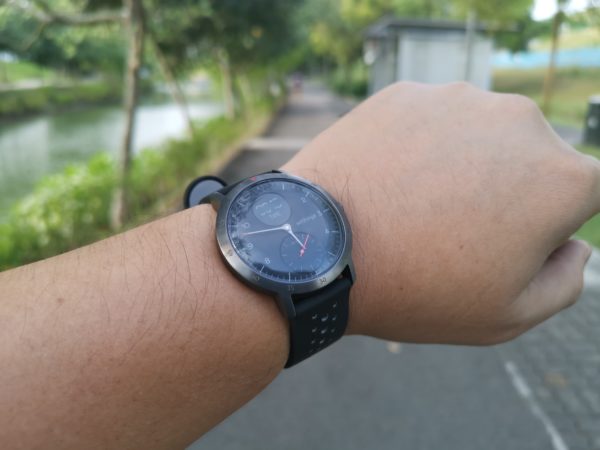 One of the reasons why I like to have a smartwatch around is the ability to notify me, of a call, text, e-mail and calendar events when my smartphone is in my bag or left on the table. The Steel HR Sport does that by vibrating or showing the notification on the small screen.
Unlike the previous Steel HR smartwatch under the Nokia Health brand that was bought over by Withings, the new model is more attuned to the active crowd. Once it is connected to your phone, it can record your running or biking distance and location via GPS.
The watch can also assess your fitness level while exercising using VO2 Max, a measure of the maximum oxygen you are taking in during an intense workout.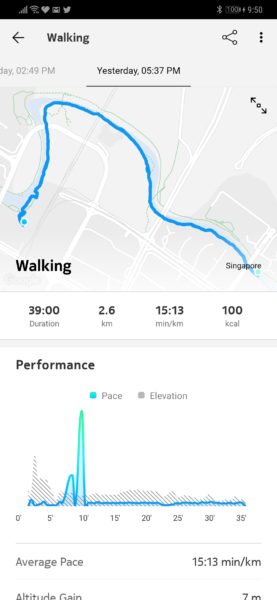 To know if you are hitting your daily activity score, there is a sub-dial on the watch face showing you how far off you are. With a quick glance, I can estimate how many more steps I need to reach my daily exercise goal.
The usefulness of the Steel HR Sport watch can be maximised once you use it with the Withings Health Mate app. All the information from the watch is sync'd with the app to show your progress.
You can also join curated "programmes" to guide you to lose your fat, measure your sleep or even track your pregnancy. Some of the programmes require additional equipment from Withings such as a weighing scale to measure body fat, for example.
How accurate is the smartwatch? I tested the Steel HR Sport pedometer with another health tracker from the Health Promotion Board and found that the smartwatch's measurement was consistently lower than the tracker's, sometimes by more than a thousand steps after doing 10,000 steps.
Plus, there's another snag. To track your activity, it has to connect to the smartphone, which can be a hassle. Many users don't want to bring a phone along – that's the reason for 4G-connected smartwatches like the Apple Watch and many others that work offline.
The Steel HR is also cheap at S$329, though its handsome good looks, long battery life and health tracking features make a strong case for it. I just wish Withings has an option for a bigger watch face.