When Apple launched its first smart watch back in 2015, it was a nice if pricey iPhone accessory. Battery was poor and boy, was it slow.
Pulling location data from my iPhone over Wi-Fi took a long time. Apps would still be downloading even after I made coffee. And it relied on the iPhone for almost all interactions
Fast forward three years. The Apple Watch Series 4, unveiled in September, leapt upwards on the improvement chart. Combined with the latest version of watch OS, it is a useful, good looking watch able to stand on its own.
Fitness monitoring was the primary use of the first Apple Watch. I used it track my walks, hikes and runs. I realise then, how useful a device it could be for the fitness and health crowd.
With each new version, the Watch gradually transformed into a fitness wearable. First came GPS and water resistance, then cellular connectivity and better workout apps.
Now armed with a more powerful processor and a bigger screen, Apple's latest smartwatch is a lot more useful and refined.
Phone watch
I am using the 40mm cellular model. I am reminded of the comic book detective, Dick Tracy who had a watch phone. Now it is real.
Two months in, I still feel awkward talking to a watch when making or receiving a call. Voices sound clearer and louder.
Cellular does give another benefit. It gives peace of mind of being connected to 4G in the event accidents happen when I'm out alone on my runs and walks.
Podcasts keep me company during these outdoor activities. I used to bring the iPhone along to listen to songs. Now the watch supports offline podcast syncing. Out with the iPhone, in with the watch and Bluetooth AirPods. I now run "light".
The new Workout app has added new running metrics, including rolling pace and cadence. These are important measurements for training as I aim to cut off minutes from race times.
The new workout app now tracks other forms of activities including yoga, rowing, hiking and stair stepping, some activities I do when not walking or running.
If I forget to turn the workout app on, it automatically starts tracking the exercise. A vibration alerts me shortly into the exercise to ask I wanted to launch a workout. It will also give me credit for the missed minutes and distance.
Watch display
I like watch complications which are functions that exist in addition to telling the time. It appears on the watch screen, providing a one-tap access to my most frequently used apps each time I raise my wrist. It is a great way to connect to often used apps like Weather, Heart Rate, Workout and Calendar.
Since the screen of the new watch is 30 per cent larger than its predecessor, it can fit the date, workout and six other pieces of information on the display in addition to the time. New watch faces have been added, including the colourful new Infograph and Infograph Modular.
For those who think eight complications may be one too many, the watch face can be changed to simpler designs which embed fewer complications.
Health
I was looking forward to the ECG feature which came with the latest watchOS upgrade last week. This feature reads heart rhythms, letting people find out if they have heart issues although there will always be concerns of false readings.
This would certainly be discussed by the Singapore authorities as it would not be a surprise if Apple is working with them to introduce the feature here.
Regardless, the optical sensor in the watch can also measure pulse. The Heart Rate app switches from infrared light-based measurements to using the electrodes on the electrical heart rate sensor behind the watch and in the Digital Crown to do this.
According to Apple, putting your finger on the Digital Crown to capture a heart rate reading also measures faster and with more accuracy as it updates every second versus every five seconds while the measurement is active.
The Watch also has a Fall Detection feature, which is good for the elderly. It uses the new next-generation gyroscope and accelerometer to detect a fall and provide options to contact emergency services if necessary. 
This feature is usually turned off and will need to be manually enabled. It only turns on automatically if a user is over 65 years old. I have this manually enabled, especially useful during trail running when accidents can happen and when runners are few and far between.
Design and Performance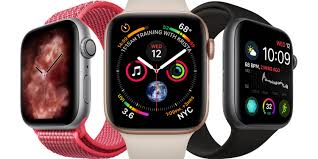 The squircle shape of the Apple Watch – squarish rounded edges – is 30 per cent larger than its predecessor. The older watch models have a potbelly on the underside which has been slimmed down in the Watch Series 4. Overall, the design makes it more attractive.
It is blazingly fast, thanks to a fourth-generation S4 watch processor. Apps, e-mails and location data download almost instantaneously. The extra display size and funky new watch face may also prove to be a big draw.
The battery juice still doesn't last long enough in some instances, which is probably why Apple hasn't introduced sleep tracking yet.
Recently, I was out on a two-hour walk with the podcasting streaming and workout app working at the same time. Battery life read at 70 per cent after the workout.
However, if the day had continued with several phone calls and responses to messages, the battery life would easily go down to about 20 per cent before it got recharged.
Conclusion
When I started using the first Apple Watch, the fitness feature was what made it useful. Millions of users also thought the same. Apple caught on to this trend very quickly. Going forward, Apple will seek to jump on the exploding fitness and health industry. Expect more from the company in coming months.
For users who want a wearable that feels at home both on an outdoor hiking trail and a formal dinner, the Apple Watch is a great companion.
It is a good upgrade for owners of Apple Watch Series 1 and 2 as their features and performances lag behind the current model. It is not so attractive to owners of Series 3 watches as they will only experience a slight bump in performance.
Then there is the price to consider. The Apple Watch is not cheap. For the 40mm GPS+LTE (Long Term Evolution) version, the price is S$749 while the GPS model is $599.
The 44mm GPS+LTE version costs S$799 while the GPS version is S$649. For the LTE version, you also got to pay mobile data.