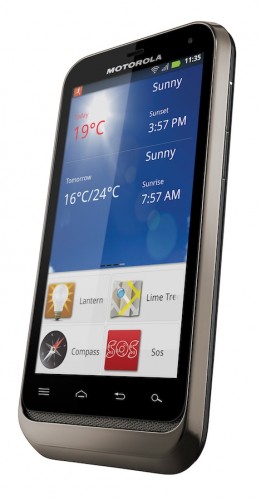 The Motorola Defy XT, a rugged Android 2.3 handset built for folks who love to rough it out in the great outdoors, will debut at the upcoming PC Show. 
According to Moto, the Defy XT's 3.7-inch water-resistant, dust-proof and scratch-resistant Gorilla Glass display should withstand the elements and whatever you throw at it. The doodad is also IP67-certified, a global classification system that tells you the degree of protection a device has against solid objects and liquids.
With a 1GHz processor and 512GB of RAM, the Defy XT isn't exactly a high-performance smartphone. But then again, why would anyone need a turbo-charged gadget while hiking at MacRitchie, if the only app you'll need is Endomondo?
There's no word on whether an Android 4.0 Ice Cream Sandwich (ICS) upgrade is in the works, but some folks I know are already basing their Android buying decisions on the ICS factor. At S$399, the Defy XT is a steal, and will appeal to the sun-kissed crowd scouting for a second device to bring on their trails. To sweeten the deal, the first 100 buyers will receive a $20 Adidas voucher at the PC Show.