Could LG have launched the Optimus G here at a worse time? Rumours of an Optimus G Pro were already floating around at its local launch, and the world was on the lookout for upcoming super phones such as the HTC One or Samsung's Galaxy S4.
Nonetheless, the Optimus G is an excellent Android phone that's well worth a look if you're currently looking at an upgrade.
Hardware and design
Surprisingly, the Optimus G has quite a different feel compared to the Nexus 4, even though the two are cousins. If I had to pick one design I prefer, I'd choose the Nexus 4 over the Optimus G.
This is due chiefly to the rubbery grip of the Nexus 4, which runs around the side of the phone at an angle so that it's more ergonomic. The Optimus G, on the other hand, chose plastic, which doesn't feel as nice.
That doesn't mean the Optimus G is ugly. It's actually the best-looking phone from LG in a long time.
The phone's front and back are made of solid glass, and the sides round off a little towards the back, so it's not uncomfortable to hold. It exudes a minimalist air with clean lines and looks really good.
In line with the clean design, there are barely any buttons or ports.
The lock button is on the right side, the volume control on the left, and the micro USB charging port on the bottom. There is no micro SD card slot or removable batteries here, so you'll have to make do with the phone's 32GB of internal storage.
On the front, you'll find Android's usual three capacitive buttons, and the glass on the back has some sort of dotted pattern that shines prettily when you move the phone about.
A thin silver strip runs around the side of the phone, strangely reminding me of the cheap stickers used in the past to give a product some metallic accents. This one is no sticker, to be sure, but it looks a bit weird and I had to stop myself from trying to peel it off a few times.
Overall, the phone has excellent fit and finish. It feels sturdy and solid in my hands, a far cry from some of the past few flimsy plastic phones out of LG.
Display and sound
The Optimus G has a brilliant 4.7-inch display (1,280 x 768) with fantastic colour and viewing angles.
Some may sniff at the resolution when full HD smartphones are starting to enter the market, but there's really no practical difference in terms of usage on such a small device.
Sharp-eyed users may immediately notice how similar the panel is compared to the iPhone, and indeed, LG says the Optimus G is using the same display they supply to Apple.
The screen is crisp and sharp due to LG's "Zerogap Touch" technology, which means the display is fused to the glass, resulting in less diffused reflection on the glass. This helps the screen to remain bright and readable even under direct sunlight.
As far as audio goes, you're not going to get any jaw-dropping quality, but it's loud and clear. The earphones that are bundled with the Optimus G are a decent pair, so unless you're finicky about audio you won't have to purchase a new pair. In fact, LG has started selling the earphones separately in Korea because they proved to be so popular.
Performance
Powered by a Snapdragon S4 processor clocked at 1.5GHz, the Optimus G delivers marvellously responsive quad-core performance. Its 2GB of RAM also does its fair share of keeping the phone lag-free.
Battery life is very good, especially with "Eco mode" turned on. According to LG, the Snapdragon S4 Pro consumes 40 percent less power than its competitors. Plus, when the display is turned on, the white colour parts consume up to 70 percent less power than other parts of the screen.
The good folks over at AnandTech did their regular benchmark tests and the Optimus G mostly shredded the competition to pieces. Of course, the comparison didn't deal with current newer phones on the market, but I don't think anyone will have a problem with the phone's performance in the near future.
Software
The Optimus G launched in Singapore with Android 4.1.2. Purists will always insist on stock Android, but LG's skin is not too bad. The icons are still a tad cartoonish, but the overall look and feel doesn't make you want to tear your hair out.
Besides the skin, LG has also bundled some interesting software packages with the Optimus G which are actually quite useful.
One of the most interesting features is the "QSlide" function. When you pull down the notifications bar, you'll see an extra row of icons added by LG. Tap on any one of them to launch them on top of whatever app you're currently running.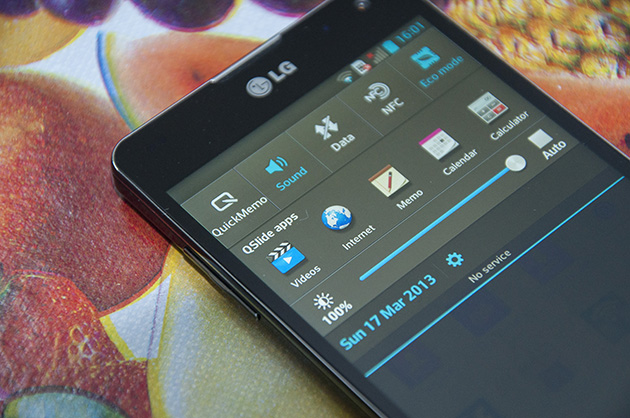 A slider pops up and lets you adjust the transparency of the app on top so you can also see your other app running below.
This is a pretty useful feature, depending on how you use it. You can, for example, watch a lecture video and refer to the lecture notes below simultaneously. Or use the calculator while keeping your sums in view.
But if you're trying to reply to an SMS while letting a movie run below your SMS app, you'll probably be too distracted to do either task effectively.
QSlide also lets you run a select few apps side-by-side in tiny windows, up to a maximum of three, and you can even adjust the transparency of these tiny windows. However, I cannot see the point of doing that on a small smartphone screen. If the work you're doing requires you to refer to more than one window, you probably shouldn't be doing it on a smartphone anyway.
The memo app is also a nifty one. It lets you scribble whatever you want on the screen, no matter which app is running below, and save the final result as a screenshot.
Let's say you're on a phone call and your friend is sharing a mutual friend's contact number with you. No need to scramble for a piece of paper; just press both volume buttons at the same time and you can write over the screen immediately.
Other neat features include the ability to zoom in to any video that's currently playing, and expandable previews in the pull-down notifications menu.
Camera
13-megapixel sensors look set to become the standard on smartphones. I've talked about how disappointing I found the quality of the 13-megapixel photos produced by Sony's Xperia Z, but I'm actually more or less satisfied with the Optimus G's camera.
Most of the shots came out relatively soft  and noisy, and it had slight difficulties on autofocusing when the light is dim, but the resulting shots are more than good enough for the web. Macro is pretty good, and bokeh is surprisingly pleasant.
I got slightly less noise by manually forcing the ISO to stay at 400, but the photos were not as vibrant and detailed. You could turn on the flash in a pinch, but flashes on phone cameras have always been terrible.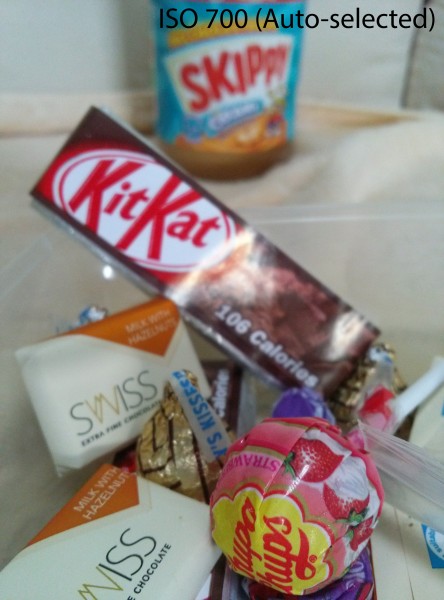 LG does claim to have sort of noise reduction technology built in, but there's no way of telling when it's kicked in.
On the camera software front, you get fancy features such as a "cheese" mode that, you guessed it, takes a picture when you yell "cheese". When you're recording a video, you can also immediately save one frame as a photo while the video is still being recorded.
Another function called "Time Catch Shot" takes several photos at one go and lets you choose the one you like the most. This particular one is starting to be a staple in smartphone cameras.
Wrap-up
The Optimus G is a great phone, and even though upcoming "superphones" are stealing the limelight, I certainly don't feel that it's any less of a worthy purchase. This is especially so in terms of performance, as the quad-core chip didn't faze at anything I threw at it, and is surprisingly battery-friendly.
And seeing how long it took for the Optimus G to get to our shores, it may be a while before the Optimus G Pro is available  as a replacement, making it somewhat future-proof.
So if you're due for an upgrade and see no need for expensive bleeding-edge smartphones, you could do a lot worse than the Optimus G.
Updated 17/3/2013, 11.54pm: Spelling and grammatical fixes.