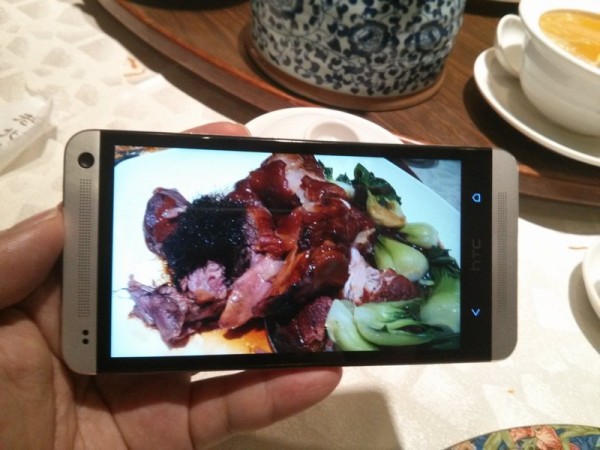 Days after HTC unveiled its 2013 flagship phone – the One – the company's Singapore representatives met up with the media here to share a number of near-final versions of the quite stunning phone.
If I had doubts about the HTC One earlier, I now can say it's clearly raised the bar for all its rivals. Not only is the camera unusually good, the build is top-notch and the Sense interface seems intuitive.
First off, the look and feel. The aluminium case is an eye-catching piece of work, as is the rest of the design. The 143-gram phone feels slightly weightier than some rivals but should appeal to users who don't like Samsung's rather plasticky feel.
The HTC One comes in both silver and black when it ships in Singapore in March (no prices yet for now), but the silver is clearly nicer. It is able to show off the details on its back much better, while the black one seems like a monobloc.
If you remember, HTC had tried making full-metal cases before but with previous models like the Legend, it had to use plastic to encase its antenna to avoid signal issues. This time round, HTC has managed to integrate the antenna right on the case itself, with what it calls a "zero-gap" design.
The result: the best build I've seen in a gadget for a long time. Though I'm not a fan of the iPhone 5, I'd readily say it has a great build. The HTC One surely is up there as well.
It's clear why: HTC wants to target the iPhone switcher. Too many of these users have defaulted to Samsung, because the Korean company seems to be the closest Android rival. Plus, it has loads more marketing dollars to burn than HTC.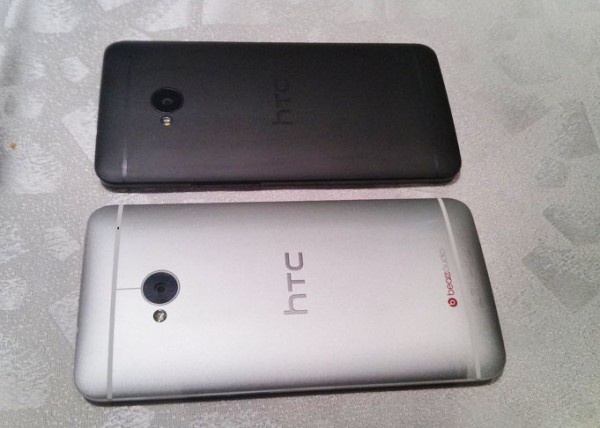 Another department which HTC does very well in is photography – another strong point on the iPhone. The HTC One, I dare say, will rival just about any phone, even some compact cameras, for snapshots.
You'll notice, upon seeing the phone for the first time, that the lens is nicely tucked in within the phone's body. Unlike many phones these days with lens popping out, you don't have to worry about damaging the lens as easily here.
In dim light, it does very well. At the restaurant where HTC hosted the media last week, I managed to fire away some pictures of the Chinese New Year lunch. The contrast, sharpness and brightness, even in the rather dimly-lit place, were impressive. Turning on HDR (high dynamic range) helped capture even more dramatic pictures.
Here are a sample taken without flash (food pictures are taken with HTC One; snaps of the phone are – poorly – taken by my own phone).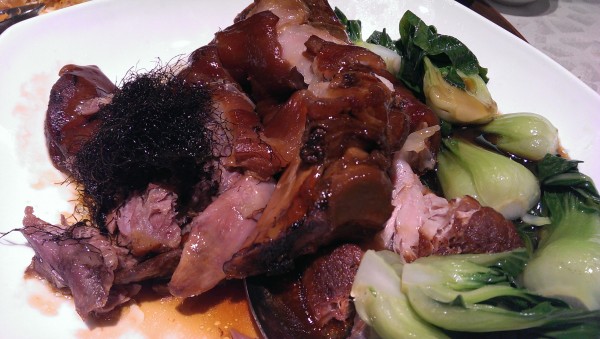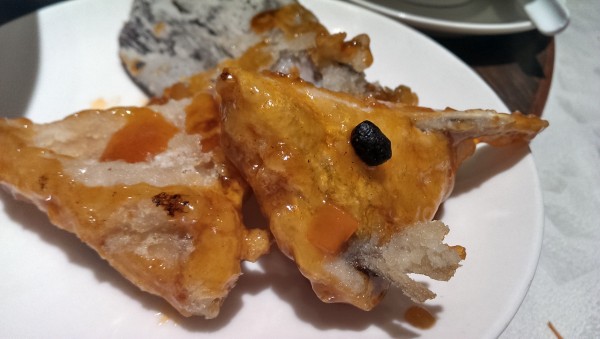 Not just me, but many members of the media at the table were quite surprised at the effect of HTC's UltraPixel technology. In a nutshell, the camera is able to capture more light in each pixel, thus making for sharper and brighter images.
The lens captures only 4 megapixels, at a time when 8- or even 13-meg shooters are mounted on top-end smartphones, but it certainly doesn't lose out where it matters most – quality.
Besides the clearly impressive shooter, there are a number of other fancy features that HTC has incorporated in the One. Its Zoe mode automatically saves a few seconds of video before you snap a picture, so you can later view the video before the shot to recall what the context was.
At the same time, it saves several frames so you can select the best of them to combine into a perfect picture. If you have a frame where someone had closed her eyes, but where the candles were still burning on a cake, you can "mesh" that with another frame where she has her eyes open.
The result is a not really a perfect moment that you actually captured, but the best one moment combined from several moments. My photographer friends will decry this, but yes, you can now "fake" a moment without even trying. The HTC One does it for you once you turn on Zoe mode!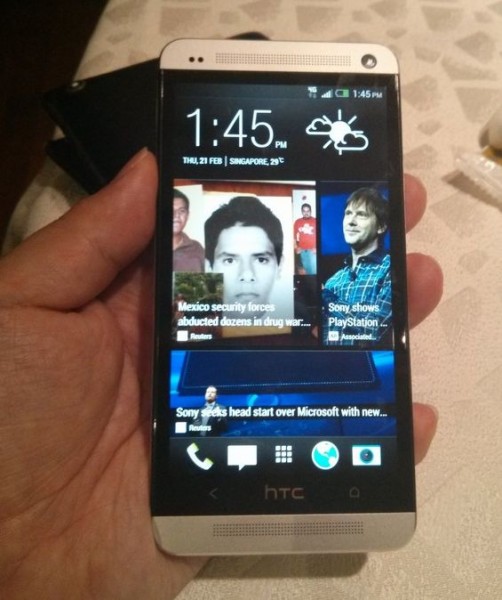 HTC says it has put in lots of hard work in this new phone. Certainly, when it comes to hardware, the HTC One doesn't lose to anyone.
The quad-core Qualcomm Snapdragon 600 processor running at 1.7GHz is the latest and can be counted on to move things along smoothly. Helped by the onboard 2GB RAM, it certainly doesn't slow down at all when I tried switching between tasks last week.
For sure, the engine under the hood has to keep up with all the interface changes that HTC has created. The company says its Sense interface is not "just a widget" but is built into the operating system. Indeed, you'll find that this is one Android phone quite different from others on first startup.
The Blinkfeed tile-like interface brings all your social media updates, news feeds and other information bits on one screen for you to "snack on" throughout the day, say, when you're bored at a meeting.
It's remarkably easy to set up and easy to use. And unlike a Flipboard widget, the HTC folks are quick to say, this front page feed is not a removable widget but a key differentiator for the company.
If you want your old icon-based menu, of course, you can still do that. Just slide across the various screens and you still have them.
HTC has other tweaks that takes a little getting used to, for example, the lack of a "menu" button. To do that, you can double tap on the Home button, which is only accompanied by the Back button.
No big deal, I think. I found myself tapping on the HTC logo instead of where the Home button is usually placed, but I can get used to it.
At the same time, it's true, task switching is not something I do so often on a phone. On a tablet though, HTC will have to be careful of doing away with the instant task switching button, because users may use their tablets more like a laptop.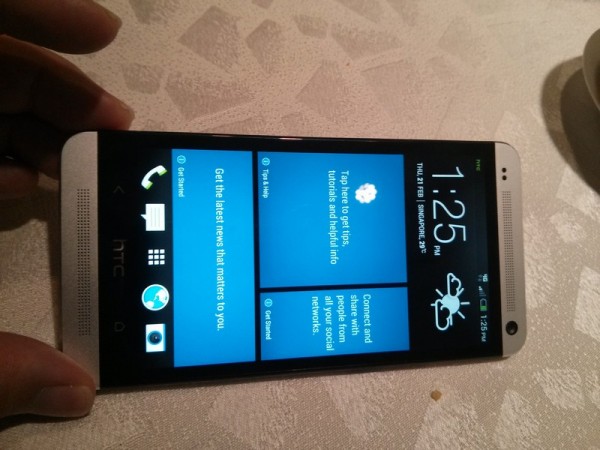 All in, I'm very impressed with the HTC One. The Taiwanese phone maker, as I'd imagined, had really pulled out all the stops this year, after a somewhat disappointing 2012.
There are many, many little things here that make for a phone that is really well-thought out. If the HTC One X wowed you last year, the One this year really turns things on.
I haven't spent much time discussing the new phone's screen quality, because I had expected the Full HD resolution to be extremely sharp, and 4.7-inch display didn't disappoint with its sharpness. Another thing I was impressed with was the speakers cleverly built in the front, rather than the back, so you can hear your music and calls more clearly.
With so much built into the HTC One, how does the 2,300mAh battery hold up? I didn't try out the phone long enough to assess this, but I'll have updates here if I manage to try it out again.
Between the excellent Sony Xperia Z and HTC One, I'd side slightly with the HTC One. Actually, I'd say this is the phone to buy now.
Only caveat here is to wait and see what Samsung will unveil soon when its next Galaxy phone is out in March. The Korean phone maker will know the game has been taken up a notch.