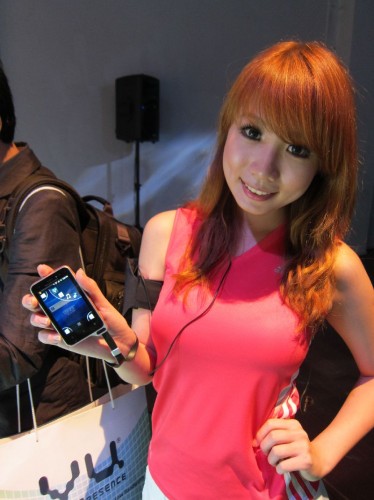 After Huawei released its MediaPad and Nokia unveiled the N9 in the past two days, there was quite a bit of anticipation when the media turned up this afternoon at Sony Ericsson's global launch, held on the sidelines of the CommunicAsia show.
Unfortunately, the high-end gizmos some of us had hoped for were not there – we had to contend with the mid-range Xperia ray and the ruggedised Xperia active, along with a low-end messaging-centric model called the txt.
I'll jump straight to the Xperia ray, which is a 9.4mm-slim Android 2.3 device that comes with a 3.3-inch screen and is powered by a 1GHz processor. No big deal, you'd say, since every other new Android device has similar specs and some like the HTC Sensation already sport faster dual-core chips.
I'd agree, mostly. The main thing going for the Xperia ray is its screen. During a hands-on session today, I could tell that the text was displayed extremely sharply by the so-called Bravia Engine and Reality display. I don't buy the typical Sony marketing terms, but this 854 x 480 display is pretty bright, clear and sharp, especially when you have that many pixels packed into a relatively small screen.
The other selling point is the 8.1-meg camera supporting an f/2.4 aperture. I've been a fan of Sony Ericsson's phone-based cameras since the old candy-bar phones and the Xperia ray doesn't disappoint either with photos showing the typical sharpness and contrast you'd expect from Sony Ericsson.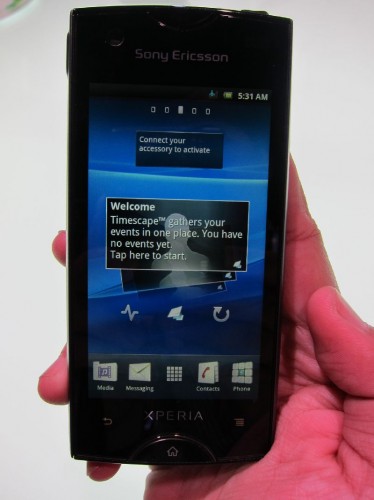 If you're still not convinced, the Xperia ray comes in four colours – black, gold, white and pink – to choose from. That should appeal to the ladies, according to the Sony Ericsson folks today.
Besides the Xperia ray, the Xperia active was one of the other two new phones shown off today. At first glance, the Xperia active reminds one of a ruggedised sports version of the Xperia mini that did so well for Sony Ericsson in the past.
But the new phone also comes with GPS, barometer and compass, in addition to an on-screen heart rate and pulse monitor, which lets you check how you're doing when you're exercising. Sony Ericsson says this is done through ANT+ wireless technology, which will surely interest sporty users who like their phones to double up as a fitness monitor.
The rugged Xperia active is also waterproof, as brand ambassador Maria Sharapova showed us today in a video demo where she dunked the phone into a mug of water and was still able to answer a call that came when the phone was submerged.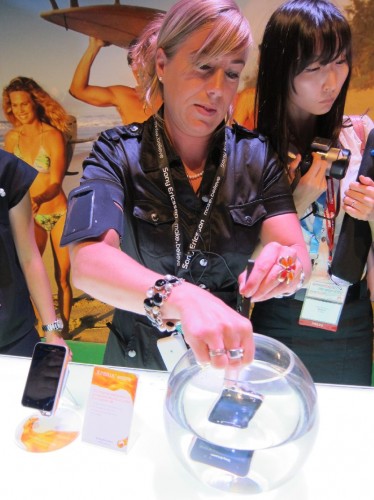 Compared to the old Xperia mini, this Android 2.3 version runs pretty fast with a 1GHz processor. I was launching several apps today and swiping between screens and still I got none of the slowdowns that a slower processor might bring.
What marks down the Xperia active, I feel, is its looks. Okay, Sony Ericsson lets you changes covers – black or white – but that's just so old-style Nokia. Instead of that little gimmick, I'd have liked to see a more streamlined design rather than the somewhat blocky look.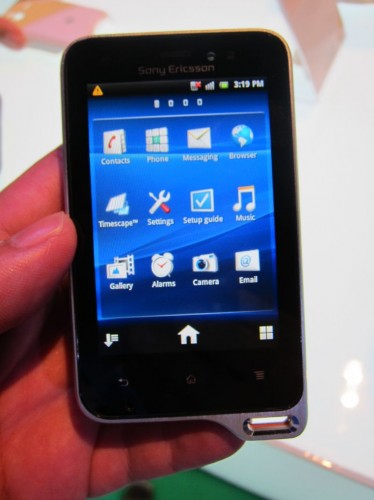 Sony Ericsson says both the Xperia active and Xperia ray will be out in "select markets" in Q3 2011. That means until the final months of the year, the Xperia Arc looks to be the main "hero" phone from the company. No dual-core Androids any time soon, in other words.