Last Wednesday, Sony Ericsson unveiled three new slices of Gingerbread to the Singapore media – the Xperia Play, Neo and Arc. These Android 2.3 phones are serious contenders each with unique selling points, and a sign that the company is keeping up with the competition from the likes of Samsung and LG.
Unfortunately, they seem bogged down by the TimeScape user interface, which although generally pleasing to look at, lags in responsiveness every now and then.
Xperia Arc & Neo

Undoubtedly one of the sexiest phones I've ever seen, the Xperia Arc packs in a 1GHz processor and 512MB of RAM under an extremely slim profile just 8.7mm thick at its thinnest point. The back of the Arc is uniquely curved and proved to be quite ergonomic under my hands.
The Arc also features a life-like 4.2-inch (854 × 480) display, dubbed the "Reality Display" by Sony Ericsson. The Reality Display is adapted from Sony's successful line of BRAVIA-branded TVs, and in colour and sharpness, it gives AMOLED a run for its money.
The Arc also features an 8-meagpixel lens with Sony's "Exmor R" back-illuminated CMOS sensor that lets you capture stills in extremely low light. A stand designed to show off this feature has members of the media trying to shoot the picture of an Android robot through a pinhole with their own phones. Check out how an iPhone 4 fared against the Xperia Arc:
Furthermore, the Arc lets you output your display to a HDTV without a hiccup. Viewing your pictures and videos on the big screen is infinitely more pleasurable that on a small mobile phone. And of course, who wouldn't want to play angry birds on your TV?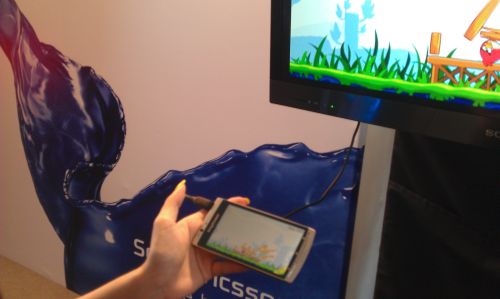 The Arc will be released to market "very soon", and at the time of writing, pricing is still unknown, but Sony Ericsson assures us that it will be competitive.
The Xperia Neo, on the other hand, felt like a chunky piece of nugget after handling the Arc, and in many ways it feels like a poor man's Xperia Arc. The features and specs are virtually identical to the Arc – Reality Display, 8-megapixel camera with Exmor R sensor and so on.
So there's really no reason to get the Neo over the Arc, unless it's significantly cheaper. Actually, that will be a good move in diversifying its portfolio of devices with a range of prices, so hopefully that will be the case.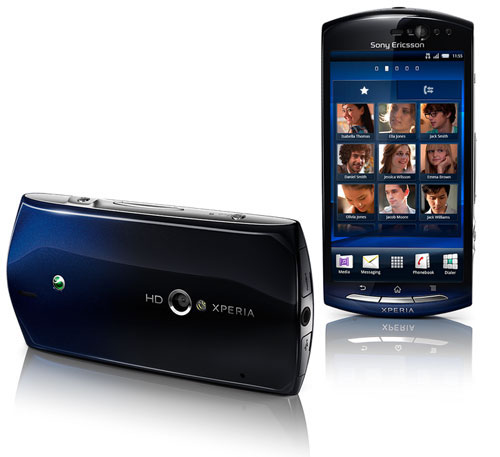 Xperia Play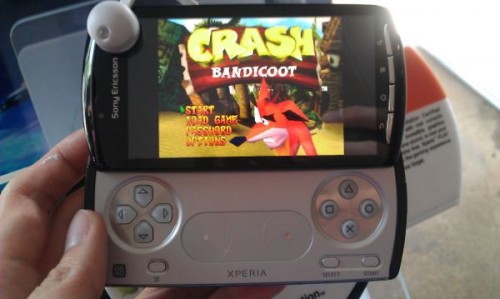 The wait is (almost) over! How does the Xperia Play stack up to our immense anticipation?
My immediate impression is, "Wow, that phone is fat." Notwithstanding the fact that I just put down the thinnest phone I've ever seen, the Play is still a bulky phone that would no doubt have trouble playing nice with your tiny pockets.
But in all other respects, the Play doesn't disappoint. Slide up the screen and your Android 2.3 smartphone turns into a portable gaming machine. Playing games with the familiar physical buttons is a fantastic experience, one that touch screens will never be able to emulate even with haptic feedback.
And although it seems like a no-brainer to slap a dual-core processor inside the Play, its vanilla 1GHz Snapdragon CPU and Adreno 205 graphics chip were able to run the games smoothly at 60fps. It did crash on me once, though!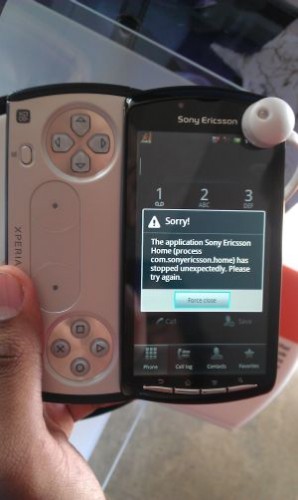 The Play will launch with many titles already available, including Need for Speed, Sims 3 and a multiplayer version of FIFA 10 for mobile. Sony Ericsson is also expected to launch its own game store of sorts to hawk games specially-developed to take advantage of its hardware. Developers which have signed on include EA Mobile, Digital Chocolate, and Gameloft.
In fact, the platform has already secured an exclusive title from Gameloft – BackStab, a game about pirates set in an 18th century Carribean island. BackStab will be exclusive only for one month, and will be released to other Android phones subsequently.
Expect popular games from the first PlayStation machine to be ported, as Sony Ericsson says the Play will have no problem running them. Retro gamers, imagine playing Final Fantasy VII again on a handheld!
Sony Ericsson tantalisingly calls the Play the "first PlayStation-certified phone", which could point to even more phones built on this platform in the future. Product Group Marketing Manager Chua Khim Guan said there's a definite possibility of bringing the PlayStation to even more mobile phones. If that's true, colour us excited.
In the meantime, here's a video of us playing Asphalt 5:
But will it get upgraded?
All's well and good with these three new smartphones, but what about future upgrades? Sony Ericsson hasn't been exactly prompt with Android updates, and the general impression was confusion all around.
Fans have been making loud unhappy noises about the Xperia X10 getting stuck at Android 2.1, and while Sony Ericsson has listened to feedback and promised an update to 2.3 by Q3 2011, it's not clear whether they will go beyond that.
Whatever the case, there are always custom ROMs if you're feeling angsty and adventurous. These are truly innovative phones with their own unique features and we hope to get a price and release date soon.