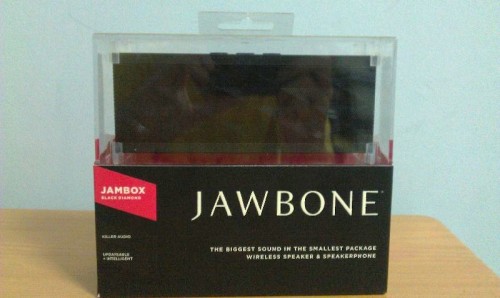 Jawbone's Jambox is an odd little device. The Bluetooth-enabled portable speaker is comparably tiny, but is capable of pumping out music at 85 decibels. And then there's the price: at US$200 (S$252), this thing isn't exactly cheap.
The thing also feels alive. It vibrates and gives a low rumble as you turn it out, and makes various strange yet familiar digital noises when completing various tasks, such as pairing with a Bluetooth device.
(UPDATE: The folks representing Jawbone in Singapore say the local distributor price here is S$328. That's quite a markup, as was the case with the Jawbone Icon.)
But after pumping out beats for an entire day in my room, I'm convinced that while this device won't earn any brownie points from hardcore audiophiles, it's good enough to earn a place on any wire-hater's desk.
Design and features
First of all, the speaker definitely feels like a 200-dollar device. It's small but sturdy, and has a reassuring weight in your hands. The chiseled wire grill envelopes all four sides of the speaker in one continuous piece, and it's a pleasure to run your fingers over it. The Jambox also comes with a foamy protective case that protects itself against the perils of travelling in your backpack.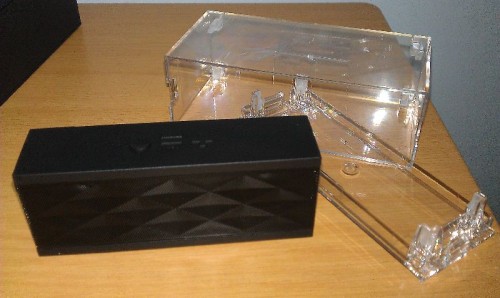 The top and bottom of the Jambox are made of a rubbery plastic, which helps if you want to put this conversation piece on your slippery coffee table. On the top, you can find two buttons to increase or decrease the volume, and a round button which baffled me at first.
Turns out that there's a microphone built into the device and you can actually make calls from the speaker by hooking it up to a mobile phone! Call quality was generally clear, although I don't know anyone who would want to broadcast his phone call out to people around him, so maybe it's best to keep this at home.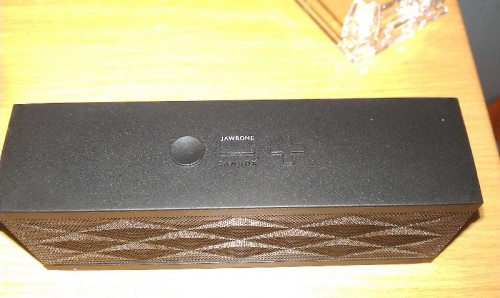 A system voice calls out the number of incoming callers, which can be customised according to your preferences: male or female, and Mandarin, Cantonese, Japanese, Spanish, French, or German. The voice will also announce battery levels, pairing mode, and more.
This thing even has apps. With the Jambox connected to your PC, signing up and logging in to the MyTALK portal lets you download extended functionalities for your Jambox. Don't like the default male or female voice? Download the voices of personae like "The Rogue", "The Bombshell", or "The Thinker". You can also download voice dial functionalities, and link up with some mobile apps such as Pandora.
Sound
The Jambox's sound is surprisingly balanced for its size. Two 1.25-inch drivers on the front work together with a passive radiator woofer on the back work, and although the sound won't impress any audio geeks, it's not the bland Bluetooth output you might expect it to be.
The sound from the Jambox easily filled my room, although it would have trouble making itself heard over a large party. Using it outdoors was bad, too. The sound seemed to be trapped within a small force-field which would fit a small party, but not beyond that.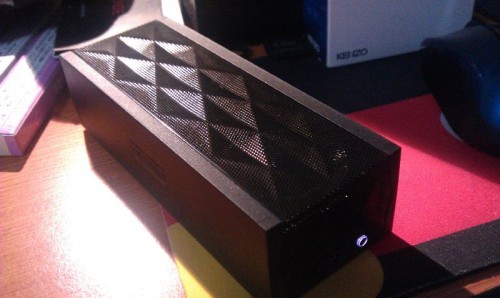 When I tried making some calls on it, callers on the other side complained of background noises. It turned out to be my fan, which was turned to quite a high speed. Still, a very puzzling complaint since the Jambox has sophisticated noise-cancelling built-in.
Furthermore, callers had trouble hearing me unless I yelled, or put my face up close to the grill, which looks more stupid than it sounds. With such a drawback, it's strange to see Jawbone marketing this as an ideal conference call device.
Should you buy it?
Despite its several shortcomings, spending a day with the Jambox made me want to own it. That's how good it actually is. The music sounds decent, and I can easily answer calls whenever it comes in, whether it's from Skype on my laptop or from my mobile phone.
The Jambox's small size also makes it perfect for augmenting the sound of your mobile devices on-the-go, especially since most of these have weak audio built-in. As our digital lifestyle gets more mobile, it's handy to have speakers like the Jambox around to share our music. Even if you don't have Bluetooth, the Jambox comes with two-way 3.5mm jacks to give you a hand.
If you have the spare cash and are shopping around for a portable speaker, the Jambox is a great choice.