A few years late to the smartphone and tablet game, Intel seems to have finally built up a head of steam by getting its power-efficient processors into some attractive devices and looking ahead to even smaller computers – ones people wear.
The company saw its new low-cost Atom chips, codenamed "Merrifield", shown off in Dell's new Venue 7 and Venue 8 Android tablets at the Computex trade show this week.
Also using the Atom family of processors are Asus' refreshed MemoPad 7 and MemoPad 8 budget Android tablets as well as its higher-end FonePad 7 and FonePad 8 tablets.
These budget to mid-range tablets seem to be a beachhead that the PC chipmaker has claimed of late, after trying so hard in the past three years to get its chips into smartphones and tablets.
All in, some 130 new Android and Windows tablet designs will sport Intel chips this year, according to the company. More than a dozen are out at Computex this week in Taipei.
Intel believes it might soon not have to subsidise device makers any more, as it had done in the past year to defray any development costs of switching to its technology. It expects to ship 40 million Intel-equipped tablets this year.
Indeed, Intel president Renee James was confident enough to compare an Intel tablet against one running rival Arm Holdings' fastest Snapdragon 801 in a photo editing task during her keynote speech this afternoon.
The first attempt didn't go well – the Intel tablet refused to run the task for some reason. But when the Intel head honcho returned for a demo again, sure enough, the task was done faster on an Intel chip.
In many ways, that rather sums up Intel's efforts. After years of trying to squeeze a PC into a mobile device, and by sticking with Microsoft when Android was the clear leader, it seems to have seen the light and turned things around. With both Android and Windows devices using Intel chips now, the empire may have finally struck back.
And it's not hanging around either. The company has more closely integrated the communications portion of a smartphone or tablet with its processors.
This was one area that Intel lacked previously, and which rival Qualcomm, using Arm designs, won over many manufacturers with in the past. Getting all the functions of a phone well integrated is key to the increasingly important low-end to mid-end market for smartphones. It makes for simpler and cheaper devices.
On stage again today, James made a call using a phone that sported an Intel system-on-chip (SoC) reference design. This SoFIA package came with a dual-core processor and 3G built in. In the first half of 2015, the chipmaker expects to market an even more powerful LTE-enabled SoFIA design to tempt phone makers away from Qualcomm's offerings.
At the higher end of the market, Intel has an LTE-Advanced product – the XMM 7260 – which is now out for testing with manufacturers looking to make smartphones that tap on much faster 4G networks. That makes the chipmaker a leader rather than a follower, as in years past.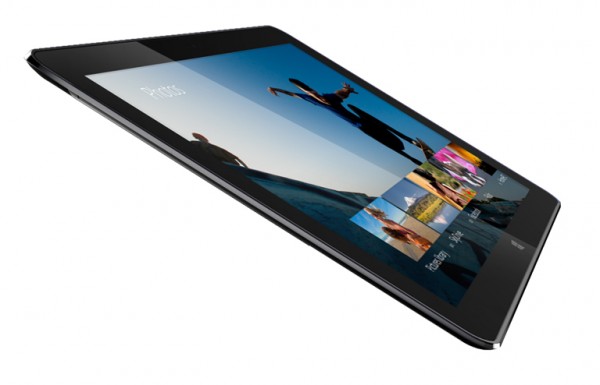 All this points to a stronger focus at efficient designs. Perhaps even more interesting for folks who desire more power, like in a laptop, is the new fifth-generation Core M chips just unveiled here today.
These are fanless designs offering what Intel says is performance similar to its Core chips for PCs. What they make possible are very thin laptops.
A reference design that Intel showed today was only 7.2mm thin with a keyboard attached and it weighs just 670 grams. It's even thinner and lighter than the current Surface Pro 3's 9.1mm and 800 grams, and that's without a keyboard.
Perhaps what makes Intel seem confident this year, unlike at last year's Computex, where it was asked repeatedly how it would get a real crack at the mobile market, is that its old strategy of shrinking transistors is showing the way forward again.
The new fanless Core M is based on a new 14-nanometre manufacturing process. The more you can pack into a smaller package, the more performance you can squeeze out without producing enormous amounts of heat or sucking up battery quickly.
Intel has shrunk this process over the years and got more efficient chips. It now says it wants to get into wearable computers – clothes that show your mood, body sensors that track how tired an athlete is – as the market is still nascent.
The plans are sketchy, as executives here were coy to share anything new, but it's clear Intel is determined not to lose the early momentum for what many see as the next big thing in computing.
What can consumers expect? Wearables are still years away from the mainstream. But certainly, you can expect even slimmer laptops and more varied tablet designs in the months ahead.
And don't be surprised to see an Intel inside your next smartphone, as it catches the next wave of low- to mid-end devices. Last year, Intel processors only turned up in one per cent of smartphones. They will become more common this year.