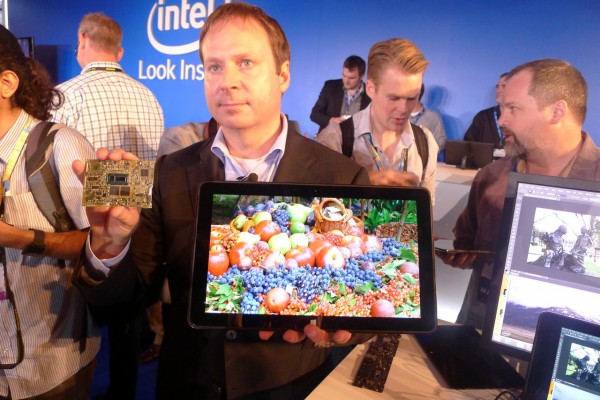 Intel shows off the small circuit board needed for the Core M-based machines of the future
Pause if you are rushing out to buy a laptop or tablet now. In the next six months or so, you're likely to see machines that are slimmer than Apple's iPad Air and are as flexible as Microsoft's Surface Pro 3.
These new designs won't be low-power tablets either. They can run Windows 8 and offer an experience closer to regular laptops. Razor thin yet powerful, these machines represent what may be the best two-in-one combos since they became popular of late.
At the heart of things is Intel's new Core M processor. Faster than existing Atom processors used in tablets but still energy efficient enough to be run without a fan, the new chip can power up some really slim machines.
What's shown at the Computex trade show this week in Taipei bears this out.
Intel's reference design for such lightweight portables, codenamed Llama Mountain, is one sexy device. Just 670 grams heavy and 7.2mm thick, it is surely the most portable full-fledged laptop out there now.
Okay, it's actually a tablet with a 12.5-inch quad HD screen that can be docked easily to a keyboard. Connected to a desktop dock, it can be powered up to run faster without worrying about battery life.
It will support micro USB and micro HDMI ports to hook up to external devices and screens, much like existing "detachable" or two-in-one tablet cum laptops.

Intel Core M reference design docked
I saw the reference design yesterday from afar, when it was unveiled by Intel president Renee James on stage. Today, seeing it close up, I'm pretty impressed.
And I can't say enough of slim, because not long ago, this kind of design was only possible with a really low-power tablet design. New machines based on the Core M are expected to behave like full-fledged laptops that should run many of your office tasks better, and possibly some light editing tasks.
I say "expected" because that's the one important part that is still unknown. Intel says it is three times as fast as rival designs, but hasn't given any performance figures.
Quizzed on that, executives would only hint that there is some performance to be given up from moving from current Core i5 devices. In power saving mode, it is also likely to run at around 5 Watts for thermal design power (TDP), which is the industry expectation for a fanless processor.
So secretive are Intel folks here that the reference machine remained in the hands of demo staff and executives throughout media and industry events today.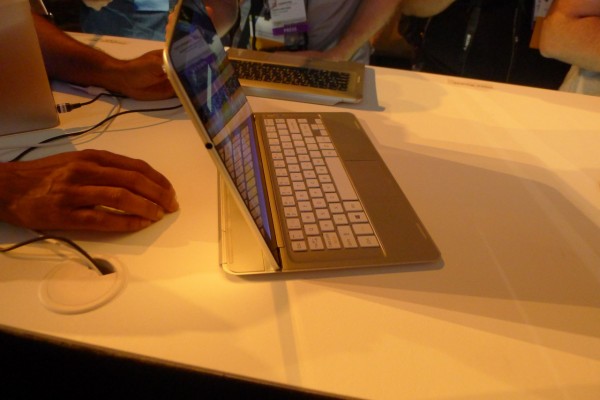 A design based closely on Intel's Llama Mountain reference
What is clear though is how the new processor and motherboard have been shrunk. Intel folks today showed off an Apple Macbook Air's motherboard, already very small, and compared it to the new Core M package, which was about a third of its predecessor's size.
By re-designing how the memory on a PC connected to other components, for example, Intel managed to cut back on the size of the circuit board.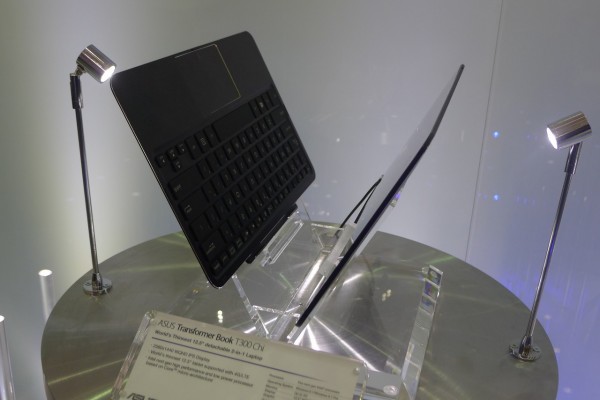 Asus' Transformer Book T300 Chi looks really slim
Already, Asus has shown off a Core M portable. The Asus Transformer Book T300 Chi, unveiled on Monday, is just a shade thicker at 7.3mm and with a quad HD screen (2,560 x 1,440). Unlike Intel's proof of concept, you can actually buy it, possibly towards the end of the year.
Borrowing from the Intel design, it is also a two-in-one device where you can easily detach the keyboard. No indication of prices yet, but it's surely something to look forward to.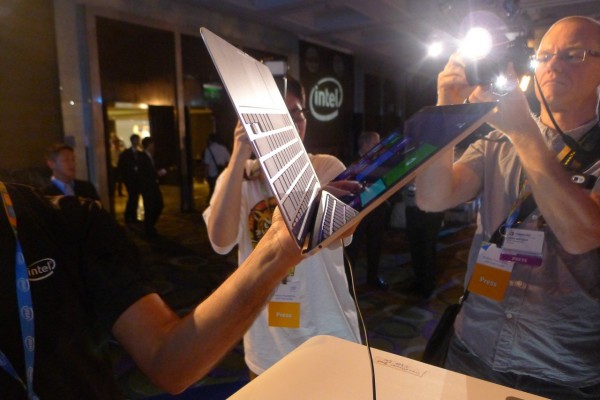 Asus' Transformer Book T300 Chi is attractive
As are other such Core M devices sure to turn up later. It looks like there might finally be laptop-grade performance in a portable tablet-like size, if Intel and its PC partners get it right.
The ultrabook might have turned your fat laptop into a sexy machine. Now get ready for even more attractive designs in the months ahead.