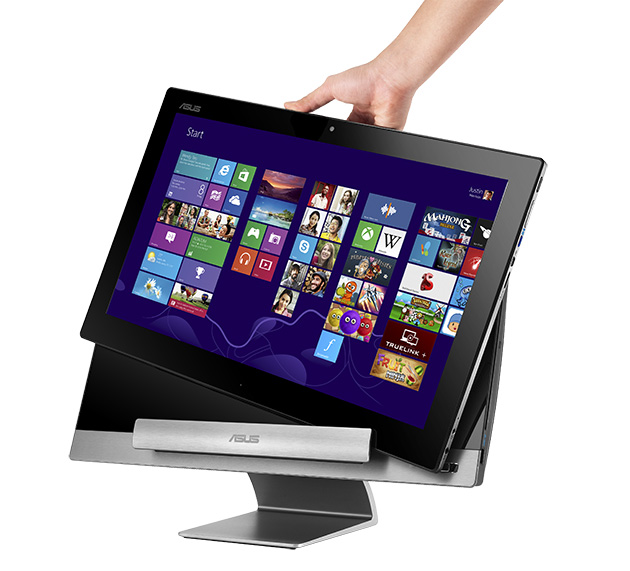 It's a PC. No, it's a tablet. No, it's both.
Not content to let Lenovo and Sony steal the show with humongous desk-bound tablets, ASUS has unveiled its own take on the "coffee table computer" – the ASUS Transformer AiO.
True to its transformer moniker, the computer runs both Windows 8 and Android 4.1, and has both an Nvidia Tegra 3 processor and an Intel Core processor.
Say what?
The 18.4-inch full HD display can act on its own and boot up into Android 4.1 with its Tegra 3 processor, boasting a battery life of up to 5 hours.
Snap the tablet into the PC Station dock and it turns into a fully capable Windows 8 PC, complete with discrete GT 730M graphics, 8GB of RAM and 1TB of storage.
When detached from the dock, both operating systems are fully accessible – Android as a built-in OS, and Windows 8 through remotely accessing the PC Station – and users can swap between either one at the press of a button.
A handle lets you carry the tablet around the home, or on the MRT, if you so wish. There's also a kick stand to help the tablet stand when it's not docked.
This concept still sounds a bit crazy, but ASUS may be on to something here.
What if you take the Transformer AiO and shrink it down to a more portable size?
You can have a 10-inch Android tablet with its currently superior app store and a Windows 8-powered dock for when you need traditional desktop apps – the best of both worlds.
If this unconventional transformer strikes your fancy, you can get your hands on it during the upcoming IT Show (7 to 10 March) for S$1,799.