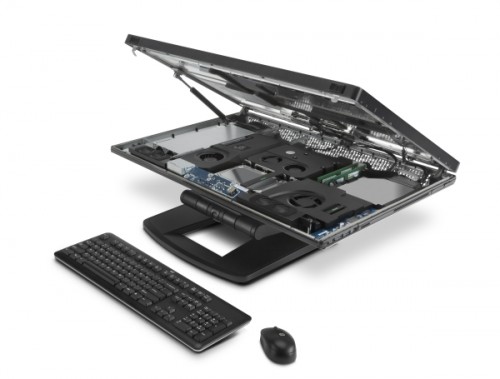 You've seen the Apple iMac and other all-in-one PCs from HP, Acer and Dell make homes look a lot more stylish with their monolithic designs that integrate both screen and processing unit.
Now, your office can look as cool, while providing the needed oomph of a workstation machine. Say hi to HP's new Z1 workstation PC that not only takes on the form of the consumer design, but also lets you snap open the screen to upgrade and replace components in the machine – something that all-in-ones never excelled in.
The new machine, showcased on Friday at HP's ongoing regional workstation event, comes with what you'd expect for something aimed at graphics artists, videographers, architects and other folks who require the horsepower for their work.
Behind a large 27-inch display, you can opt to have a quad-core Intel Xeon processor, Nvidia Quadro graphics and speedy enterprise-grade hard drives spinning at 10K rpm (revolutions per minute).
These components are the kind of stuff that you won't expect from an iMac or any consumer machine. And to satisfy the need for companies to upgrade – rather than buy new all the time – the snap-out screen offers an option against obsolescence. If you fancy adding more memory, for example, HP promises a tool-less maintenance for easy upgrades.
Now, who says work machines need to be boring?