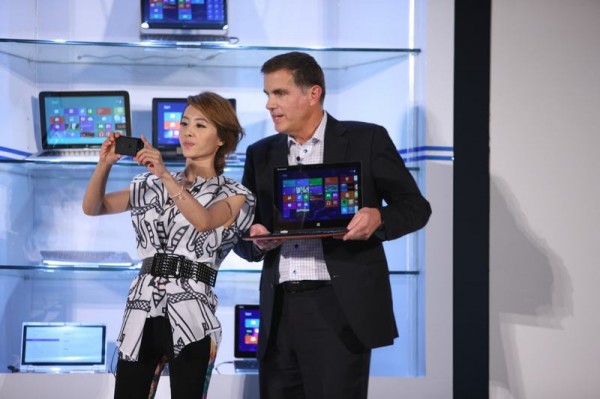 Taiwanese singer Jolin Tsai (left) at Intel executive vice-president Tom Kilroy's Computex keynote.
As if you did not get the message last year, PC makers are coming up with even more hybrid designs this year that promise to deliver the best from both a tablet and laptop.
Expect more of the detachable, convertible, flip, slider, rotatable designs that have characterised the most dramatic rethink in PCs in years, going by the new devices unveiled at this year's Computex show in Taipei this week.
This year, though, these "two-in-one" gadgets can run even faster and longer while being thinner and lighter, thanks to Intel's new "Haswell" or fourth-gen Core processors made specially for users on the move.
As the first of these devices from Asus, Acer, Toshiba, Dell and Sony appeared in public for the first time this week, much hope is pinned on them to reverse the sharpest slump in PC sales.
Intel had essentially ripped up its roadmap and made its processors from the ground up for a unique "two-in-one" experience, said executive vice-president Tom Kilroy on Tuesday. Unlike before, there will be no compromise when such hybrid devices become the "new normal", he stressed.
The upgraded graphics on the chips now run full PC games such as Torchlight II without lag. They also play back demanding 4K videos – with four times as much detail as Blu-ray movies – without any trouble.
At the same time, these machines use less battery, promising to run for a day without being plugged in for power. They will offer touch screens as well, for easy interaction while viewing media.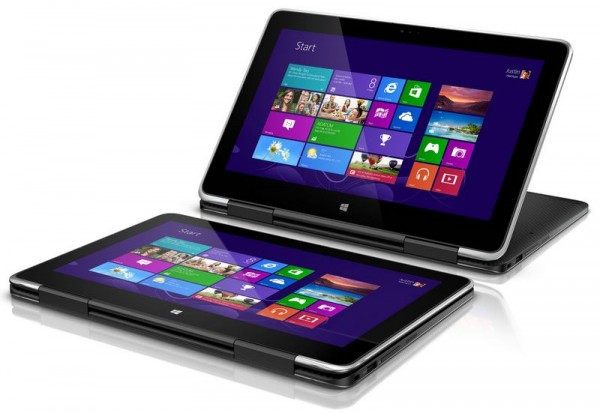 Dell's interesting XPS 11 sports a "quad HD" screen.
Some of the designs are very promising. Dell's XPS 11, shown briefly on stage by Intel on Tuesday, comes with a sharp 2,560 x 1,440 resolution on its 11.6-inch screen. Of course, it also flips nicely into tablet mode should you want to do without the keyboard.
Expect 10 times as many of such "two-in-one" hybrid designs from now to the end of the year, say Intel executives here. There will also be three times as many touch screen models as new devices move from using current Intel processors to the new ones.
Traditional laptops are not going away, of course. Thanks to the new Intel Core chips, which are now cooler and use less power, manufacturers can now come up with even thinner and even fan-less designs.
Asus' new Zenbook Infinity, already very slim previously, is now even skinnier by 14 per cent, with a girth of just 15.5mm. Then there is a new HP device, which Intel showed briefly, which uses no fans or vents. When it goes on sale in the second half of 2013, it could be a real breakthrough in design and usability.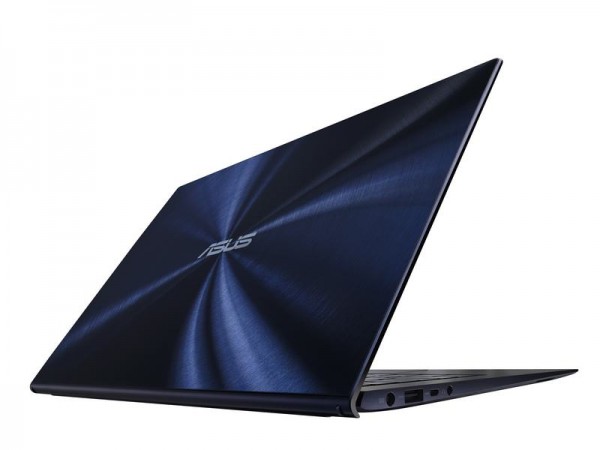 Asus Zenbook Infinity gets even skinnier than previous Zenbooks.
Fighting for the mobile space
Intel is betting that these machines will get people to continue buying PCs, instead of the many standalone, low-cost tablets using CPUs designed by its rival Arm Holdings.
Intel has no problems winning over manufacturers in Taiwan, traditionally PC partners who have grown with the chipmaker over the decades during the entire PC era.
It is with mobile devices, such as smartphones and standalone tablets, where the chipmaker has not made headway until recently. Yet, even here, the company is slowly gaining ground with new Atom chips – its low-cost, low-power option for really portable devices.
At Computex, Asus unveiled the strangely-named FonePad Note FHD6, which uses a 6-inch screen, runs Android 4.2 and sports Intel's dual-core Atom chip. The bigger win, though, comes in the form of Samsung's Galaxy Tab 3 10.1 unveiled earlier this week, which also uses the same Atom Z2560 ("CloverTrail+") processor.
What has made this possible is Intel finally integrating a 4G or LTE (Long Term Evolution) feature in its chip lineup, which had been a standard with rival Arm-based chips. That Archilles heel, according to Intel executives here, has finally been overcome and the myth that Intel cannot do low-power processors debunked.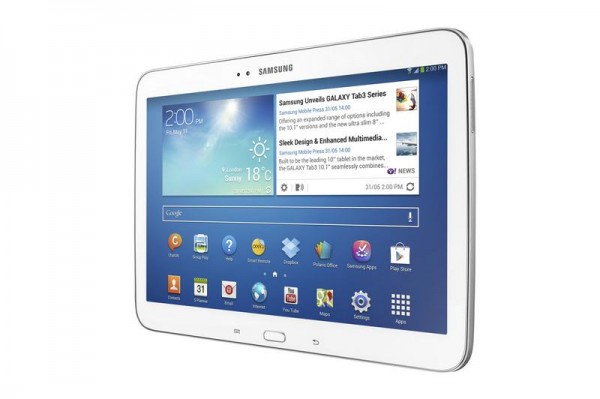 Samsung's Galaxy Tab 10.1 uses an Intel Atom chip, a big win for the chipmaker.
What Intel won't do, said Kilroy to reporters at a media conference, was very low-end tablets and phones. It will play in the US$150 space, but not compete with tablets that are claimed to be sold for as low as US$35 in Shenzhen, he added.
At the end of the day, Intel not only has to convince equipment makers by slashing prices of its chips, as it has been known to do of late, but also to please increasingly hard-to-please consumers.
Many designs, though interesting, still have to impress users who have a fixed idea of what a laptop, tablet or phone should be.
Some new gadgets, like the Asus Transformer Book Trio, may have some convincing to do. This 11.6-inch tablet taps on an Intel Atom processor to run Android, but switches to Windows 8 when docked with a keyboard that comes with its own Intel Core i7 processor and hard disk.
Will it offer the best of both worlds when it hits the shelves in the third quarter? Or will it be a flop except with geeks looking to pay for a truly two-in-one machine – essentially two sets of hardware squeezed into one?

Asus' Transformer Book Trio runs both Android and Windows 8
That machine surely won't turn up on the radar of many users in the developing world, who increasingly turn to the smartphone – not a PC – to share photos online or chat with friends.
They may not care for Intel's promise of a "two-in-one", no-compromise solution because they're happy with low-power mobile devices. They won't miss not having a PC, because they never needed one to go online.
At the same time, those who have a PC are keeping it around longer, because it runs so well. These days, with cloud computing taking the storage and processing loads off your machine, you don't need all the new hardware rolling out each year.
More importantly, consumers' buying decisions are not just based on technology or even practical things like ease-of-use. Rather, the PC has to transform itself into an aspirational, lifestyle product, as smartphones have done.
Yes, the cool designs count, but as long as users think of PCs as workhorses instead of the latest fad, they may not be buying new devices as often as the industry would hope for.