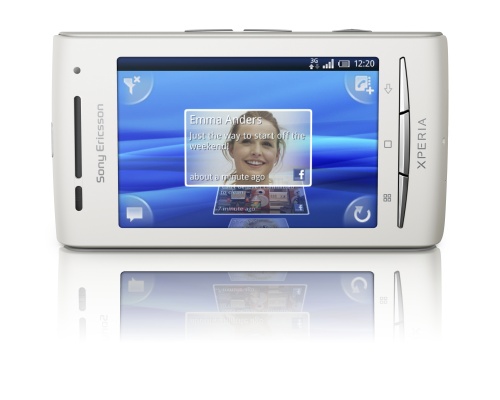 Back to life with the Android Xperia X10 and X10 mini launched early this year, Sony Ericsson has just unveiled the Xperia X8, an "in between" member of the Android Xperia family that it promises to be "affordable".
The "mid-tier" touch-screen device looks essentially like a smaller X10. It has a 3-inch screen, 3.2-megapixel camera and 3.5mm audio jack – all the basics of a multimedia phone for youngsters.
Out in selected markets in Q3 this year, the X8 comes in five colours, including white and pinkThe new Xperia phone appears like the most interesting among a range of new phones announced today at an SE event on the sidelines of the CommunicAsia show.
The phone maker also said it is offering upgrades to existing X10 and X10 mini and X10 mini pro phones already in the hands of users now.
Strangely though, Sony Ericsson is upgrading the devices to Android 2.1 instead of 2.2, the new Android version expected to be upgraded on high-end Androids from HTC and Motorola.
Details are also sketchy on the price of the X8, despite SE's promise that it's affordable. Let's see how much it'd cost when it's out in the coming months.
UPDATE: Had a quick hands-on with the X8. It's a nice, light-handling number that will slip into the pockets or handbags of many ladies, I'm sure, especially with the attractive colours.
It's not as powerful as the bigger smartphones you'll find, of course, but the access to Android market means users still get all the goodies on the Android Market without having tote around a large-screen device.