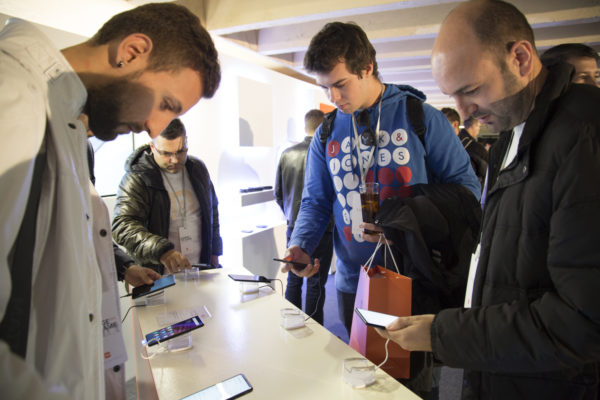 Worldwide smartphone sales dipped 5.6 per cent year-on-year in the fourth quarter of 2017, with 408 million units sold compared to 432 million at the same time in 2016, according to a report by research firm Gartner.
In the first decline since it started tracking smartphones in 2004, all major manufacturers sold fewer smartphones in the quarter, except Chinese phone makers Xiaomi and Huawei.
Xiaomi defied the market dip to enjoy 79 per cent year-on-year growth in smartphone sales, jumping from 15.8 million units sold in the fourth quarter of 2016 to 28.2 million units a year later. Its market share for the quarter rose from 3.6 per cent to 6.9 per cent.
Gartner attributed Xiaomi's surge to its competitive Redmi and Mi smartphones, which are set to attract sustained demand in Asia Pacific, China, and India.
"Xiaomi's biggest market outside China is India, where it will continue to see high growth. Increasing sales in Indonesia and other markets in emerging APAC will position Xiaomi as a strong global brand," said Anshul Gupta, research director at Gartner.
Huawei also had a positive quarter, with 7.6 per cent growth in sales of 43.9 million units sold, up from 40.8 million in the same time in 2016. This was largely because Huawei announced several new phones in that time, including the Mate 10 Lite, Honor 6C Pro, and Enjoy 7S.
Market leaders Samsung and Apple sold 3.6 per cent and 5 per cent fewer smartphones in the last quarter, coming in at 74 million and 73 million respectively, down from about 77 million units each a year before.
Gupta said the drop in sales was because consumers were buying higher-end smartphones and were using them for longer, stretching the replacement cycle and in turn affecting new purchases.
High consumer expectations also led to a perceived lack of quality "ultra-low-cost" smartphones and few incremental benefits among new models, discouraging consumers from getting new phones.
The report also noted "extreme competition" in the entry and mid-price segments of the smartphone market, as flagship-esque features are making their way to a number of affordable smartphones.
Samsung, whose sales volumes rely significantly on entry and mid-level smartphones, is seeing reducing contribution from these markets as competition heats up against the likes of Huawei and Xiaomi.
Still, Gartner said Samsung's impending Galaxy S9 and S9+ launch at the Mobile World Congress 2018 show today should boost sales in the first quarter of 2018.
As for Apple, the delayed availability and production hiccups of the iPhone X disrupted demand for the new iPhone 8 and 8 Plus during the quarter, dragging down sales.
Nevertheless, Gupta said: "We expect good demand for the iPhone X to likely bring a delayed sales boost for Apple in the first quarter of 2018."
Despite the blip in the last quarter, smartphone sales for the whole of 2017 still inched up 2.7 per cent to about 1.53 billion units sold compared to just under 1.5 billion in 2016.
In terms of overall market share, all major manufacturers gained in 2017 except Apple, whose share of the pie fell from 14.4 per cent in 2016 to 14 per cent in 2017. Nevertheless, the US smartphone giant still held on to second place.
Samsung's grip on the crown tightened ever so slightly from 20.5 to 20.9 per cent, while Huawei's market share climbed almost a percentage point from 8.9 per cent to 9.8 per cent, consolidating its position as the third-largest phone maker in the world.
Also growing are Chinese manufacturers Oppo and Vivo. Oppo grew its share from 5.7 per cent to 7.3 per cent, while Vivo improved its position from 4.8 per cent to 6.5 per cent.