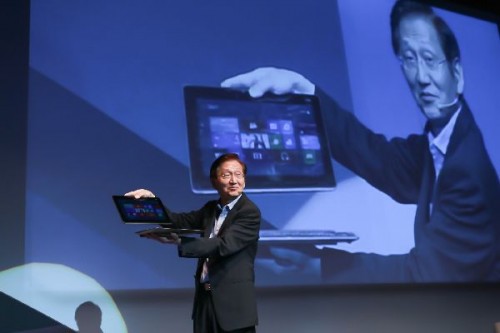 Even as shoppers are snapping up ultrabooks this weekend at the PC Show, a new wave of touch-based PCs running Windows 8 looks set to be hitting the stores in one of the biggest shift in the industry in years.
PC makers provided a preview at the Computex show in Taiwan early this week, by putting out designs that act as both touch-based tablets and regular laptops. Even ultrabooks that "look" normal will feature touch-screens. And the good news is, if you only wanted a regular laptop, it's going to be slimmer this year.
Let's start with Asus' Taichi. With two screens either side of its lid, this clamshell device is anything but a regular laptop. Both screens work independently, so actually two persons can be facing one another and using the same machine at the same time.
But more importantly, it lets a user either use it like a regular ultrabook or simply close the lid to access the touch-screen like a tablet. Running Intel's new "third-gen" Core processors, it will feature the touch options provided by Microsoft's upcoming Windows 8, slated to be out later this year.
Asus has more up its sleeves. At Computex, it also unveiled a device known as the Transformer Book. The interface here is slightly more familiar. It comes with a detachable screen which doubles up as a tablet running Windows 8. Again, it uses Intel's new chips, also codenamed "Ivybridge", which consume less power than previous generations of PC CPUs.
There are even more designs besides Asus. Intel says that some 110 ultrabook designs are in the pipeline a year after the unveiling of its concept of thin, light and affordable laptops. More than 10 are these new models are "convertible" notebooks, while 30 will feature touch screens.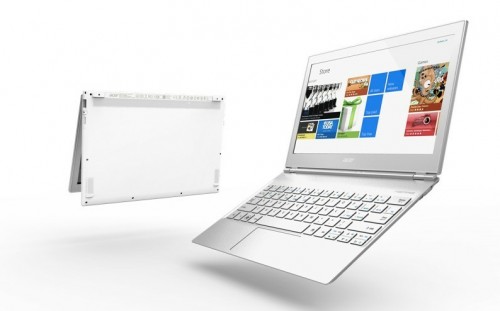 One of these is Acer's Aspire S7 (above). The ultra-light model is just 12mm thin (for the 11-inch version), which makes it one of the slimmest touch-screen laptops you can carry around. It offers the best of both worlds – the convenience of a keyboard if you want to shoot off an e-mail as well as a touch screen that gives quick access to music, for example.
The idea, at least for Intel, is simple. Build a machine that comes with a PC's traditional number crunching power and access to Windows programs like Word or Powerpoint, while offering some of the convenience of tablets – almost instant power-on, touch screens and extreme portability, and users might just avoid junking their PCs for tablets.
All in, this has spurred innovation in PCs not seen in years. Never before, until the past year, have thin and light laptops been so cheap (models like the S$4,000 Sony Vaio Z were previously the preserve of expensive corporate purchases). And now, in the coming months, you'll get touch screens as part of the package.
The battle between tablets and PCs looks to headed for a big fight this year-end. And that's a good thing for consumers.