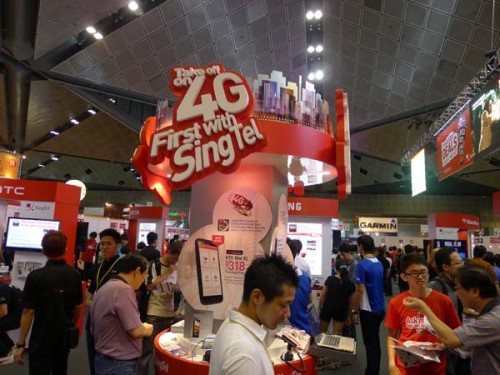 Braving the crowds and jams this weekend at PC Show 2012 for a quick bargain?
Techgoondu went through the floors this afternoon to bring you some interesting deals worth checking out. From desktop PCs to broadband plans, there's a wide range of bargains to look out for at Suntec City.
Asus Core i7 desktop PC
I know, why bother with desktops these days, right? Well, maybe for folks like my dad, who doesn't need the portability of laptops but prefers a large keyboard to type on and a big screen to surf webpages with. Good news is, desktops are cheaper than ever and more powerful for the same money.
One good example is Asus' Essentio CG8270-Ivy i7. Yes, that's a mouthful. Nevermind that, because the S$1,779 machine comes with Intel's new "third gen" Core processors, in this case, the Core i7-3770, a useful quad-core unit that'd come in handy for multi-tasking and when you're encoding videos or editing photos.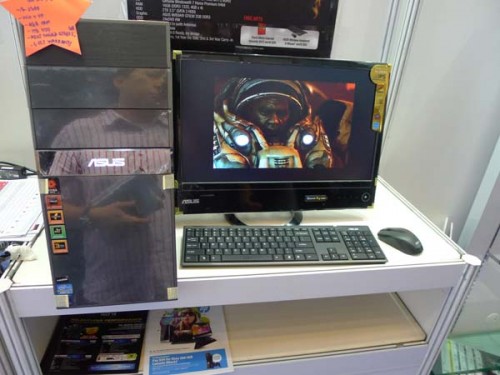 It also comes with 16GB RAM (more than you need), an ample 2TB hard disk and an Nvidia GT630 graphics card, which will keep the occasional game running at mid- to low-res, if needed. Asus has also managed to throw in a 24-inch monitor, which is the surprise of the deal.
What's also unexpected is the three-year warranty (first year on-site and second and third years for carry-in), which is a throwback to the old days when desktop PCs cost twice as much. If you are looking for a desktop, this Asus machine is definitely one option worth considering.
Download Asus brochure here.
HP Officejet Pro 8600 e-All-in-One
If you are looking for a full-featured all-in-one for your SOHO that doesn't burst the budget or take up half a table, then HP's Officejet Pro 8600 is the answer.
It comes with good colour printouts – better than most colour laser rivals that cost more – and pretty crisp black text as well, compared to fellow inkjet printers. Very importantly, it has useful features like automatic dual-side printing, which helps save paper and effort in turning each piece over. The touch-screen is another intuitive feature that takes out a lot of the hassle of everyday printing, scanning or copying.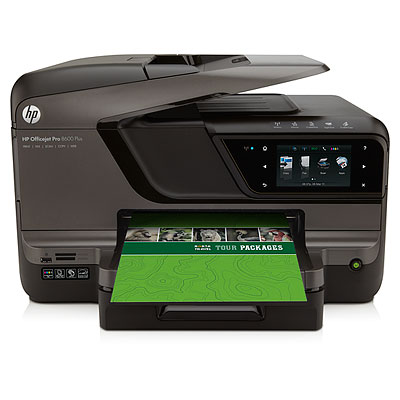 For S$449, this HP printer is a great deal. Other rivals may not come with fax, or lack a document feeder (important for scanning or faxing multiple pages), but this all-in-one from HP almost lacks nothing and is really friendly to use. If you also need dual-sided fax, copy and scan, add S$100 for the S$549 Officejet Pro 8600 Plus (above).
Download HP brochure here.
M1 and Viewqwest fibre broadband
It's the wild, wild West out there, as broadband service providers fight for the dollar of users switching over to fibre at each computer bazaar.
M1 is back with its crazy S$39 a month offer, which now also comes with 1GB of mobile data (for your iPad or phone), a free fixed line service and 12-month rental of its 1box pay-TV set-top box. It's clear M1 is going for numbers with such a bargain, but who's to complain?
If you only surf the Web and do e-mail, then the cheapest fibre plan is a no-brainer. There may be "better" plans according to the many opinions in forums, but if you only drive to your neighbourhood market for groceries, you don't need a sports car. This cheap M1 service is what you need.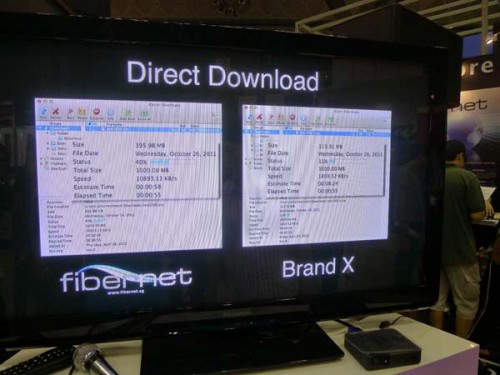 However, if you want to go "high-end", for example, demand low latency for your games, then what you may consider is Viewqwest's Fibernet Raptor service aimed at gamers. It's the first here to dare commit to almost lag-free connections of less than 200ms for popular game servers used by Diablo III, for example.
Power users will also be happy with the company's policy of giving away static IP addresses. This makes it more convenient if you are running, say, a Web server or an FTP server. However, Viewqwest's new plan is not cheap – at S$69.90 a month for a 100Mbps service, it is almost twice what you pay M1 for the basic version.
Besides these choice picks, among the other cool stuff we saw at the show included 46-inch Full HD TVs going for just S$799, possibly the cheapest at the show. Dell's XPS One 27 all-in-one PC is also another show stopper, looking almost as good as Apple's iMac, but with the latest Intel chips inside.
Oh, and don't forget Sennheiser's X 2 gaming headset for Xbox users. With a noise cancelling microphone and costing just S$39, this lightweight, 54-gram headset is a nice add-on for your online Xbox sessions with friends.
Here are some pictures from the PC Show.
Saw something interesting at PC Show today? Share with us and tell us what you bought at the quarterly bazaar as well!