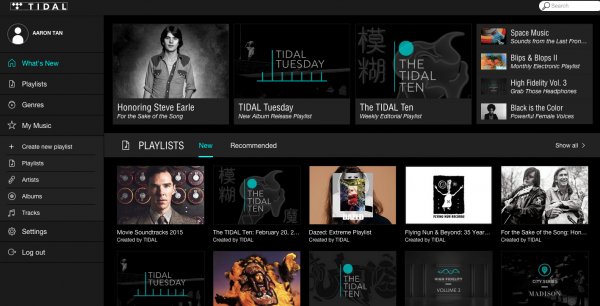 Music lovers in Singapore can now enjoy high-resolution tunes through Tidal, a lossless music streaming service from Norway.
Earlier this week, Tidal announced its expansion into new six new markets, including South Africa, Singapore, Italy, Czech Republic, Slovakia and Denmark, offering over 25 million music tracks encoded in the FLAC format.
The service is available through iOS and Android apps, a web-based player, and a slew of audio devices including the Bluesound Node.
Its monthly subscription price of S$19.99 is not cheap compared with music streaming services from Spotify and Deezer, which charge about S$10 a month. But what you get are CD-quality tracks that deliver full-bodied sound on a good pair of speakers or headphones.
While the arrival of Tidal is good news for audiophiles here, there are still kinks to be ironed out.
For example, the web player took a few seconds to skip to the next track in a playlist on some occasions, while some tracks couldn't be loaded at times.
You'll also need to use Google's Chrome browser to enjoy FLAC audio streams at 1,411 kbps on a desktop PC. On other browsers, the service only supports up to 320 kbps streams in the AAC format.
Deezer is also expected to introduce its Deezer Elite service in Singapore next month. Like Tidal, the high-res music service will also offer lossless FLAC streams at 1,411 kbps.
CLARIFICATION: The Tidal service is available in Singapore for a monthly subscription fee of S$19.99 and not S$29.99 as reported earlier. Tidal has clarified with Techgoondu that the earlier price was the result of a typo error.