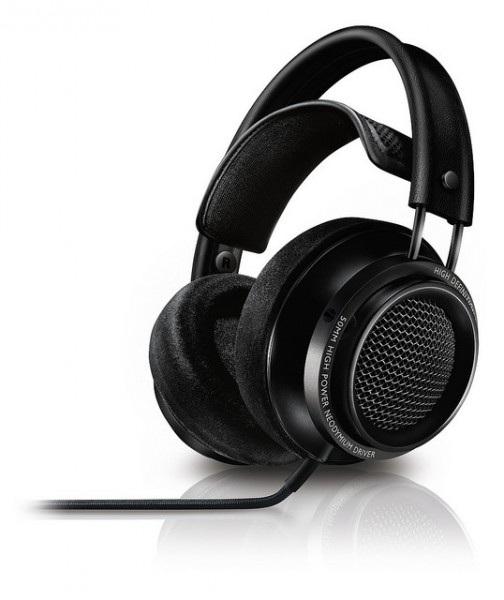 When the Philips Fidelio X1 debuted in 2012, it received rave reviews for its rich bass and warm sound. Its successor, the Fidelio X2, builds on those same qualities in an improved package.
For a start, the X2 looks more expensive than it is, thanks to its well-built aluminium frame and luscious memory foam ear pads that are covered with a velvet fabric.
A mesh hammock below the headband ensures a comfortable fit, though you can't adjust the position of the ear pads on the sides.
Like the X1, the X2's speaker plates are pre-tilted to a 15-degree angle to fit the natural shape of the ear.
Woox Innovations, the company that makes Philips audio gear including sound bars, says this ensures music is directed straight into the ear.
The X2's dual 50mm neodymium drivers are huge, but they don't feel as heavy as they look after you put them on.
Their open design, however, means they are better suited for quiet listening sessions at home – unless you don't mind background noise seeping into your music bubble when you're out on the streets.
With the X2, Woox has addressed the X1's shortcomings – a higher than normal cable resistance and trebles that seem to be a tad harsher than they should be.
The X2 now comes with a low-resistance cable that should offer tighter bass tones. Tweaks have also been made to the headphones' dampening components to smoothen the trebles.
The results are obvious. When paired with my NAD D 3020 digital amplifier, the X2 left me tapping my toes for nearly every music track I threw at it.
Take James Newton Howard's Slippin' Away II, a highly demanding piece that will expose the smallest flaws in an audio system.
The NAD D 3020 and X2 combo did well, bringing out the distinctive bell-like character of the opening bass notes with ease.
Later in the track, when the kick drum fuses with the bass, the system did not falter despite the high energy sound stage that could reach as high as 20dB.
At all times, the system could delineate the separate instruments, with very clear channel separation.
In vocal tracks, such as Puttin' On the Ritz by Margie Gibson, the imaging is almost perfect. You can hear the singer in the middle, accompanied by a piano and drums that offer plenty of sonic detail.
My favourite number for testing bass performance is O-daiko, a Japanese drum ensemble. Again, the X2 did well, bringing out the drum vibrations with solid, clean and crisp impact. The drummers' calls were also very audible, riding just below the surface of the drum in the background.
Available from next month for S$499, the Fidelio X2 is a steal. Given its fine audio qualities, it could well rival more expensive headphones in the market.