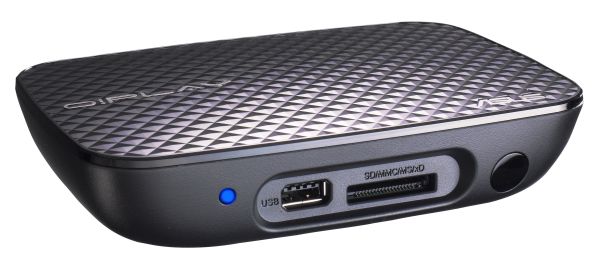 The hype surrounding Internet or smart TVs these days begs the question: why would you want to check your Facebook on your TV with an awkward remote control rather than your touch-screen phone?
Apparently, TV makers think differently. From Samsung to Sony, they have been cranking out smart TVs as the next big thing for the living room, and well, now you too can get your old TV on this "next gen" goodness when you plug in an Asus O!Play Mini Plus set-top box cum video streamer.
Never mind if you can't pronounce its name. This petite gizmo not only streams all sorts of video formats from your PC to your TV, but it also acts as a conduit for "smart" e-services that your neighbour's spanking new TV offers.
Want to catch up on your holiday pictures on Flickr or Picasa? The Asus gizmo connects your TV to the Net to view the images. Want to watch some blurry online videos? Log on to YouTube as well as Mediafly.
There's also support for Dailymotion videos as well as Facebook, after Asus releases a software update for the device in October 2011, so you more or less get some of the most popular "apps" coming on a smart TV these days.
As a streaming device, the Asus O!Play Mini supports the usual array of formats and extensions, including MKV and even the less common RMVB, so at the least, you can use it to deliver all the movies you've downloaded (or encoded) to your TV.

To hook up to your home network, there's a useful Gigabit Ethernet port along with Wireless N connectivity, the latter of which will come in handy if you have a Wi-Fi router nearby.
We'll have price and availability for the Asus O!Play Mini Plus for Singapore shortly. Meanwhile, here's a breakdown of what video formats it supports.
Items
Description
Supported Video formats
MPEG1/2/4, H.264, VC-1, RM/RMVB
Supported Video file extension
mp4, .mov, .avi, .asf, .wmv, .flv, .mkv, .ts, m2ts, .dat, .mpg, .vob, mts, .iso, trp
Supported Audio formats
MP3, WAV, AAC, OGG, FLAC, aiff, Dolby Digital AC3, DTS Digital Surround, Dolby Digital Plus, PCM/LPCM, Dolby TrueHD, ID3 Tag
Supported Image formats
JPEG, BMP, PNG, GIF, TIFF
Supported sub-title formats
SRT, SUB, SMI, SSA, TXT
I/O ports
1 x Power (DC-in) input

1 x USB 2.0 port

1 x e-SATA/USB 2.0 Combo

1 x Gigabit LAN port (1000Mbps)

1 x HDMI port

1 x Analog audio/video output

1 x digital audio output (S/PDIF) port

1 x SD/MMC/MS/xD card slot (4 in 1)

Dimensions
W x D x H:

151.85mm x 106.7mm x 29.03mm

Weight: 175g

Power Source
12Vdc, 2A
Power Consumption
10W