Brought to you by SpaceChain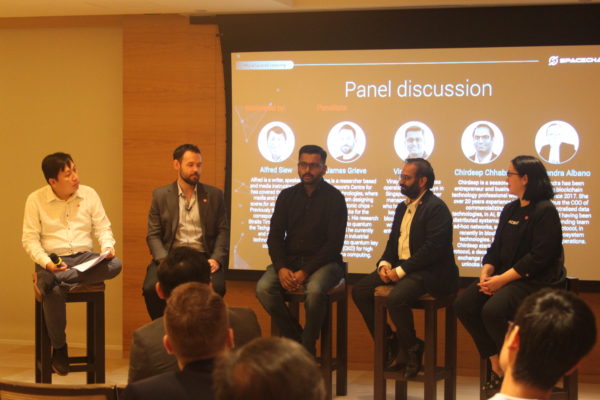 For so long the preserve of a select few countries and their governments, the space industry is still a relatively closed one when it comes to technology adoption, despite the entry of private enterprises such as SpaceX.
However, change is upon it, as it becomes more open to the ordinary citizen and commercial company that have useful technologies to offer, according to experts in a panel discussion last week.
There is already a "democratisation" of space, as more countries and private companies send satellites and other equipment into space, they said at the Global Space and Technology Convention in Singapore.
At the moment, the space industry is still lagging behind other industries in embracing the latest technologies such as blockchain, said Alessandra Albano, director of operations at SpaceChain, though that is set to change.
She added that there is a huge opportunity for startups to offer disruptive and groundbreaking technologies that could transform how the space industry operates in the coming years.
Her company, SpaceChain, recently sent a cryptocurrency wallet into space via a SpaceX satellite. The module is now installed at the International Space Station (ISS), where it enables a more secure way to handle transactions through multiple signatures. Though in space, its impact resonates on Earth.
And more than just connecting the various Bitcoin transactions across the world, SpaceChain wants to push for a decentralised satellite infrastructure, so that not just a handful but many companies can launch satellites into space to conduct experiments and deploy useful technologies, for example.
This greater opening up of the space industry is likely to come at a time when countries such as China and the United States have been wary of one another in so many areas, including the exploration of space.
As a Singapore-based company, SpaceChain hopes that it is in a neutral position to push for an international effort to deploy new technologies in the space industry.
Founded here in 2017, it is one of several startups in Southeast Asia that are looking to the skies to ignite change. This "space economy" is estimated to be worth US$415 billion globally, according to the Space Foundation, an American non-profit industry advocate.
Speaking at last week's panel, Vinay Mohan, the head of blockchain ecosystem company ConsenSys Singapore, said there are many new possibilities with the decentralisation offered by blockchain technology.
Instead of the space industry being dominated by a few players, it can be made more accessible to commercial companies and even individuals if it adopted blockchain technology, for example, to build trust between parties, he added.
The company has developed an app for users to easily track where satellites are in the sky, for example, opening up a simple way for people to be involved in the space economy.
Agreeing, Chirdeep Singh, the founder of Ocean Protocol, said decentralisation would bring a big change to the space industry, enabling it to embrace technologies that have already made huge impact in other industries.
His company is working on a decentralised data exchange protocol that unlocks data for artificial intelligence (AI). It provides security and compliance tools using state-of-the-art blockchain technologies.
And it is not just blockchain and AI that are potentially disruptive to the space industry. With quantum photonic chips becoming a reality, they can be building blocks for the quantum Internet, a network that sends signals not by radio waves but photons of infrared light.
One possible outcome is more secure communications compared to the current version that is relayed over many "hops" on the Internet.
In 2017, in an early effort, the Chinese sent a quantum satellite into space, where it is easier to send such photons across vast distances than back on Earth.
Dr James Grieve, a senior research fellow at Singapore's Centre for Quantum Technologies, said that increasingly there will be a need for more secure communications, which is an area that the space industry can play a larger role in.
Emerging technologies, such as quantum networks, can deliver breakthroughs that enable improved ways to connect to one another in space as well as on Earth, he added.
Indeed, the space industry appears to be entering a phase where there are multiple technologies just waiting to be deployed to make a real difference, say the experts in the panel.
And the change could be far greater than what many can see today. ConsenSys' Mohan said the current space industry is at a cusp of great change, like when the World Wide World first appeared on desktops in the 1990s with a text-based browser. He sees the same huge leaps ahead.