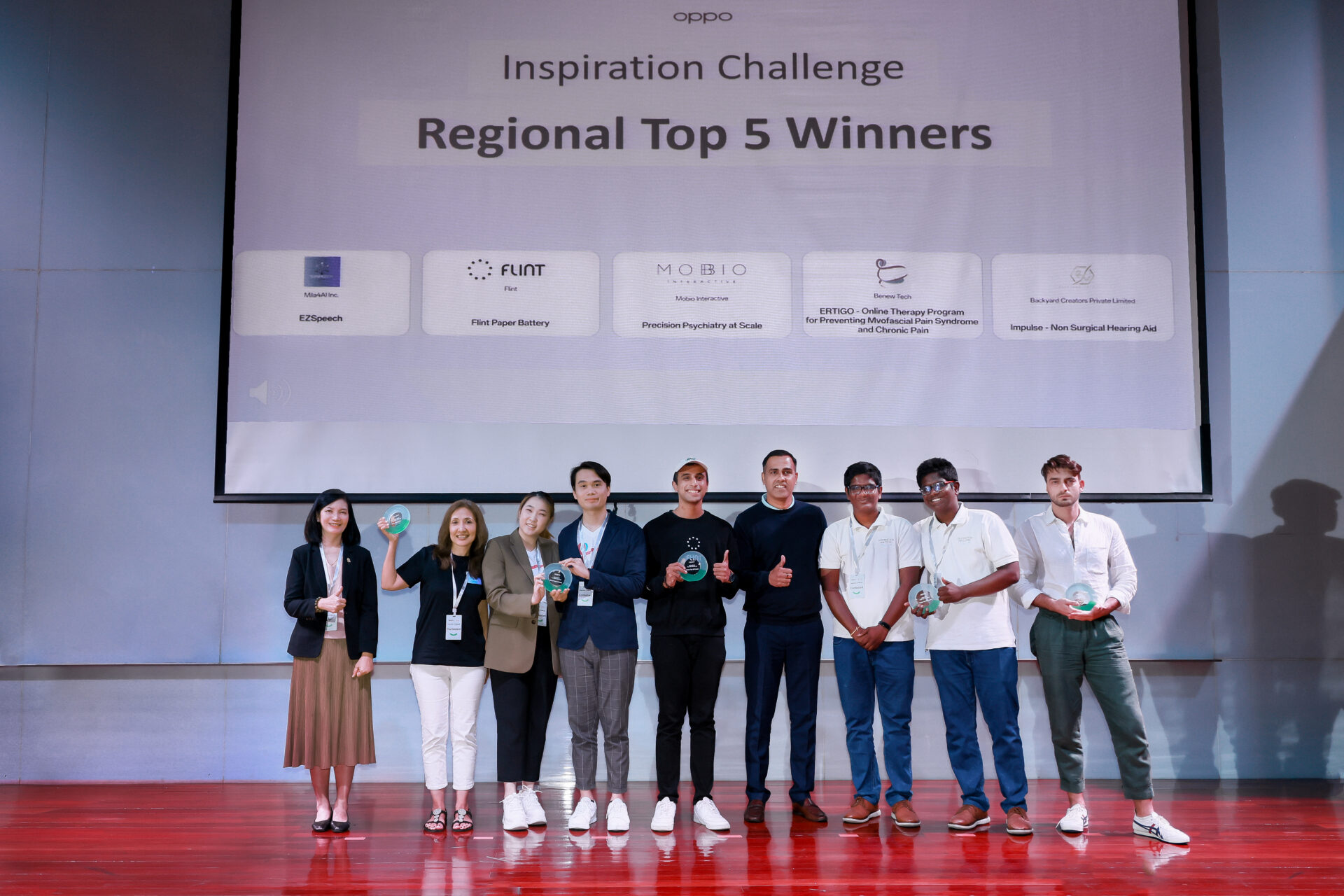 Five teams from Asia have emerged from Oppo's Inspiration Challenge regional competition after showcasing their digital solutions for solving human and environmental challenges in Bangkok last week.
Oppo Inspiration Challenge is a showcase competition encouraging entrepreneurs and technology professionals to bring innovative solutions forward using Oppo's technology and business building capabilities.
Of the winners, two teams have focused on using technology to help in areas of disabilities – congenital hearing loss and speech impairment.
Impulse is a team from India that created a non-surgical hearing aid to help people who are born deaf by putting on a device that uses transcranial magnetic stimulation to stimulate hearing nerves to enable hearing.
Another entry is from Uzbekistan's EzSpeech, which helps children practice oral motor exercises and articulation at home without additional help. With the help of artificial intelligence (AI), the system interprets facial movements and sound production to tweak activities to help the child improve on verbalising words.
Singapore's Mobio Interactive is another AI-powered solution in the competition. It helps detect excessive stress in a person just by scanning the user's face with a smartphone camera.
Using a unique 6-layer deep neural network, Mobio's app predicts cognitive stress in a person by using heart rate and heart rate variability. Such a tool enhances health care by reducing stress through meditation exercises in the app.
Another self-help app is from Thailand's Ertigo, which helps users to do stretching exercises to reduce pain brought about by prolonged sitting on the workbench. The app even connects users with a therapist to provide more holistic care.
However, what may have stolen the show was Flint's paper battery from Singapore. Flint embeds conductive materials in cellulose-based material, such as paper, that can absorb the electrical charge and release the energy used by electrical appliances and gadgets like any other battery.
Such batteries are compostable, flexible and versatile, which promise to help produce thinner and lighter smartphones and wearables while conserving the environment.
The five teams will join 10 other global finalists for the grand final to be held in Singapore later this year. The top five winning teams from across the globe will be awarded a grant of US$50,000 each.