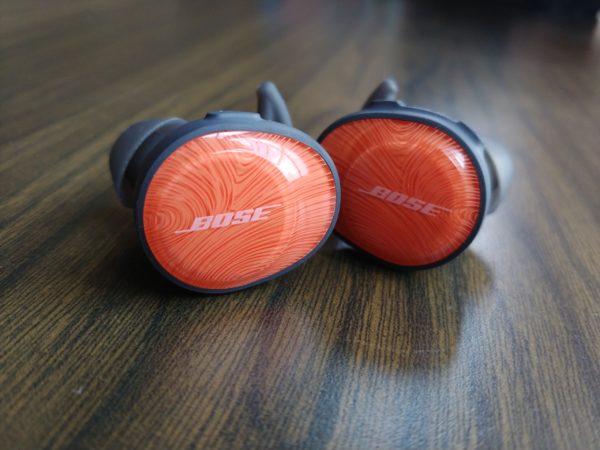 Among the wireless sports earphones I've tested over the years, the Bose SoundSport Free that I tried out recently have to be among the best-sounding pairs out there today.
Now, a snug fit as well as comfort may be two big factors in such a pair of earphones, but Bose has taken the time and effort to ensure that the SoundSport Free actually sound decent even when you wear them on a day away from the gym or a workout.
During my tests, I noticed the fuller, more rounded quality that is missing from many similar offerings. Granted, there is a slight bit more bass than I like – I'm picky – but there is a clarity that strikes you immediately.
Whether you're playing an uptempo Moby track for a boost during a jog or a slower number from one of his "ambient" lineup, the Bose earphones don't miss a beat.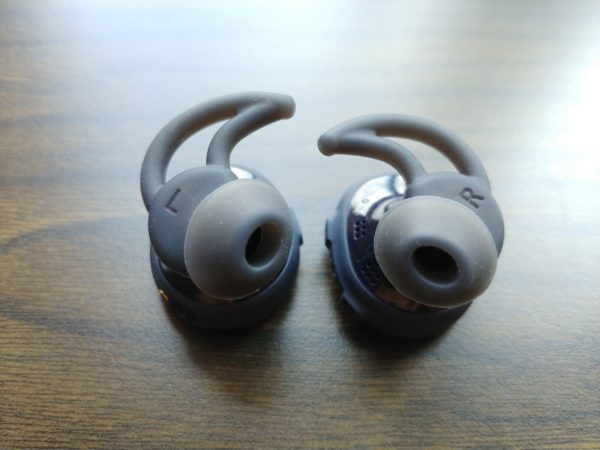 It helps that they have an open-back design to allow sound to get in and out. Using an unique waterproof mesh, Bose says it has made it possible to have both sound quality and water resistance – an unlikely combination.
The SoundSport Free are decent enough for a regular pair of Bluetooth earphones. For a pair that is truly wireless, that is, without any connecting cable between the two ear buds, the sound is clearly streets ahead of the competition.
There are trade-offs, of course. For their larger size, you'd have to be prepared for the earphones to jut a little outwards, compared to, say, Samsung's IconX. That may take a little getting used to.
Wearing them the first time for a jog, I was pretty worried that they would fall off. In fact, I kept fiddling with them to ensure a good, snug fit. I need not have, as I found out later, but the initial impression is not one of confidence, I must say.
What about Bluetooth connectivity, which is an issue with other similar wireless earphones? With the SoundSport Free, I got mostly uninterrupted playback on the move, except when I started fiddling with the ear buds, worried about them dropping off.
My advice if you are using them for the first time: just find a silicone tip that fits as snugly as possible in your ears and leave the earphones alone. They didn't fall out for me and they shouldn't for you – it's just the larger design that makes you feel anxious at first.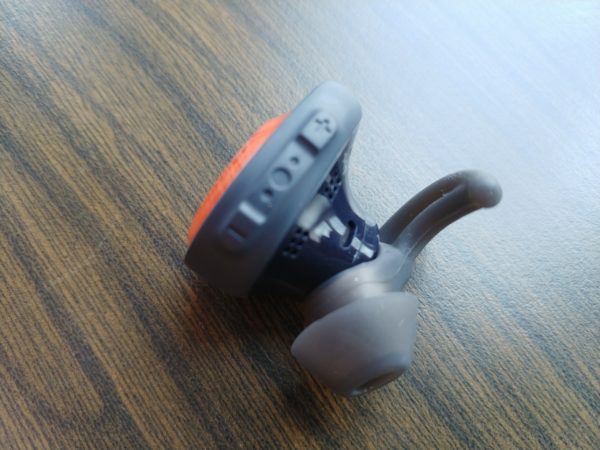 Good news is, the earphones, at 15g each, aren't that heavy. They don't weigh down on your ears or get too tight into your ear canal, as some fully wireless earphones can be.
For better or worse, Bose has also done away with touch gestures that seem increasingly common today with headphones as well as earphones. This means you rely on the rubber-wrapped buttons to adjust your volume.
The SoundSport Free, surprisingly, are not waterproof because they certainly look the part with a sturdy build. They are only rated IPX4, which means they can keep out rain and sweat, but you shouldn't really bring them into a pool.
To charge the earphones, you slot them into the included charging case, which can be connected to a power source via a USB cable. This case is a battery itself, capable of two full charges (up to 10 hours of usage, according to Bose).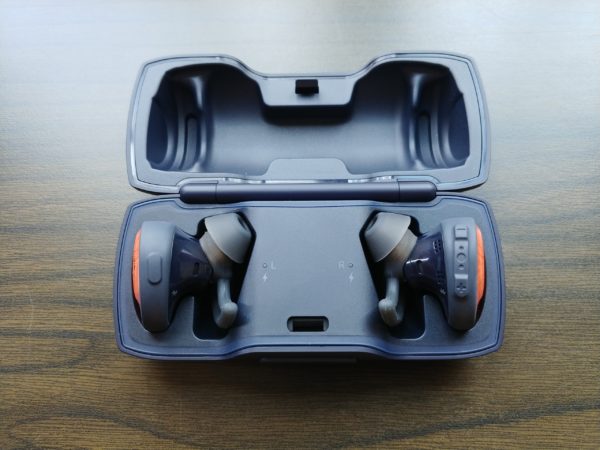 This is a neat arrangement, except when you have a long-haul flight lasting more than, say, five hours. You'd need to take out the earphones and wait while they are juiced up in the case.
To be fair, that's a compromise not unique to Bose. As with any small pair of wireless earphones, there is a need to balance size (and comfort) and battery life.
Compared to my favourite pair of fully wireless earphones – the S$429 B&O BeoPlay E8 – the Bose offering comes close in terms of audio quality though they lose out when it comes to a sleek finish. It just lacks that bit of an X factor.
I wouldn't mind that, to be fair, if I'm using the SoundSport Free for my workouts. After all, I'd just be happy that they work well and are more affordable.
For sure, S$319 still isn't a small sum for a pair of earphones. However, given the sound quality, the SoundSport Free do look appealing. Just make sure you try them on first, because the fitting can take a little getting used to.