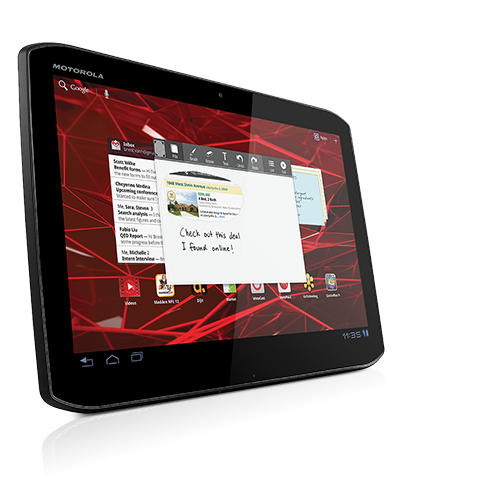 Motorola is putting up a lighter, more powerful follow-up to its Xoom tablet for sale here in Singapore from today, but with a rather hefty price tag of S$978.
The new Xoom 2, which will come with both 3G and Wi-Fi, sports a 10.1-inch screen and a faster processor, but will run only on Android Honeycomb (3.2) for now. It should likely be upgradeable to the newest Android 4.0 later in the year, if Motorola Singapore follows the practice of its US headquarters.
The original Xoom hit the stores in Singapore as one of the first Android 3.0 tablets early in 2011, but had a tough time overcoming Apple's iPad 2 and fellow Android tablets from Samsung that were slimmer and lighter.
This time round, the Xoom 2 has shed some of its weight and tips the scales at 608g instead of the 700+g of the original Xoom. Performance wise, it also boasts a faster 1.2GHz dual core processor instead of the original's 1GHz chip.
Interestingly, it has curved corners, a departure from the regular squarish tablet design we've become used to seeing. More practically, Motorola has included a piece of hardy Corning Gorilla Glass to protect the screen and a splash-resisting coating that protects against accidentally spills, much like what we saw in the Motorola Razr.
But the Xoom 2 will face competition from Samsung and Asus, which has already started selling the Transformer Prime in Singapore for S$899. The Asus tablet should already get an Android 4.0 update in January 2012 and weighs a light 586g, not to mention that it has a new Tegra 3 quad-core processor.
And that's not also mentioning the many other tablets unveiled this week at CES in Las Vegas that will hit the stores in a few months.