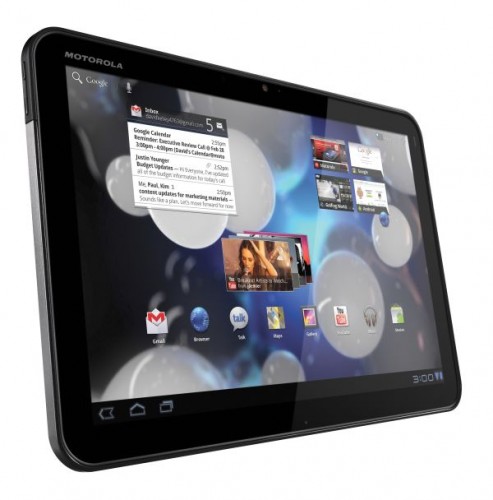 It looks like Motorola will be among the first to ship an Android 3.0 tablet computer here in Singapore, when it starts putting its much-touted Xoom on shelves here on April 22.
Asus ran a successful pre-order of its Eee Pad Transformer this week, selling 100 units in just three hours on its Facebook page, before the device hits the shelves in the coming weeks. Meanwhile, Samsung's Galaxy Tab 10.1 is slated to ship here some time in Q2, 2011.
That leaves this Wi-Fi version of Motorola's Xoom to be one of the first real challengers here to Apple's iPad 2, which is said to be shipping sometime this month as well.
[CORRECTION: Acer had shipped an Android 3.0 tablet earlier this month, so Motorola is not the first, as we had said earlier. Thanks to reader Kenneth for pointing that out.]
Other than a lack of 3G mobile broadband, the S$888 device from Motorola is similar to its full-fledged sibling. It comes with a 1GHz dual-core processor, 1GB RAM, a 10.1-inch screen and 32GB of memory for apps and storage. That's not to mention Android's support for Flash 10.2, as well as a rich, widgets-based interface.
Along with the Asus Eee Pad Transformer and Samsung's Galaxy Tab 10.1 and 8.9, the Xoom is part of a new wave of Android 3.0 tablets definitely worth checking out this year.
After months of looking on with envy at the United States and Britain, where many of these new tablets and phones have already shipped this year, consumers should be happy that the next round in the tablet wars are finally here in Singapore.
In fact, it starts this Friday with sales of the Xoom at Challenger, Courts, Newstead, Best Denki, Harvey Norman and Mustafa.
(NOTE: We had originally used a Verizon-labelled version of the tablet, which Motorola has pointed out is the 3G version. The picture above is the updated, correct one.)