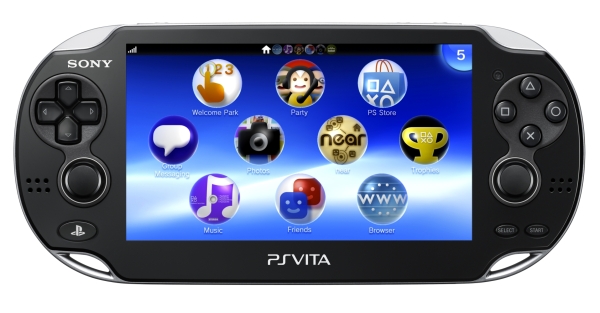 The Nintendo 3DS not the handheld gaming console of your choice?  Take heart, for Sony's newest handheld PlayStation Vita will be heading over to our sunny shores on February 22, in less than 2 months' time.
Retailing at S$399 for the WiFi-only version, the PS Vita will be accompanied by 27 launch titles, including Uncharted: Golden Abyss and FIFA Soccer.  However, the connectivity-junkie will have to wait longer for the 3G version, as there is no word on when that will be released.
The price is definitely quite surprising, given the challenges that the 3DS faced at a similar price point. But unlike the 3DS – which is too similar to its predecessors to generate a high-level of excitement – the PS Vita is a completely different beast that previous PlayStation Portables.
For one, the device has a 5-inch OLED touchscreen (960 x 544), a touchpad round the back, and an accelerometer. This combination should open up new possibilities for gaming. It also has front and rear cameras for augmented reality use.
In addition, the PS Vita has features that make it come close to a small tablet, including a web browser and social networking features like Facebook and Skype.
There's plenty of power under the hood. The PS Vita is powered by a quad-core ARM Cortex A9 processor, a PowerVR GPU with 128MB of VRAM, and 512MB of memory. All this horsepower means that the battery better be huge, but the non-removable battery is only rated at 3 to 6 hours which is, quite frankly, terrible.
Another downside: inexplicably, the Vita uses a brand new proprietary memory card for content storage, and the lack of any built-in storage means that you'll probably have to buy additional cards if you also want to chuck in your movies and music.
But there's no denying the excitement and potential the PS Vita brings. It is quite a significant update to the older PSP models, and having been in the business for years, Sony understands the market well enough to offer gamers what they want.
But now that quad-core Android tablets with the ability to handle 3D gaming are just on the horizon, a portable gaming handheld could be in for the fight of its life.