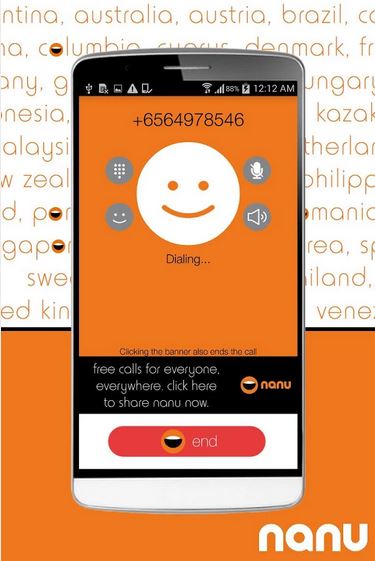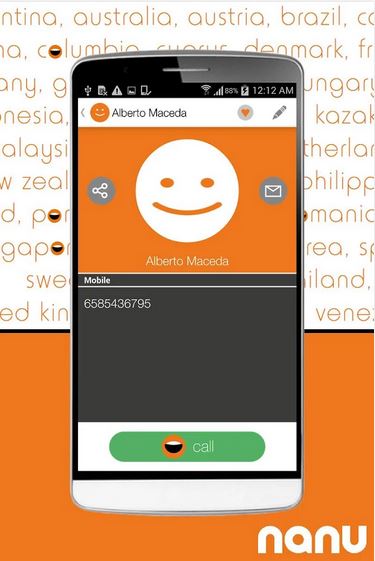 You're okay with advertisements appearing ever so often when you use Gmail, so why not "tolerate" some voice ads when you make a call – for free?
That seems to be the premise of Nanu, an Internet phone service that is set to deliver free calls to customers. The company behind it, Singapore-based Gentay Communications, believes people will take to it, especially to make usually expensive international calls.
While Skype, Viber and a number of other Internet telephony companies offer free calls between online users and charge very competitive rates for calls to phone numbers, Nanu is expected to be free even for calls to regular phone numbers.
The cost is to be borne by advertisers, according to the company, which also told The Business Times in Singapore that it is in talks with potential clients such as Nestle, KFC and HTC.
To call, a user has to download and use the Nanu app on their smartphones. As he calls, he will hear a voice advertisement – instead of a ringtone – before the other party is connected.
Gentay also claims that its Net calls can work better with low-bandwidth networks like 2G networks. This is a departure from the 3G or Wi-Fi connections that Skype or Viber works fine on. Techgoondu has not tested Nanu's call quality yet to verify the claim, though we have done some quick, inconclusive checks.
There's also no guarantee the service will be forever free. Unveiling it on Tuesday, the company suggested that it needed critical mass – as any advertising-based business – for the free offer to take off.
To kick start things, it says it is offering unlimited free calls between Nanu users and 15 minutes of free calls to non-Nanu users for the first million people who download the app.
What happens after that? It's clear that enough users have to get onboard for the free offer to be viable in the long term. After all, Nanu does incur charges for Gentay since it still has to pay telecom operators to connect to regular phone numbers.
And there's nothing stopping these big telcos from offering the same deal – free calls – with much better quality on their own networks.
Local voice calls from a fixed line phone are already free for many fibre broadband users in Singapore, and industry experts have been talking about all calls being free – and subsidised by Internet subscriptions – for years now.
Still, there is something attractive about a free call. It's like free music. Look at how well Spotify is doing with its offer of free streaming on mobile devices – with ads thrown in, of course – and you can picture a possible niche for services such as Nanu.
Want to try out the free calls? The Android app is out now on the Google Play store, while an Apple version is expected later this year. Let us know how you rate the call quality.