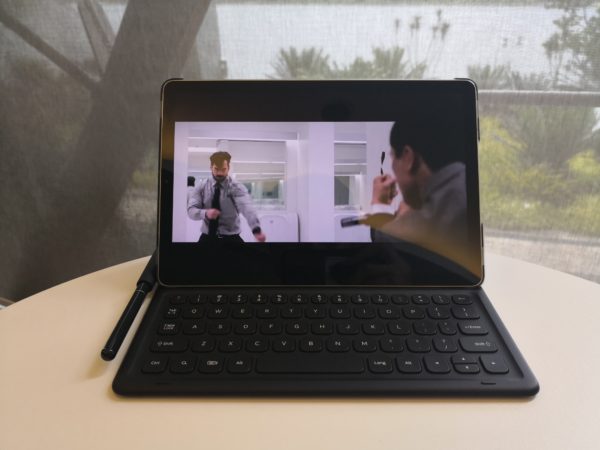 Amid declining tablet sales across the world, Samsung's newly launched Galaxy Tab S4 is one gadget that's going against strong headwinds. For folks like me who still use regular tablets, this is good news.
The Galaxy Tab S4 is a significant upgrade from Samsung's previous model. The first thing you'd notice is that the screen has been upsized from the Galaxy Tab S3's 9.7-incher to a significantly larger 10.5-incher.
At the same time, the new tablet has remained compact. This is because Samsung has taken out the physical button cum fingerprint sensor at the bottom and kept the bezels cleaner. This is a much neater design.
To log in, you now use the camera at the front, much like how you'd do on many phones today. The screen resolution remains a sharp 2,560 x 1,600 and you get a Super AMOLED screen that's bright and vibrant.
The new Galaxy Tab S4 also doubles up more effectively as a productivity tool when paired with a keyboard. Clearly, Samsung isn't giving up on the high-end tablet yet, despite earlier fears.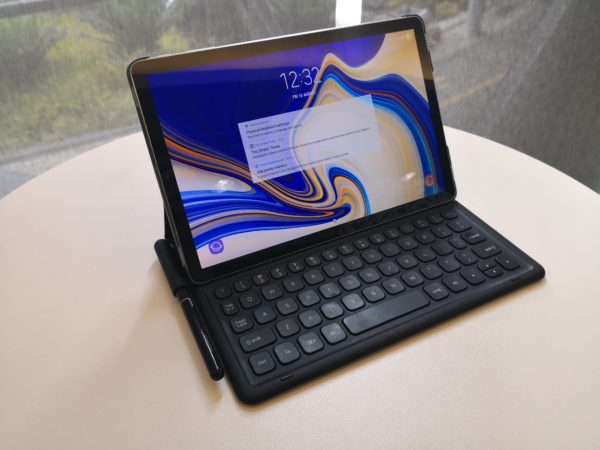 Beneath the sleek frame, there's a top-end Qualcomm Snapdragon 835 chip that should run Android apps without any issues, at least for the next few years.
You also get a handy 4GB of RAM, which is fine to me, though folks who want the latest will wonder why the tablet has less memory than the Galaxy Note 9, which has as much as 8GB.
For storage, you get either 64GB or 256GB. Pop in a microSD card and you get as much as 400GB more. That's useful for storing your Spotify and Netflix files offline for those long flights.
Perhaps one of the most useful upgrades is the stylus. Instead of the rectangular-shaped pen in past tablets, you get a rounded one that feels more like a regular pen for sketching and scribbling.
No surprises there, given how Apple's iPad Pro and Microsoft's Surface Pro have won over users with their superior pens. Now, if only Samsung also made the stylus a remote, like how it is on the Galaxy Note 9.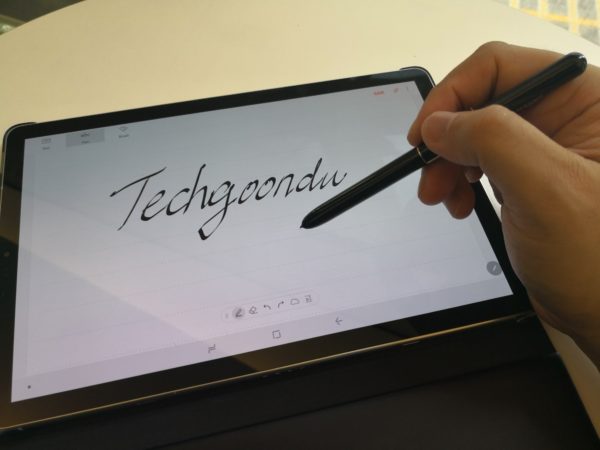 To be sure, Samsung is catching up here in terms of converting the Galaxy Tab S4 into a media creation – rather than just a consumption – device. Can it do so, when there are a lot more options already in the market?
It will take some converting for those already on the iPad Pro or Surface Pro, especially if they are used to Apple's top-notch stylus or Microsoft's Windows ecosystem.
But the Galaxy Tab S4 does do better than Chromebooks, I feel, because it is more flexible. And it is not encumbered with running Windows on Microsoft's new Surface Go.
As you can see already, the market is crowded when the new Galaxy Tab S4 arrives in the market later this year. It has to win over many existing tablet users, to convince them their tablet is a versatile little tool for work as well.
There's no indication of price of availability, unfortunately, at this point. However, the Galaxy Tab S4 is likely cost about US$650 and US$750 for the two models, as they are priced in the United States.