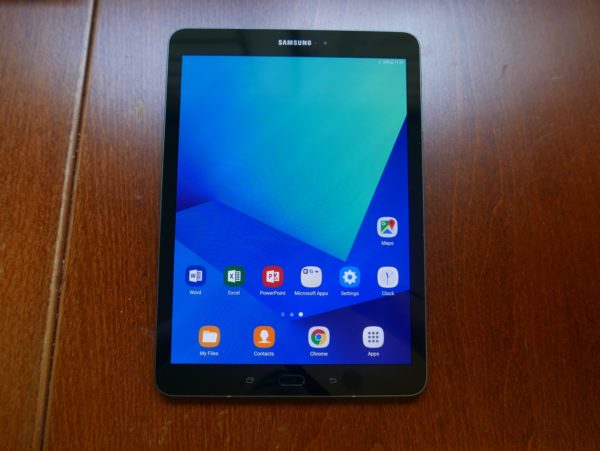 Sure, the world seems to have moved on to two-in-one convertibles like the Microsoft Surface or more recent additions like Asus' tablet-cum-laptop called ZenBook Flip S.
But what you if only wanted a plain, old tablet? You know, since you already have a laptop or if you just wanted to replace that crummy old tablet of a few years ago?
If you're of the Android persuasion, the Samsung Galaxy Tab S3 launched in Singapore a few months ago is probably what you're looking for.
Slim, souped up and looking the part, the latest offering from the Korean electronics firm brings a proper refresh to last year's rather disappointing version (it didn't even have a new name, such was the similarity to the previous one).
And in a field where Sony, which made a great Xperia Z4 tablet a couple of years ago, has gone silent, Samsung is the obvious choice for those who want a lightweight gadget for surfing while lounging at home or on a flight.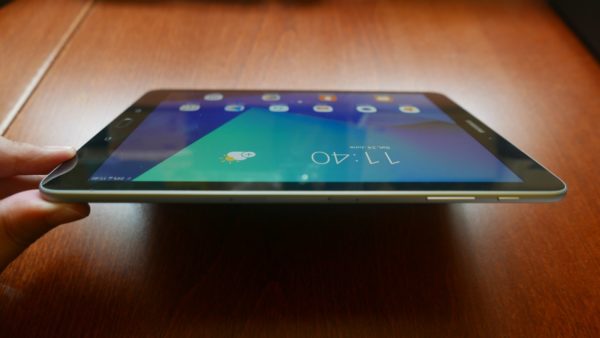 Design-wise, the Galaxy Tab S3 looks familiar enough to previous Samsung models. However, the slim (6mm depth) and light (434 grams for the 4G version) tablet now sports an updated glass back that is reminiscent of the company's Galaxy S phones today. It's classier, though a little heavier than the Galaxy Tab S2 last year (at 386g).
The accompanying cover, though costing a hefty S$78 (retail price), is well conceived as well. Using strong magnets, it snaps onto the tablet without any additional fittings. The connection is pretty strong – you can hold up the cover and the tablet won't drop; just don't swing it around.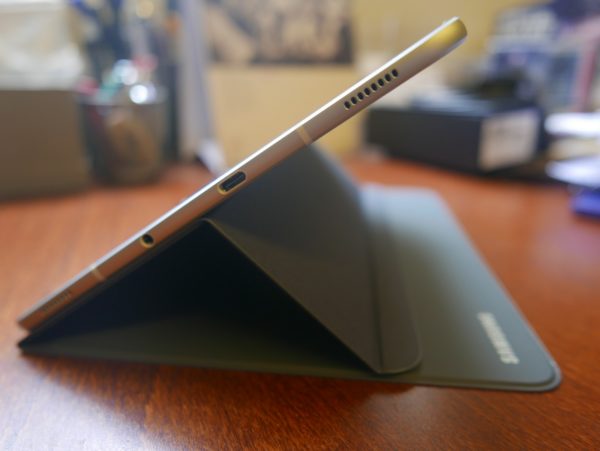 Beneath the shell, you'd find a souped-up 4GB of RAM, like today's flagship phones, which is an upgrade over last year's 3GB. And the processor is a quad-core version running at 2.15GHz.
During my tests, the Galaxy Tab S3 felt snappy and didn't betray an sluggishness. Switching between apps on the Android 7.0 (not 7.1 yet, unfortunately) operating system was a breeze, so I expect the hardware to stand up well to many of tomorrow's apps.
I also tried out a number of games, like the first-person shooter Nova Legacy, and was happy to run around the game world without any perceivable slowdown.
It helps that the Galaxy Tab S3's 9.7-inch screen with a 2,048 x 1,536 resolution is sharp and bright. No surprises there with Samsung's trademark Super AMOLED display.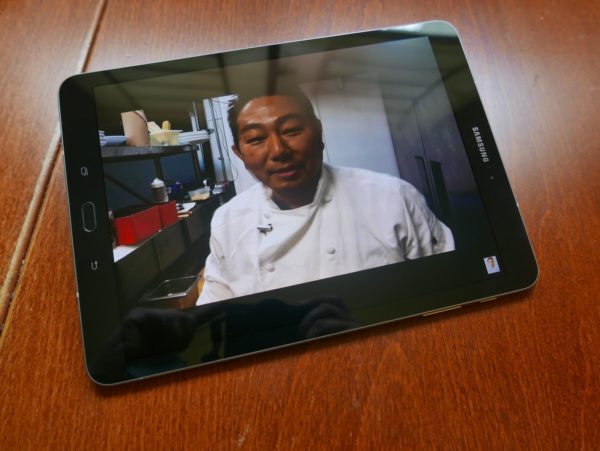 The company is also pitching the tablet's HDR (high dynamic range) support for video playback, which means you can see much better contrast and vibrancy for video services that support the feature.
However, at launch, it mainly worked with videos from Amazon Prime. Netflix doesn't seem to be onboard yet, and I'm not too sure HDR makes a dramatic difference if you're always on the go, say, in a train or bus with less-than-ideal lighting situations.
I'd care more about HDR for my TV, but for a tablet? It's a feature I am not as picky about, unlike audio quality.
It's true, a commute isn't the best way to enjoy high quality audio. But the improvements are clear in the way the Galaxy Tab S3 handles audio.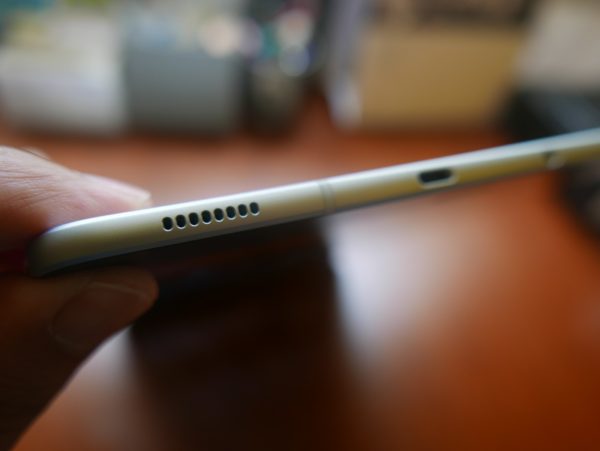 Actually, I was a little surprised when I played a video for the first time. The four speakers on the tablet are much louder and clearer than before. Gone is the thin-sounding audio that Samsung devices have been known for.
Tuned by popular headphone maker AKG, a brand that Samsung now owns after buying over parent company Harman in 2016, the audio on Galaxy Tab S3 sounds decent.
Plug in a pair of headphones and you'd find that there is a lot more body to the tunes and less of the jarring, low-fi noise that Samsung used to get away with. That's a good thing.
Yet another upgrade I'm happy to find is a quick charge feature that's finally made its way to a tablet. The Galaxy Tab S3 takes about 170 minutes to juice up, according to Samsung, which isn't as fast as your phone but still handy for when you have to rush out.
Good news is, once the 6,000mAh power pack is full, the tablet has no problems lasting for a couple of days of moderate usage, or maybe more if mostly on standby.
One other new feature I have to bring up is the stylus that's now included with the Galaxy Tab S3. With a narrow 0.7mm pen tip, it mimics a ballpoint pen. And the sensor is capable of 4,096 levels of pressure, so it can feel incredibly close to a real pen.
The big question is whether it can better Apple's stylus on the iPad Pro, which sets the standard today. Unfortunately, even though Samsung's S Pen can let you draw amazing pictures, as I saw during a recent launch, it still lacks some of the realistic feel that Apple provides.
What Samsung does offer are some nifty features to complement the stylus. If you are in a hurry, you can simply press the button on the stylus and start scribbling on the screen without having to wake up the screen separately.
The note is then automatically saved on the tablet for viewing later. If you often find yourself taking notes on the fly, this is a great feature.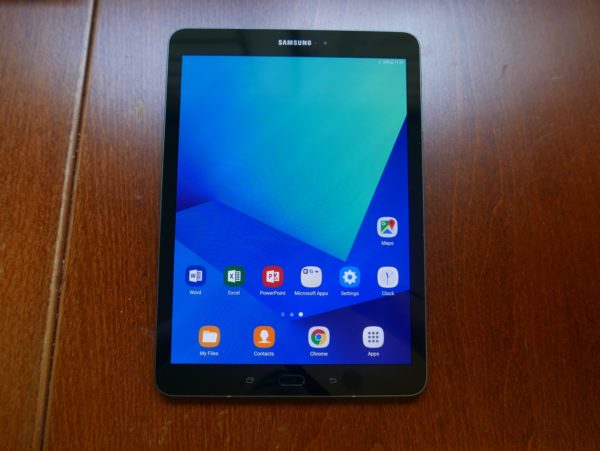 All in, the Galaxy Tab S3 is a nice upgrade over the previous offerings from Samsung, which seems to be the only Android device maker still putting out premium tablets regularly.
Sure, the lack of competition means the new tablet easily takes the crown as the best Android tablet for consumers today. Having said that, the improved audio capabilities and features like quick charging mean that this is a significant upgrade over the tablet you're still holding in your hands now.
The 4G version costs S$1,098 and the Wi-Fi-only one will go for S$898, so this isn't a budget buy. Yet, given how much we are paying for flagship phones these days – as much as S$1,300 for the Galaxy S8+ – the asking price isn't as ridiculous as it seems.
For someone still using an old Google Nexus 9 that's looking its age, I think the Galaxy Tab S3 may be the tablet I've been waiting for.