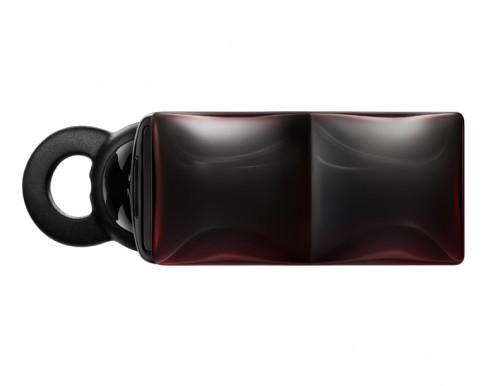 If you've seen one Bluetooth headset, you've seen all Bluetooth headsets. That was what I thought when I stopped using these gadgets early this year, because I had bought a car that came with its own Bluetooth speaker system.
Thus I saw the AliphCom Jawbone Icon, I was not immediately impressed by what it offered under the hood. In fact, the packaging – sleek enough for a piece of costume jewellery – and the earpiece's shiny surface made me think this was another one of those pretty gadgets with run-of-the-mill technology.
But was I surprised, when I placed the Jawbone Icon in my ear. Hands down, these are the best small Bluetooth earpieces I have used, whether you're talking about sound quality, comfort or user-friendliness.
First, the fit. You can either wear this earpiece by simply slotting it in your ear – with the help of several earbuds of varying sizes – or with the add-on clip which hooks the earpiece to your ear, if you are worried about it falling off.
Either way, this little gizmo is a work of genius. The hook, for example, is a simple yet secure snap-on to the main earpiece, and it swivels 360 degrees smoothly, so you can adjust it to work on either ear. Most earpieces I have reviewed come with separate hooks for both ears, because they haven't got this quite impressive swivel action.
Speaking of fit, the mere 8 grams of the Jawbone Icon means it's feather-like. I have worn it for an entire afternoon and never felt more comfortable with a Bluetooth gizmo sticking out of my left ear. Key to this is also the Jawbone Icon's slightly curved shape – it stays snug to your, er,  jawbone.

The thoughtfulness of the design extends to several other features as well. I'm really happy with the sliding on/off switch (many Bluetooth headsets require you to hold down a button) and the discreet activity light (it's on the inside, so there's less bling when you wear the earpiece).
On top of this, what I also like are the useful voice prompts which tell you how much talk time you have left before a recharge, for example. The Jawbone Icon can be charged through its micro-USB port and included in the package is a car charger, which you'll only need probably once a week, because the earpiece can easily last that long if you only make a few short calls a day.
But the star features here is the crystal clear conversations you can have with this small number. In a noisy cafe last week, I made several important phone calls to business contacts even when people around me were yakking at the top of their voices. I could hear clearly what the persons were saying on the phone, and none of them, in the entire afternoon, asked me to repeat a single phrase.
This, claims AliphCom, is the result of its Noise Assassin technology, which uses three microphones as well as DSP (digital signal processing) algorithms to separate speech from noise. Despite the fancy name, these technologies are also present in other Bluetooth headsets – it's just that AliphCom does them better.
The only real complaint I have against the Jawbone Icon is the lack of traditional up/down volume buttons, for occasions when someone speaks too loudly on the other line.
Another "complaint" is the S$198 Singapore retail price. In the US, the earpiece is selling for US$99, which translates to S$129 at today's favourable exchange rates, so yes, you might actually ship it over and pay less.
At the US price, I'd recommend the Jawbone Icon without any reservations. This is a deluxe Bluetooth earpiece that will make you junk that free one you got with a new phone in an instant.