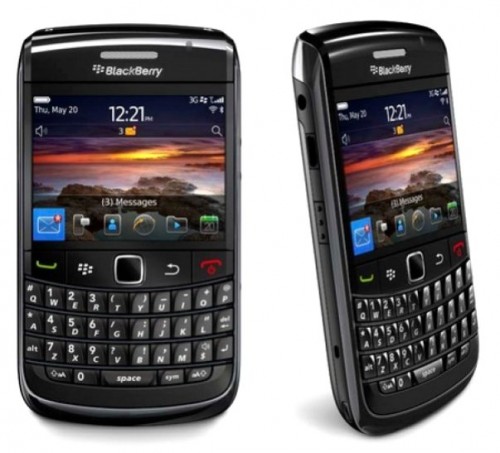 RIM is sticking to its guns with the BlackBerry Bold 9780.
Apart from its brand new BlackBerry 6 OS, the Bold 9780 looks like the twin brother of the Bold 9700.
When I first saw the Bold 9780, I was hard-pressed to find anything new in this latest BlackBerry number.
The only differing trait is its black trimmings along the edges of the phone. The Bold 9700 shares the same fittings in chrome.
The Bold has everything going right in a qwerty form factor, including a compact body and a much acclaimed keyboard.

Compared to the Blackberry Torch's flat keys, the Bold 9780's raised keys are more responsive with good tactile feedback.
Typing on the Bold 9780 beats punching letters on a touchscreen. I was also typing faster with fewer typos on the Bold than on an iPhone 3GS.
On the small 2.4-inch display, which is a pleasure to use with its vibrant colours and razor-sharp text, you have scroll quite a bit with the optical track pad to read long e-mail and text messages.
Browsing the Web on a long commute gets tedious, especially if you are used to generous screen estate on devices like the HTC Desire HD.
Beneath the hood lies a 624MHz processor with 512MB of memory. Overall, the BlackBerry OS 6 feels speedy while navigating the menu and running several apps in the background.
I won't go into the details of BlackBerry OS 6, which I've covered in an earlier review of the Torch 9800. However, fitting a non-touchscreen device like the Bold 9780 with an OS that better suits a touchscreen phone like the Torch means you have to scroll extensively with the track pad.
For example, to view incoming messages on the Torch 9800, you simply tap on the e-mail icon on the notification bar. On the Bold 9780, you have to reach for the bar and click on the track pad to dig into your mailbox.
Bottomeline: With a tried-and-tested design, the new Bold is obviously aimed at existing BlackBerry users, not the iPhone and Android crowd.
But there is little reason for current Bold 9700 owners to upgrade – unless you want the BlackBerry OS 6 badly and a five-megapixel camera. At some point, RIM needs to come up with a touchscreen version of the Bold to standardize the BlackBerry 6 OS experience across all its devices.