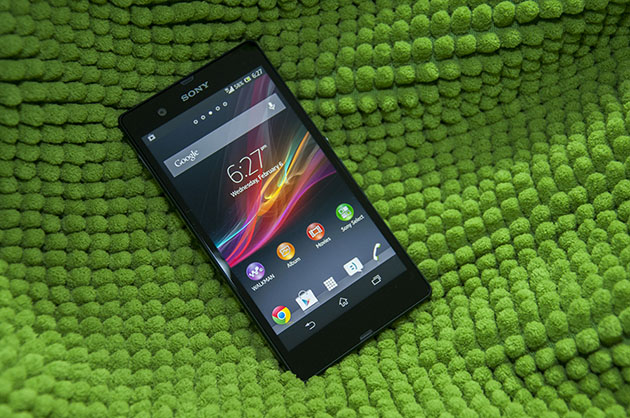 Hitting all the right notes in terms of specs and design, Sony's latest flagship smartphone certainly seems like a recipe for success. And with the device landing on our shelves from March 1, we don't have very long to wait, either.
Is the Xperia Z finally the breakout device for Sony, or is the "Z" an ominous symbol for the end of the line for the Japanese company? Let's find out!
Hardware and design
There's no question about it: the Xperia Z is an absolute stunner in the looks department. Sleek, shiny, and only 7.9mm thin, it looks nothing like any of the earlier Xperia models.
The entire phone is sandwiched between two plates of shatter-proof and scratch-resistant glass, with a firm plastic material running along the edges.
Even the sides are made of glass, the sleek lines broken only occasionally by a connection port or a button, lending the phone a very clean and minimalist look.
Actually, Sony may have hidden the connection ports a little too well. Every single port and slot is hidden snugly behind water and dust resistant doors, and I had to fumble around before I managed to find what I was looking for.
In contrast, the power button stands out on one side as a protruding silver knob. The button fits into the overall design quite nicely, and is easy to find with your finger. Holding on to the power button unveils several additional options, including turning on flight mode and taking a screenshot.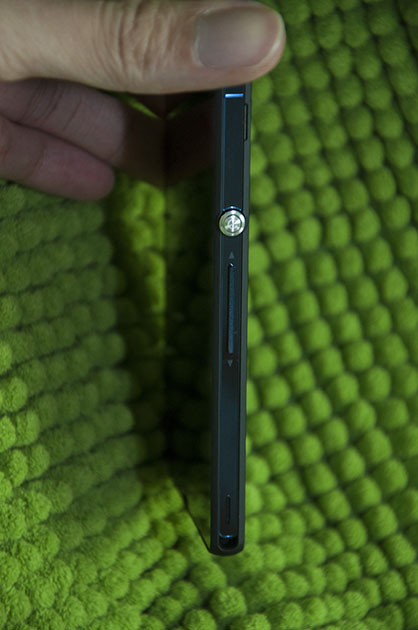 I'm happy to see a micro SD card slot on the device, too, as this particular feature seems to be disappearing from smartphones lately. This guarantees plenty of storage space on top of the built-in 16GB.
Because of the glass, the Xperia Z is not the lightest of phones. That's not to say it's too heavy. In fact, the phone seems to have the perfect weight – light enough to grasp easily, and heavy enough to give it a premium feel.
The phone is so sturdy that I didn't feel like it needed a case at all. The plastic strip running around the edges is thicker at the corners and already feels like a bumper of sorts. Why would anyone want to spoil its looks with a bulky case?
Still, it may be safer to stick on a case for better grip, especially if you're going to be using the phone one-handed most of the time. The slippery glass exterior doesn't exactly inspire confidence.
You could also do with a more ergonomic case. Compared to curved bodies of competing smartphones – such as the Lumia 920 or HTC Butterfly – the Xperia Z's hard lines and sharp angles don't lend itself well to long periods of use.
Users can also expect to have to wipe down the phone often, as the mirrored surface is a serious fingerprint and lint magnet. I suspect most of us will simply give up and live with the grime after wiping the phone's surfaces for the fiftieth time without much effect.
Software and performance
The Xperia Z runs on Android 4.1 "Jelly Bean", the latest and greatest mobile operating system out of Google.
As usual, you'll find Sony's custom skin slapped on top on the OS. It's a relatively minor enhancement, with most of Android's original aesthetic preserved, and it actually looks pretty good. A little flourish here and a little clean-up there, and Android ends up looking noticeably more user-friendly.
Sony also promises that the light skin lends itself well to future upgrades, so hopefully it won't take too long for the company to push out Android 4.2 once it's ready.
The quad-core 1.5GHz processor with 2GB of RAM keeps everything running smoothly, and I didn't encounter a single hiccup on the phone, even when I taxed the chips with some graphically intense games.
The battery life is also surprisingly decent. I set up push email, did some light web surfing and reading, sent the occasional IM and threw in some games.
The result was not much different from most other smartphones I've used, which is to say, just barely lasting a day with average use.
As usual, your mileage will vary according to how you use the phone, but I was expecting it to die on me halfway through the day.
Sony has bundled some of its proprietary apps with the Xperia Z, including a music player, a photo and album viewer, and an app called Socialife which aggregates your social media feeds into one hub. These are generally pleasant to use, but you can always uninstall them if you don't like them.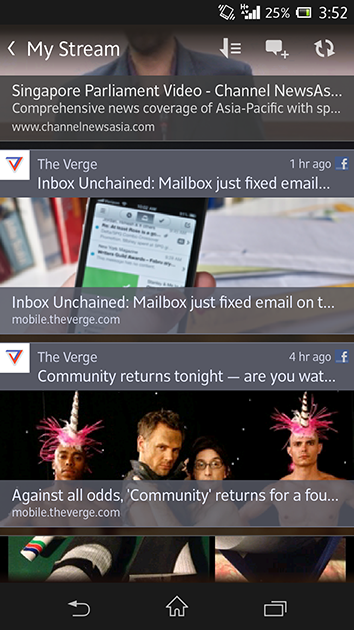 Display
The full HD (1,920 x 1080) display is quite a sight to behold. With more than 400 pixels per inch, everything on the screen is tact sharp and bright, yet not glaring.
Colours look natural and vibrant, and show off marvellous contrast. Sony also seems to have nailed the ambient light sensor as the display adapts its brightness perfectly to its environment.
Viewing angles, on the other hand, is pretty bad. The display starts to look washed out as soon as you tilt the device. It's not that big of a deal since I look at the screen straight on 99 per cent of the time, but I expected more from a Bravia-branded display.
Most of the major apps I downloaded didn't have a problem with the full HD resolution. The apps scaled nicely without any jagged pixels showing up.
Camera
The camera, sadly, didn't impress as much as the rest of the phone did.
First, the good stuff. The Xperia Z's 13-megapixel camera is jam-packed with shooting features, including an excellent "Superior Auto" function quite successfully detects the scene I'm about to shoot and chooses the correct settings, such as "landscape" or  the impressive "macro" mode.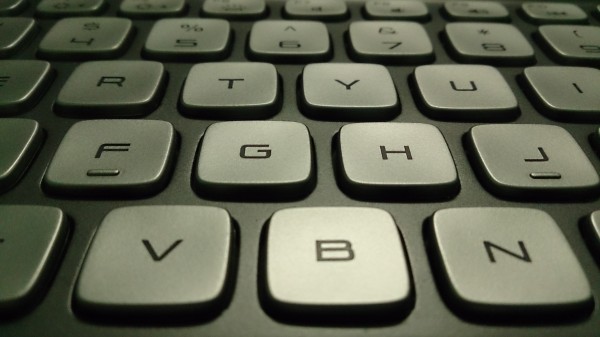 (Click image to see it in full size)
There are also some interesting filters built in, which you can view "live" in the viewfinder.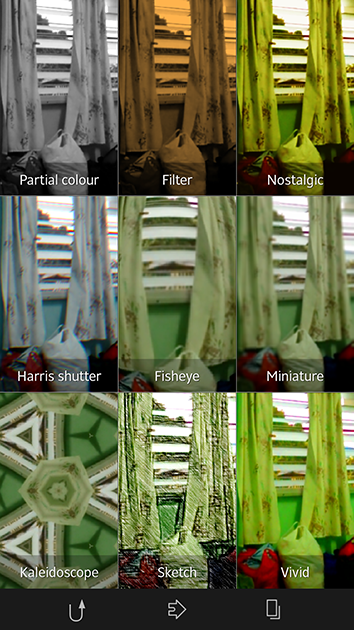 But more often than not, the camera produces warm and saturated photos which look very different than what you see, and the autofocus takes its own sweet time on many occasions.
Image quality also leaves a lot to be desired. The test photos I took just screamed, "JPEG!" There were plenty of noise and compression artifacts in my captures, even in a well-lit scene like the one below. You have to view the full-res version to see just how ridiculous it is.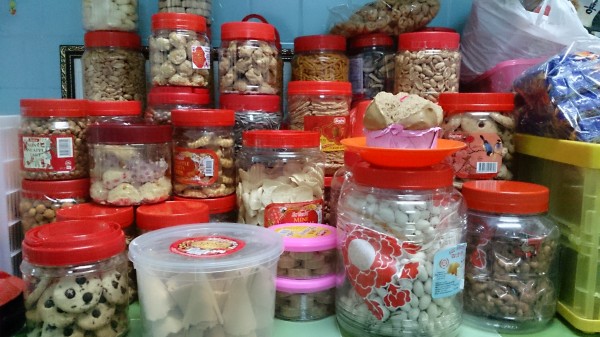 (Click image to see it in full size)
Perhaps if Sony had stuck with a safer 8-megapixel sensor instead of cramming in more pixels, we would be able to see sharper and better images.
That said, the Xperia Z's camera  is a decent performer and the photos it takes are more than capable for the web so it may be I'm being more critical than necessary. But the lower quality photos is hard to ignore.
Plus, the camera has another trick up its sleeves: HDR video. It takes and processes each full HD frame three times to determine the best exposure for your video. That may sound like a lot of work for the processor, but it's not so bad: on average, every minute of video I took sucked up about 1 per cent of the battery.
Wrap-up
The Xperia Z has quite a lot to offer, and Sony will have a great list of features to market to potential buyers. From the latest hardware and software to a drop-dead gorgeous design, the Xperia Z has got all the makings of a successful smartphone.
But with 2013 shaping up to be the year of quad-core, full HD smartphones, the Xperia Z is in for a tough fight. Competitors will no doubt be able to match Sony's flagship spec for spec, and only time will tell if the Xperia Z's sleek yet hardy design is enough to set it apart from the rest.