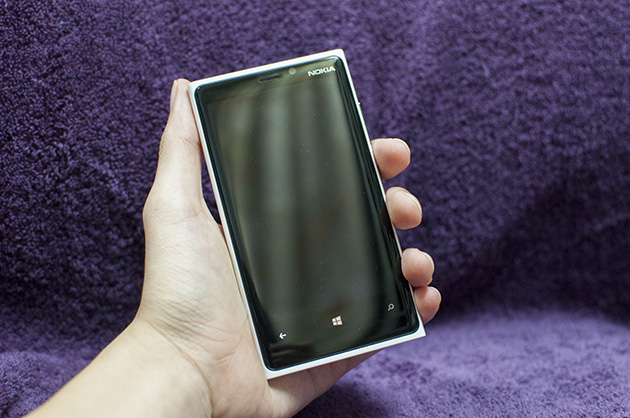 The Lumia 800 and 900 were important devices for the Windows Phone platform, but both are overshadowed in significance by the biggest slab of Microsoft-flavoured polycarbonate to come out of Nokia: the Lumia 920.
Nokia has a lot riding on the Lumia 920, and initial reception to the phone seems to be good. This flagship smartphone is a comeback phone like no other, but can it be Nokia's saviour?
(Note: this is mostly a review of the Lumia 920's hardware. For the Goondu take on Microsoft's latest mobile operating system, click here.)
Hardware and design
The Lumia 920's hardware is a refinement of the award-winning Lumia 800/900 design, and feels very similar to its predecessors with some improvements.
The back has a more noticeable curve for a better fit in your hands, and the metallic accent around the camera at the back is now made of ceramic instead of metal so it doesn't scratch as easily.
In Singapore, the phone comes in bright red and yellow on top of the usual black and white. Only the black version, however, has a matte finish. It's down to personal preferences here, and I've always preferred mattes finishes; the glossy ones do not feel as nice to the touch, and quickly get grimy in Singapore's humidity.
There are pictures and videos of blue and grey matte colours, but these seem to be extremely rare and may not arrive in Singapore at all.
Most of the phone's front face is taken up by a 4.5-inch Gorilla glass screen, subtly curved at the edges to make sliding your thumb across feel more natural than if the screen was flat.
Three standard Windows Phone buttons line the bottom of the screen and has some kind of mirrored finish. The buttons are capacitive, as usual, which I find less desirable than physical buttons as my fingers accidentally brushed against them quite often.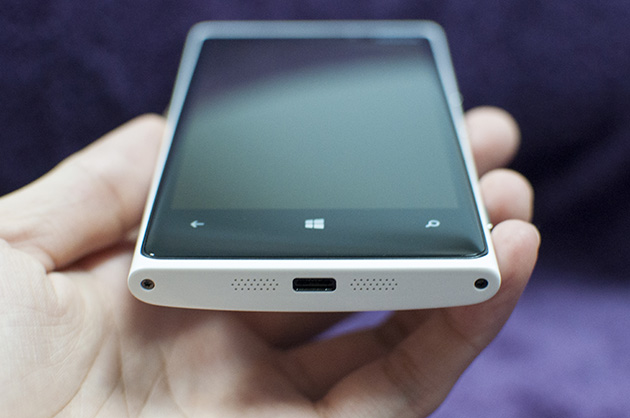 As mentioned in my previous hands-on, the Lumia 920's biggest disadvantage is its size, despite looking pretty petite in photos. Even though it has a smaller screen size than the Samsung Galaxy S3, the phone takes up significantly more footprint and weighs heavier. Using it with one hand is rather uncomfortable and there was always the fear of dropping it when I slid it out of my pocket.
I did get used to the size after a day of use, and one may even say the Lumia 920's heft is a big part of its character. Plus, it's not as if the phone's weight isn't justified, what with all the features under its hood, including a large battery, NFC, wireless charging and that sweet PureView camera.
Still, if you can see yourself making do without all those fancy features, including Nokia's exclusive apps, a smaller phone like HTC's Windows Phone 8X may literally be a better fit.
Performance
Windows Phone has been a speedy OS from the beginning, so it's not really the fault of the Lumia 920's dual-core 1.5GHz processor if existing users don't see much of a difference in responsiveness.
On the whole, the OS seems more fluid and stable, due no doubt to tweaks on the software side as well as the updated hardware. Apps, however, sometimes present a bit of pause, especially during initial launches.
The Lumia 920's battery life might just be the best I've used on modern smartphone. With some casual use and the usual push notifications set up, I had just under 50 per cent of battery remaining at the end of the day.
As always, actual mileage will vary according to how you use the phone, but performance is generally good with more than enough power to spare at the end of the day.
A caveat: I tested the phone on 3G, so I have no idea how long it will last under our local LTE networks.
Display
Much has been said about the Lumia 920's PureMotion HD+ display. It's super sensitive so you can use it even with your fingernails or with gloves on, and it's so fast scrolling zooms by at 60fps. It's said to be perfectly viewable in direct sunlight, and has wide viewing angles.
Some of these claims lose their lustre in real life, however.
Although advertised as a ClearBlack display, the Lumia 920 clearly does not display blacks as deep as the Lumia 900 does. On the upside, colours look a lot more natural than the Lumia 900's saturated AMOLED display.
The viewing angles also seem less impressive. Tilt to the phone to the side and the colours fade out noticeably. Granted, you're never going to use your phone at such angles, but the marketing had me expecting more.
Scrolling did feel smoother on the Lumia 920, especially if you're going through a very long Word document. However, I didn't perceive much of a difference in regular use jumping through menus and web pages.
That said, I'm really just nit-picking here. There's no question that the Lumia 920 has a fantastic display. It's fast, responsive, the colours and resolution are amazing and it's bright but not overly so. The ability to use the screen with gloves on is a great bonus for users residing in colder climates.
Camera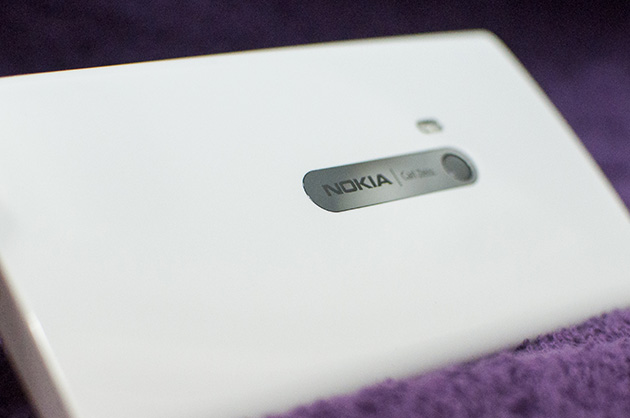 Sporting the PureView brand, the Lumia 920's camera features an 8.7-megapixel sensor with optical image stabilisation. Nokia calls this "floating lens technology", which is fancy talk for suspending the camera on tiny strings that absorb and dampen any shake from your hands.
This allows the shutter to stay open longer in darker scenes without your hands causing any blur. The sensors soak in more light, and the resulting photo is a much brighter one than competing camera phones.
One of the two unedited (but resized) photos below is from a Lumia 920, the other is from the 820. Can you guess which is which?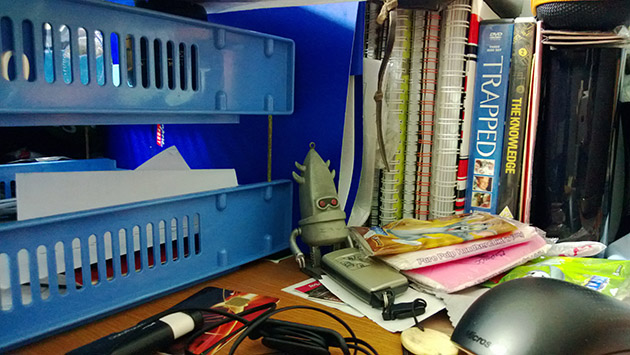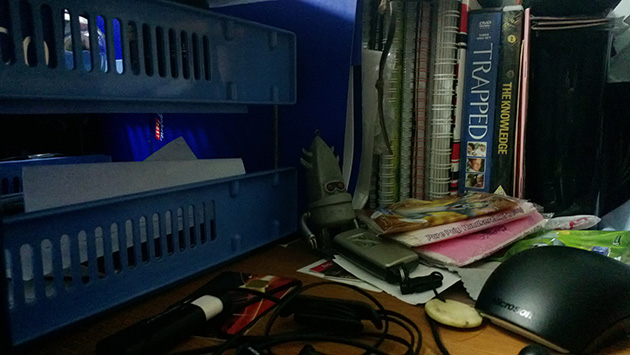 There is probably no other camera phone out there which can match the Lumia 920's camera in low light photography.
As expected, optical image stabilisation does wonders for video, too, and is a significant step forward for video recording on phones. The improvement is most noticeable when placed next to a rival phone.
In the following video, a Samsung Galaxy S3 and a Lumia 920 is strapped on to a remote controlled toy car which was then sent scuttling about the room. Side-by-side playback showed the S3's video as shaky and choppy compared to the Lumia 920's.
But great hardware is useless without great software. To make up for Windows Phone's lack of native camera software features, Nokia has its own exclusive photo apps to its Lumia devices. These have been available for some time, but will no doubt be even better utilised by the Lumia 920.
The camera on the Lumia 920 is the real deal. If you view taking photos on a mobile phone seriously, you'll love the Lumia 920. Regular users will also find it to be excellent in many scenarios, such as dim night clubs and holiday videos.
Mapping and navigation
Windows Phone 8 is now using Nokia Maps in a big way, but Nokia's own app is pulling ahead with some nifty new features.
For one, it now supports indoor listings for major points of interests, such as ION Orchard. This sounds like a very useful feature, but seeing as the turnover of shops in Singapore can be quite high, Nokia will have to update the database frequently.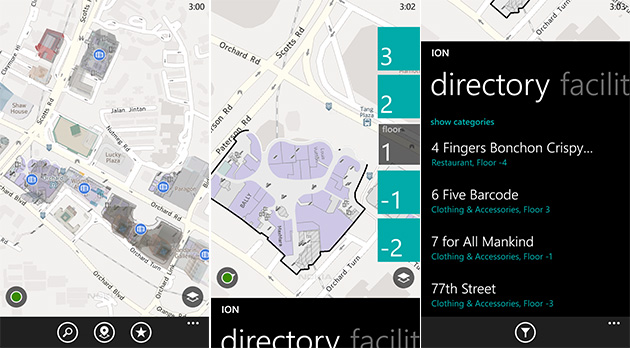 Nokia Drive has also been revamped, and is now called Drive+. Still in beta, the app seems smoother and more stable, although the newer features such as commute predictions may never make it to our shores.
Software isn't the only navigational perk. The Lumia 920 has built in receivers for both GPS and GLONASS. We've all heard of GPS, but the Russian equivalent is less well-known.
With these two receivers, the Lumia 920 always locked in to my position within seconds, even if the phone was set to offline. Nevertheless, the perennial problems of location still exist. In the deep bowels of local shopping malls, for instance, getting your location might as well be impossible.
Exclusive apps
Nokia is Windows Phone's most committed OEM, and one big way the company shows its support for the platform is through its attempts to get more apps into the Marketplace.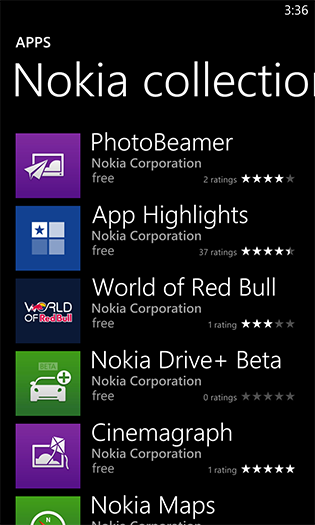 However, many of these apps will be exclusive to Nokia phones for a while, which may not be the best outcome for users of other brands.  These apps can be anything from games to news apps, so it really does give Nokia a real advantage.
This doesn't apply to the Lumia 920 alone, but to all Lumia phones. So if you're taken by the beautiful Windows Phone 8S, for example, the Lumia 820 might still win you over with said apps.
Wireless charging
This was one of the most exciting features I was eager to review. But the wireless charging pad went straight back into the box in under 10 minutes. It didn't appeal to me for several reasons.
Typically, I plug my phone into my laptop to sync, and leave it there overnight. There was no point in plugging it into my laptop first to sync, and then pulling it out again only to put it on the charging pad.
Plus, the charging pad needs its own power outlet. I've already run out of power outlets beside my desk, and there's no space on the desk for another piece of gadget, even one as slim as the charging plate.
I expect wireless charging to be useful in touch-and-go places such as your office or a coffee shop, but can't see any benefit for having one around the home.
Wrap up
Towards the end of my one week with the Lumia 920, only one big question mark remained: when does my contract with StarHub end so I can upgrade?
There's something to be said for the pure, bloat-free Windows Phone 8X by HTC. In fact, I may end up buying that for myself as I'm a sucker for a sleek-looking phone.
But if you run down the feature and specs list, the Lumia 920 is quite simply the best Windows Phone 8 device you can buy right now. It has top notch hardware, a stellar screen and display, and a mobile OS that's coming into its own.
Top that with exclusive apps and a committed company, both fans and new converts alike can't go wrong with the Lumia 920.