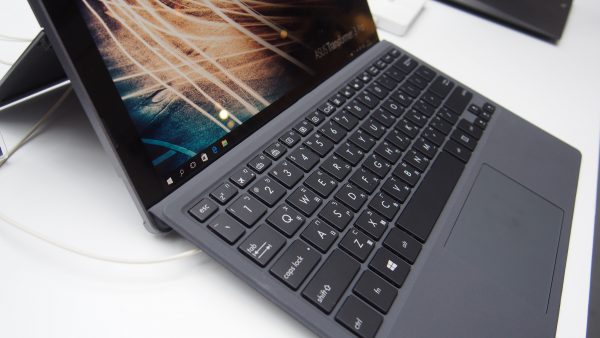 Asus updated its Zen product line with the ZenBook 3 ultraportable, Transformer 3 Pro detachable notebook and the Android Watch-powered ZenWatch 3, among a slew of other products announced at a media event yesterday in Singapore.
The ZenBook 3 and Transformer 3 Pro are expected to go on sale October 22, while the ZenWatch 3 will hit the markets in November. They can be found at Asus Brand Stores and their authorised retailers.
Techgoondu takes a quick look at some of them.
Asus Transformer 3 Pro (S$1,898 or S$2,598 depending on configuration)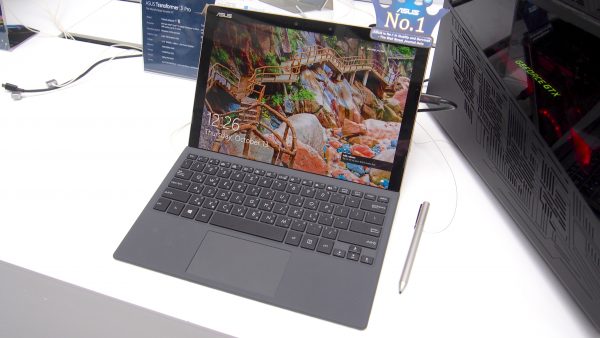 The star of the show, to me, would be the Transformer 3 Pro. It packs a 12.6-inch touchscreen with a 3K (2,880 x 1,920) resolution that held up admirably under the daylight filtering into Suntec City's glass-roofed atrium.
The Transformer 3 Pro comes with a stylus named (what else?) Asus Pen, which promises 1024 levels of pressure sensitivity.
Its tip glided satisfyingly along the capacitive glass surface of the screen. Unfortunately, the pressure sensitivity did not work as well as we would have liked, when a fellow reviewer tried doodling in the Autodesk Sketch program preinstalled on the demonstration units.
Low voltage, U-series variants of Intel's seventh-generation Core i5 and i7 processors give the Transformer 3 Pro its muscle. Configurations featuring up to 16GB of DDR4 RAM and 512GB of PCI Express-based flash storage are available.
The built-in Intel HD graphics solution may be tinny, but hooking up the convertible to an Asus ROG XG Station 2 that supports desktop graphics cards will surely boost its gaming prowess.
It is a fairly unique way to add performance to an ultraportable device without making it bulky, I feel, even if it meant you have to shell out more cash for the privilege.
The detachable Transformer Cover Keyboard has more travel than Microsoft Surface Pro 3's Type Cover, but also felt mushier than its competitor. Still, it is a decent option for productivity endeavours on the move.
Its dual front-facing speakers are tuned by Harman Kardon and promises to be 350 per cent louder than speakers with the same size and power.
There was no proper video loaded on the device for me to test the claim, but the promotional trailer had very soothing music that was just about audible in the spacious atrium.
The Surface Pro-esque kickstand allows the screen to recline up to 170 degrees when attached to its keyboard accessory, though that also meant the device cannot be used comfortably on one's lap.
The Transformer 3 Pro comes with 13-megapixel front and rear cameras. The front camera purports to support Microsoft's new Hello facial recognition login. Windows will capture a 3D model of the user's face during its setup, and use that to authenticate the user.
Asus ZenBook 3 (S$1,998 or S$2,598 depending on configuration)
One of the more prominent Windows-based "ultrabooks" available in the market, the ZenBook is now just 910 grams in the latest version. It appears to have picked up a few cues from Apple's refresh of its own Macbook line in the process.
The screen has gone down to 12.5-inches, its body has gained chamfered edges, and the ZenBook 3 has just one USB Type-C port for charging and connectivity.
Asus has opted for a butterfly mechanism-esque keyboard that is clicky and has little travel. The trackpad, though, remains a mechanical affair.
I actually liked ZenBook 3's keyboard more than the Macbook's because I made fewer typos with it, but they are not better than the ones found on the Macbook Airs and Thinkpads, in my opinion.
The single USB port, though, is not excusable, even if Asus provides a connector hub accessory that allows more peripherals to be connected to the device at once. With just one port, you cannot even copy files from a USB drive while charging the device.
The reduction in ports have to be related to space constraints, since Asus has also developed a cooling system that uses 0.3-millimetre (mm) thick liquid-crystal-polymer blades and 0.1mm heat pipes, just to fit everything within a 11.9mm profile.
The speakers here are also tuned by Harman/Kardon, and are driven by a four-channel amplifier and five-magnet bass drivers that promises crystal clear vocals. Again, I wished there were proper music videos to test these claims.
Like its cousin, the ZenBook 3 uses low-voltage, seventh-generation Intel Core i5 and i7 processors, and supports up to 16GB of DDR4 RAM and 512GB of PCI Express-based flash storage.
The screen is as vibrant as the one on the Transformer 3 Pro, less the touchscreen and pen functionalities.
Asus ZenWatch 3 (S$369)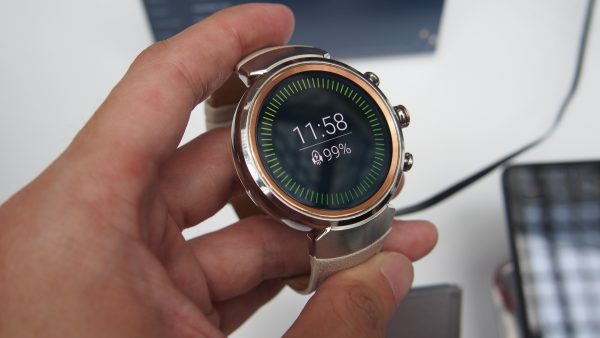 The ZenWatch 3 is an Android Wear-based smartwatch with a 1.30-inch AMOLED display with a 400 x 400 resolution, and IP67 water and dust resistance that would keep it safe during showers, swims and the rain.
The curved, Gorilla Glass-reinforced watchface is a first for Asus, and the 316L stainless steel that makes up the rest of its body is supposed to be 82 per cent stronger than conventional ones.
What's unique is Asus' decision to provide the smartwatch with three crown buttons. The middle one functions as a home/menu button, depending on which page or app you are on.
It took me a while to figure out the two other buttons were merely shortcut keys to apps. I would imagine they could be useful, but it would be even more interesting if they could be used to scroll through the interface or take on other functions.
The Qualcomm Snapdragon Wear 2100 purports to consume 25 per cent less battery life than the ZenWatch 2 and would last through two days of use. It does promise to get up to 60 per cent battery in 15 per cent charge, though I am unable to test either claims.
Without GPS functionality or heart rate monitoring, the ZenWatch cannot be the only device for your health routines. Nevertheless, the bundled Fit app is able to track number of steps taken, push ups and sit ups done, and various other static exercises.
This is a decent smartwatch at a good price, while I continue to await a killer use case for these watches.