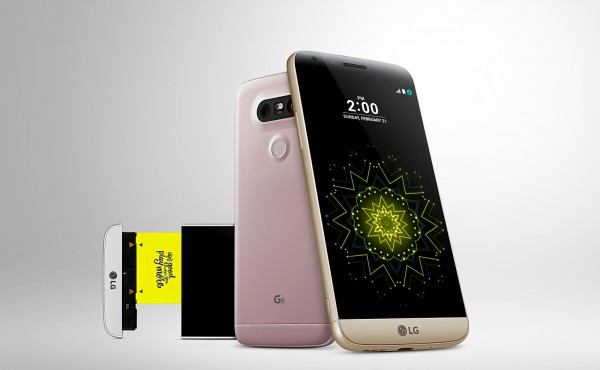 It takes a lot of guts to change up your flagship phone – especially one that has been well received.
That's what LG just did today with its new G5, which will surprise many users with its slide-out battery and modular design.
Yes, modular design. You can remove the bottom segment of the phone and plug in, say, an improved hand grip for the G5 to act as a camera.
This add-on comes with buttons for you to control your shutter and zoom while also providing more juice from a 1,200mAh power pack.
If you are more of an audiophile, you can plug in an external DAC (digital-to-analog converter) made by B&O in the same way. This add-on supports very high bitrate playback, for 32-bit, 384Kbps tracks. Regular CD quality is 16/44.
Of course, with the slide-out module at the bottom of the unibody case, you can also replace a battery on the go. That's one way to keep to a sleek one-piece frame while retaining the removable option.
Indeed, the G5 is possibly the first real modular design after Google showed off a Lego-like prototype with its Project Ara smartphone in 2013. That has yet to ship, while LG's already betting big on modular this year.
The G5, just unveiled hours ago, looks a total redesign of the well-reviewed G4 (read our report). Inside the aluminium frame, you'll also find the latest hardware expected of this year's top-end Android models.
There's a Qualcomm Snapdragon 820 chip, an Adreno 530 graphics chip and 4GB memory to keep pace with whatever Samsung and other rivals are set to unveil this week at the Mobile World Congress show in Barcelona.
The G5 also has a 5.3-inch screen, which LG has kept to Quad HD resolution instead of going down the Sony route with a 4K display.
Like LG's recently launched V10, the G5 sports an always-on display. But instead of a tiny strip at the top, the G5 will have the main screen offering this feature, so you can read the time and date at a glance.
And yes, in case you were thinking, you still get a microSD card slot to pop in your own memory cards. So, no compromises there.
How well the G5 does against the likes of Samsung, which is expected to debut its new flagship phone in a few hours, remains to be seen. Interestingly, LG hasn't followed its fellow Korean electronics firm with sloped displays, but it has come up with something quite different.
Whether its big bet pays off will be clearer in the months ahead. The G5 certainly isn't the same old phone as last year's flagship.
We'll have more details on the G5 when we try it out in the coming weeks. Stay tuned!