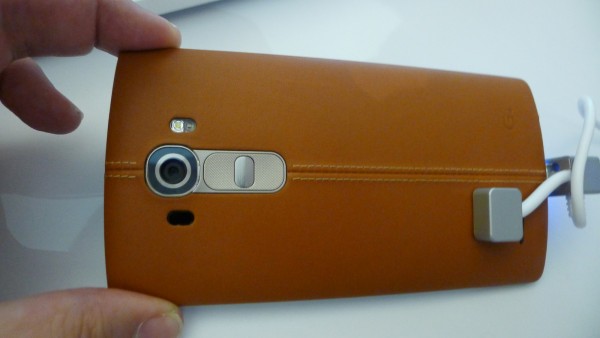 After all the hype about a leather-wrapped phone, the much-awaited LG G4 was unveiled today with largely the same look and formula as last year's model, but adorning various covers that come with real leather.
Perhaps it's a good thing that the phone isn't entirely wrapped in leather, because the removable cover now means that it can be replaced if the material gets soiled, say, if you smear it with grease on a hawker centre table.
Plus, that removable cover means you can change your battery pack as well as pop in microSD cards to expand your storage to up to 2TB, when such cards are out in future.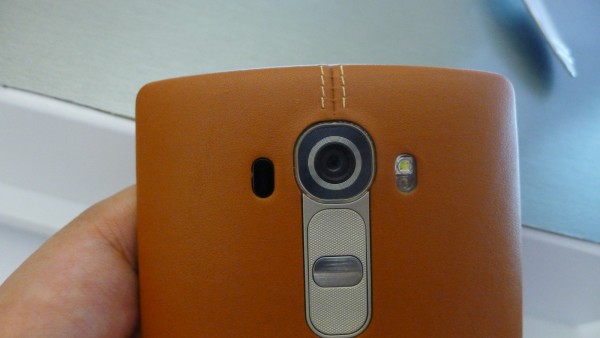 At a Singapore launch event at Marina Bay Sands today, LG executives barely hid their glee at rival Korean firm Samsung's decision to do away with a removable battery and memory cards in its new flagship phones.
In Singapore, LG is giving away a removable 3,000mAH battery and a charger when users buy the new G4, out here in late May.
The leather version of the phone costs S$998, while a regular plastic one will go for S$928. And yes, you can change the covers in future too, though the prices for them are not firmed up yet.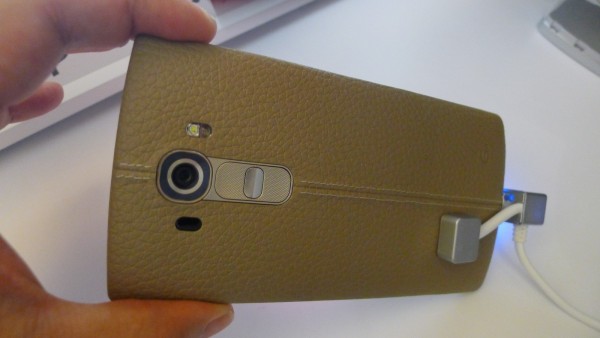 The G4 also features a very slightly curved frame, which should make it easier to hold and place on your face when making calls. It's not as obvious as LG's G Flex 2 curved phone, so it's not as radical a design to accept.
To be sure, the new G4 reminds one very much of the G3 from last year. That's not such a bad thing, because the G3 was one of the best Android phones around.
The G4 now sports a newer Qualcomm Snapdragon 808 processor and 3GB of RAM, which are what you'd expect from a top-end flagship phone.
There's also 32GB of storage onboard, plus an additional 100GB of Google Drive online storage free for two years. So you don't have to worry about running out of space quickly.
The familiar 5.5-inch Quad HD screen also makes a return. This time, LG is touting its IPS Quantum Display technology, which claims improved picture quality.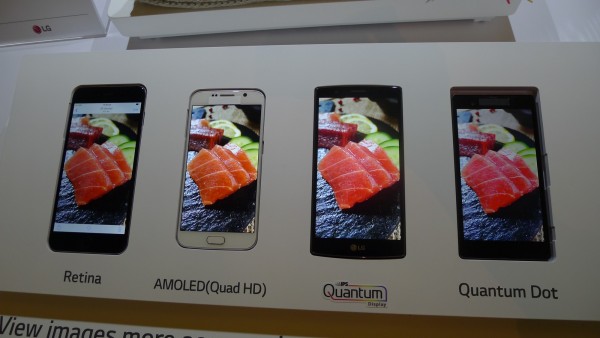 So confident is the Korean firm that it showed off its screen today next to Apple's Retina, Samsung's AMOLED and Sony's Quantum Dot displays, at its launch today.
Is one better than the other? You can argue until the cows come home, because a lot of this is down to personal preference. I'd say LG's offers a nice balance between Samsung's vibrant colours and Apple's more neutral quality.
Besides the screen, LG has other tricks up its sleeve too. The gesture-based selfie feature, popular in the G3, now lets you take not just one but four selfies at a go. Crunch up your fist and open it up a couple of times and you can shoot four facial expressions in short two-second intervals. Enjoy that, narcissists.
The main camera, a 16-megapixel affair, looks the part as well. As before, it focuses quickly and fires fast, which help with snapshots of fleeting moments. With an f1.8 setting, the camera also promises to capture low-light scenes as well as a phone could.
I can't say I've tested the G4's camera enough at the brief hands-on session today, so I'd reserve my comments until I get a sample unit to try out for at least a few days.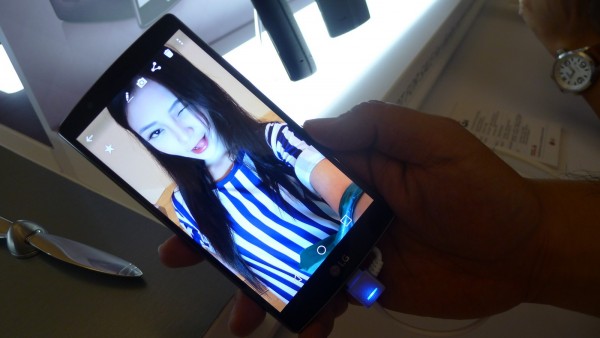 Still, from my quick hands-on, it is clear LG hasn't deviated much from the G3's successful formula last year. And that's a smart thing to do.
In the new phone, you'd find the same LG Android interface that is intuitive and neat, a foil to Samsung's much-disliked offering. The G4's relatively large 5.5-inch display, compared to the 5- and 5.1-inchers from HTC and Samsung, also edges it ahead of its rivals.
Will its promise of luxurious leather win over users who have already set eyes on the sleek, metallic HTC One M9 or Samsung Galaxy S6 Edge? Sure looks like a close fight in the weeks ahead.
We'll have more on the LG G4 when we get to test out the phone more extensively soon. Stay tuned!