Gin already wrote a post on Nokia's "Comes with Music" launch in Singapore today, but I've a few additional pictures and prices for readers.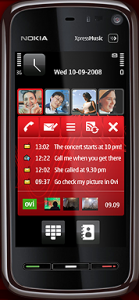 Nokia 5800 XpressMusic
Estimated retail price: S$798
Availability: From 28th Feb 2009, Saturday (tomorrow)
Colors: red and blue, with silver-black from mid-March
Specs and features: Pretty standard for a mid-range touch phone. 3.2 megapixel camera. 3G, HSDPA and Wi-Fi. Comes with built-in A-GPS. Free 8GB micro-SD card. For all the specifics, go to Nokia's product pagehere.
But I totally agree with Gin and Alf that the key differentiator is the "Comes with Music" service by Nokia. Brilliant tactical move by the handset giant. Basically, it allows users unlimited downloads of tracks from Nokia's music store for one year. According to Nokia, they have about four million tunes in the store. Operator charges are of course separate. Singapore is the first country in Asia to run this service; it was first launched in UK last October.
The music is DRM-protected (cannot be copied to another phone or device) and is tied to one PC, but users get to keep all the downloaded songs on their PC and Nokia phone even after the service expires after one year. Bit rate encoding is 128kbps, which is sufficiently decent. I believe there are some onerous restrictions on porting the account if your PC or phone dies (a 6-week wait), but even with this and the DRM, I've got to say this is a brilliant move by Nokia.
One, it ties people to their Nokia phone for a year. Two, it incentivizes folks to buy another Nokia phone at the end of the first year. Three, cheap legal music that is easily available to consumers. It's available anywhere in Singapore with mobile coverage — which is practically everywhere on our island nation.
I say cheap because even though the music is theoretically "free", you have to pay the operator costs. Nokia has done a brilliant job in building the platform and working with the telcos and music distribution companies to come up with a product that truly is quite innovative in pricing.
Here's some more recommended retail pricing information on other Nokia phones that will also have this "Comes with Music" service, available from tomorrow:
Nokia N96(black): S$1238
Nokia N85(cherry black): S$938
Nokia N79(petrol black): S$858
Nokia N5320 Xpress Music(grey): S$618
Nokia N5220 Xpress Music(titaniuum): S$558
Note:Prices before taxes or subsidies from operators