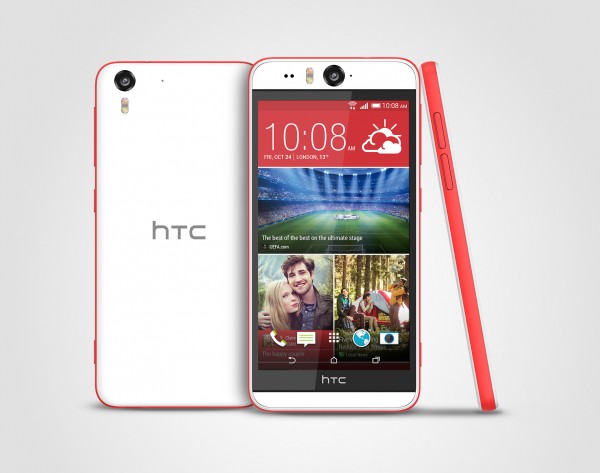 On first glance, the latest smartphone from HTC looks a little like the HTC One (E8). It is covered with the same plastic material and nearly identical hardware underneath – a Qualcomm Snapdragon 801 quad-core CPU, 16GB storage with a microSD card slot, 2GB RAM to ensure smooth operation and a 5.2-inch display offering full HD sharpness.
What sets the phone apart is the inclusion of a 13-megapixel back-illuminated sensor for a front facing camera that has its own dual LED flash array. You get two high-quality cameras in one phone, essentially.
This is useful for one increasing important use of smartphones – taking selfies. For this, you usually have to flip your phone around to use the main camera. Unfortunately, this is often a hit and miss affair since framing is down to guesswork without the help of the screen.
There have been innovative ways. The Samsung K Zoom uses a movable frame box that automatically triggers a shot when faces are detected, while Oppo's N1 uses a swivel camera.
With the HTC Desire Eye, having two sets of high-resolution 13MP cameras and dual colour LED flashes offers a more practical solution.
The photography-centric features don't end there. A photo booth mode takes four different poses of selfies and merges them into one picture.
The split screen mode, meanwhile, takes images from both the front and back cameras, useful for occasions when you want to share the view and take selfies at the same time.
I feel this is a bit gimmicky, because such shots can be had with some photo apps you can download anyway.
One of HTC's main selling points is front-facing stereo speakers. When placed in landscape orientation, the phone provides a better sounding experience, say, for watching YouTube clips and movies.
HTC has actually improved the look of the Desire Eye by hiding the two speakers in the gaps between the top and bottom border of the LCD screen. The device looks much more clean-cut as a result.
Like its other high-end phones, such as the HTC One (M8), the HTC Desire Eye is a pleasure to use. Prepping the phone is very easy as I can just insert my USIM card and microSD card without the need to poke into any tiny holes to access the trays. I like it too that the battery usually lasts an entire day of moderate usage.
In either Coral Red and Submarine Blue, the HTC Desire Eye costs S$728.00 in Singapore. That's a rather steep price to pay, even for the useful photo apps that come with the phone. Whether they are the answer to HTC's quest to gain market share remains to be seen.
Don't forget the market is now saturated with cheap phones that also have pretty capable built-in cameras, such as Asus' Zenfone series.