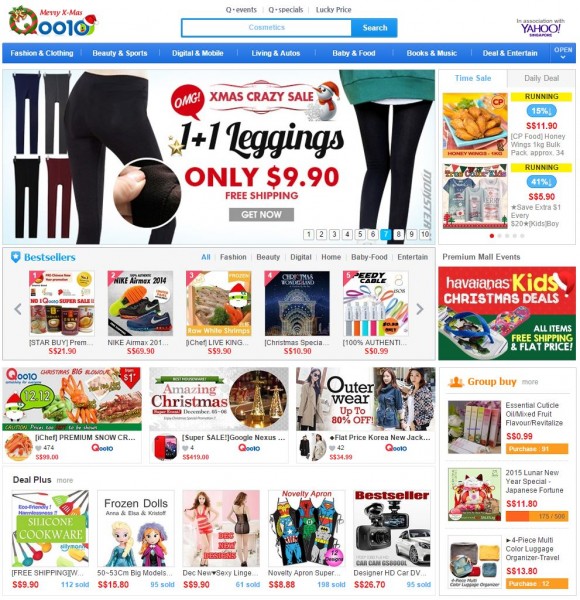 In a five-day shopping spree this holiday season, Singapore's avid bargain hunters spent S$4.8 million on clothes, books and other items on popular e-commerce site Qoo10, twice the amount last year.
They zoomed in on bargains on Qoo10 between November 27 and Cyber Monday on December 1, traditionally a period of frenzied spending at online retail stores in the United States.
This month, as Singapore's online shops such as Qoo10 aim to grab a share of the pie from glitzy Orchard Road shopping belt outlets, the e-commerce boom also reflects a changing of old habits.
Despite being Net-savvy, Singapore shoppers had long preferred to touch and feel products before buying. Plus, the trouble of waiting for a delivery instead of simply turning up at a retail store in a small city used to make e-commerce less attractive.
That's changed quickly in the past few years. Special online deals are often more attractive (see some comparisons), while high rentals in the city have meant higher overheads for physical retailers, making them less competitive.
Perhaps more importantly, the concept of online shopping is taking root at last. An online store is open 24 hours a day and this holiday season, it once again presents a way to avoid the festive jam in Orchard Road.
Qoo10's rival, Lazada, for example, is running online promotions all hours of the day starting from today. Night owls can seek out special after-dark deals from midnight to 8am. The shopping doesn't stop even when shops close on Orchard Road.
Indeed, the increased spending on the Net will bring some much-needed cheer to those watching the retail sector this holiday season.
Retail sales excluding motor vehicles had fallen 1.6 per cent in August, according to research firm Savills. That continued a trend of tepid sales for the past seven months, it noted.
Meanwhile, more people are buying things online, from plane tickets to phone accessories. Singapore shoppers are expected to spend US$2.99 billion (S$3.92 billion) online this year, according to PayPal, which predicts a 13 per cent growth by 2018.
The online payment provider attributed the recent boom to a 48 per cent growth in the number of online shoppers in the past three years to 2.7 million, as well as a 79 per cent increase in average spending per person.
What does that mean for physical retailers? Urgently, they will have to seek new ways to attract Net-savvy, mobile phone-toting consumers who want to shop all hours, on impulse and for a good bargain.
They'll also need new ways of cutting overheads. Besides local online shops, competition is also coming from overseas online stores like Amazon, which now ships selected items like electronics to Singapore for free.