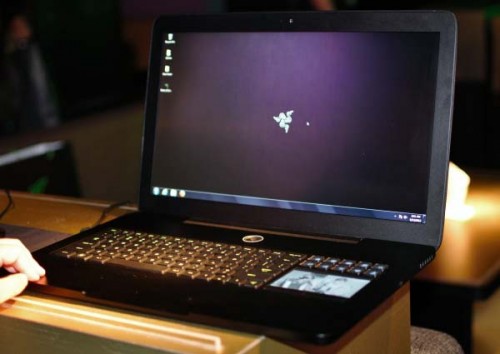 The Razer Blade started to ship at the beginning of this year, and finally saw fit to sail for its first destination outside of North America: Singapore. Available from 14 June in Ngee Ann City's Best Denki and through Razer's online store, the Blade will set you back S$3999.99. This firmly sets it as a niche machine, but even so, is it worth it?
Hardware and design
If the Razer came in silver instead of black, you might be forgiven for thinking it was a MacBook Pro. Save the two slight bumps on top, it feels very similar to Apple's now-discontinued 17-inch laptop: sturdy and smooth aluminium, rounded corners, and the latch-free screen with a groove to help you pry it open.
Lift it open and the resemblance flies out the window. Beside the chunky, full-sized keyboard glowing Razer-green is a glass trackpad which doubles as an LCD screen and ten customisable hotkeys (more on these later).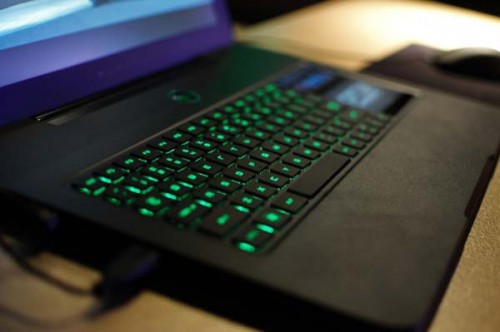 The screen is a 17-inch LED backlit full HD (1080p) display, and has great viewing angles and colour. It also has a matte finish, with no glossy option. That's a plus, in my book. Glossy displays are a pain to view even under direct fluorescent lighting at home.
The attention to detail goes all the way down to its power brick: whereas gaming laptop like ASUS' have gigantic power bricks, the Blade's is smaller than an average laptop's power supply.
It's a very attractive package overall, and certainly not what you would expect a gaming laptop to look like. It weighs slightly less than 3kg, and is only 0.88 inches thick. The Apple-esque design is also a huge plus. Razer has just thrown the design ball into other gaming laptop vendors' court, and it's going to be tough finding a comeback.
But upon hearing the Blade's specs, your awe might start to dampen a little.
First, there's no optical drive. A lot of games get downloaded through the Net these days, but a whole lot of players still queue up to buy those precious boxes of CDs/DVDs, and it would have been nice for Razer to include an external DVD drive as part of the package.
Plus, now that laptop manufacturers are pushing out Ivy Bridge-equipped laptops, the Blade settles for a 2.8GHz Sandy Bridge Core i7. The GPU, too, is not the latest and greatest, with a mid-range 2GB NVIDIA GT555M card towing its graphics along.
It's not exactly a deal-breaker. Many games on demo at a launch event yesterday – including Battlefield 3 and Mass Effect 3 – were able to break the 30 frames per second barrier, on screen resolutions of at least 1,600 x 900. It's no gaming monster, but it's okay.
Razer is quick to point out that the Blade's true key selling point is the slim form factor never-before-seen in gaming laptops. CEO Tan Min Liang said they wanted to redefine gaming laptops, and that people who gloat over have two more FPS than their friends is not the target market.
But then again, even medium-hardcore gamers are usually the people who are more particular about their GHz and GB and FPS numbers, so this strategy could yet back-fire.
Switchblade UI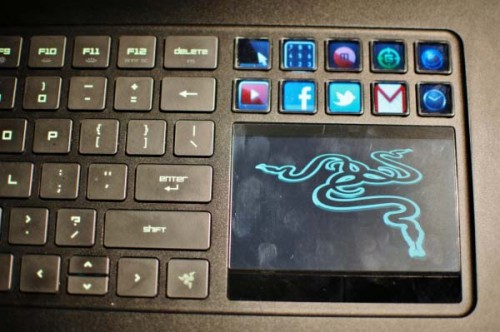 If there's one reason you should consider the Razer Blade, it's definitely the Switchblade UI. It's an interesting innovation that could spawn a whole new breed of gaming laptops.
Instead of a traditional trackpad in the middle of the palm rest, the Blade has a glass screen to the right of the keyboard which doubles as a "mobile phone quality" LCD screen (800 x 480) and ten programmable buttons on top.
I'm not so sure about "mobile phone quality", but the concept is certainly interesting. Although it's a part of Windows 7, it runs a separate task launcher. Currently, the apps available are sparse, and some are not even apps. Pushing the Twitter and Facebook buttons, for instance, brings up their mobile sites in Internet Explorer mobile.
But the YouTube app shows the tiny screen's true potential. Imagine playing a game where you got stuck (let's be honest, we all have those moments!), and have to look up other players' guides on YouTube. No need to disrupt your game play; just hit the tiny YouTube icon and search for video hints which plays right there.
The ten buttons on top are also customisable as an app launcher for Windows, or a spell launcher in games. Instead of memorising which keys cast which spells or which button to press for a particular special skill, the icons are displayed on the buttons themselves, which is fantastic for split second responses in-game.
These custom key settings can then be sync'd with your profile across devices with the Switchblade UI, including the "Star Wars: The Old Republic" keyboard.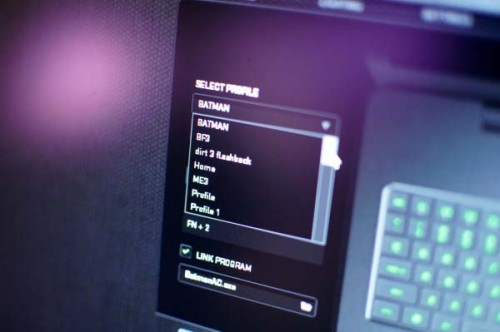 Razer has plans to open up an SDK for developers and enthusiasts to build and share their own apps and custom key settings with other users. The company firmly denies that it will be an avenue to sell apps, at least not for the time being, and it's only for gamers to share with each other.
The most obvious downside to the glass panel is that left handers might have a bit of a problem with the trackpad on the right side instead of the middle, and it will take some practice to train your right hand.
Bottom line
Mobile gaming has never looked this good. The Razer Blade is quite a laptop, and I have no doubt many enthusiasts will shell out for it. But at the same time, the same enthusiasts may already have their own killer rig at home. It's kind of a catch-22 situation for Razer here.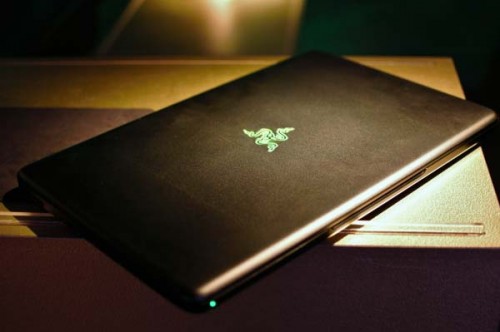 For a limited time, Razer will give away a free Orochi gaming mouse for every Blade sold. It's a nice add-on, considering that no one would want to play games on a trackpad, no matter how fancy. But it's while stocks last, so if you want it, you'll have to hurry!
If you do buy one, bear in mind that this is a first-generation product, and being an early adopter will surely have its pains. You might be hoping that Razer doesn't announce an Ivy Bridge and GT650M version in a couple of months!