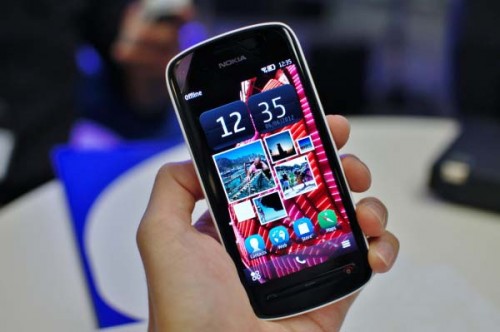 Smartphones are already taking over as one of the most popular ways to take and share photos, but the image quality just isn't quite as comparable as good point-and-shoot cameras. With the 808 PureView released in Singapore last week, Nokia probably struck yet another nail in the coffin of basic point-and-shoots.
Design and hardware
There's nothing extraordinary about the 808's hardware and design. It's very chunky, and it probably won't fit into the pockets of a pair of tight jeans. There's no question that sexy design wasn't a particularly key focus of this phone.
Having said that, the 808 is ergonomic, and, although a tad heavy, feels pretty good in the hand. Some of Nokia's legendary sturdiness also shows, and I really wouldn't want to drop this phone on my foot.
The 4-inch AMOLED display is rich in colour, which is a great complement for photography. It's also protected by tough Gorilla glass. However, it's resolution is a disappointing 360 by 640 pixels, although that's slightly mitigated by Nokia's ClearBlack technology which gives the screen enough contrast to make you overlook its pixels.
Powered by a 1.3GHz single-core processor, the 808 has 16GB of internal storage and a microSD expansion slot. It's OS of choice is Symbian Belle, a somewhat curious choice now that Nokia is going all in with Windows Phone.
We're told the PureView tech has been in the works for five years, and Windows Phone was barely a twinkle in Microsoft's eye back then. But Nokia has repeatedly mentioned that the PureView tech will be coming in "future products", which mostly likely means Windows Phones.
Round the back of the 808 is a large protrusion that packs in the phone's unique feature: the 41-megapixel sensor with Carl Zeiss optics and Xenon flash.
"PureView" camera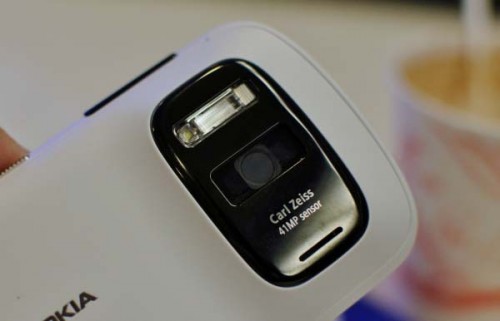 Regular consumers might be captivated just by the 41-megapixel spec, but the camera on the 808 is a lot more than that. In fact, it won the Best Imaging Innovation for 2012 from the Technical Image Press Association.
The sensor size is a whopping 1/1.2 inches, the largest ever in a camera phone, and even larger than many point-and-shoot cameras in the market. This large sensor relies on a pixel oversampling method which reduces a raw 41-megapixel image down to either 5- or 8-megapixels, allowing greater detail and noise reduction in the final images.
The 26mm wide-angle lens has a relatively fast f/2.4 aperture, which combined with the large sensor produces a rather shallow depth of field, producing a more noticeable bokeh effect under appropriate circumstances.
There's even a built-in neutral density (ND) filter which is useful for landscape photography.
The 41-megapixel sensor also allows lossless digital zoom, as you're essentially just cropping in on a very high-resolution image. The zoom limit is dependent on your chosen output size, and no pixel oversampling occurs when you're completely zoomed in, as the camera would have tossed away the extra pixels. This would decrease the image quality in some ways, as the impressive detail and noise reduction that comes with oversampling isn't present.
The 808 is capable of taking video at 1080p, 720p, and 360p qualities. Even when taking video, the sensor can oversample pixels, enabling up to 4x lossless zoom in 1080p, 6x in 720p, and 12x in 360p. A separate video processor handles pixel scaling. That's yet another processor on top of the image processor and the 1.3GHz chip.
Nokia didn't skimp when it came to audio, too. The dual microphones include the Nokia Rich Recording technology, which has a frequency range of 25 Hz to around 19 KHz. It can also capture sounds at up to 140 decibels of loudness without distortion, previously only possible with external microphones.
Camera software
To take advantage of the camera hardware, Nokia has also beefed up the camera software.
There is the obligatory full auto mode for quick and fuss-free shooting, and the standard scene modes such as landscape and portrait, where the camera decides which settings to use that is best suited for your situation.
Users can also pre-set three creative shooting modes, where you can control a wide variety of settings, including output resolution. Besides the 5- and 8-megapixel PureView outputs, which give you manageable file sizes, you can also shoot full 34-megapixel photos. (Remember, only the sensor carries the 41-megapixel spec, to allow for different aspect ratios and pixel oversampling.)
ISO can be jacked up to 1600, and there are effects like black & white and sepia to play around with.
There's no HDR mode, but the exposure bracketing function should satisfy power users who can manually combine multiple exposed shots into an HDR photo later on.
A standard photo and video editor is also included in the phone, for those quick corrections such as cropping and rotating.
Sharing photos and videos is also easy through a variety of mechanisms. You can do it online with social networks, by tapping on a phone that supports NFC (near-field communications), or by hooking up the 808 to an HDTV via HDMI or wireless streaming.
Bottom line
The PureView technology indeed brings camera phones up to the quality of point-and-shoot cameras, but the 808 is still held back by several factors, such as the enormous bump in the phone's chassis and its solid but unpopular operating system. At an asking price of S$839, it's not very cheap, either.
Right now, perhaps only photo enthusiasts who are looking for a high quality camera phone with good video capabilities will take the jump, especially those who have been patiently awaiting a replacement for the beloved N8.
The rest of us may want to wait until PureView comes to Windows Phone, because it's proprietary to Nokia and will likely not see implementation in other any other mobile phone brands.