Adobe unveiled three free iPad apps last week that gave creative professionals more power on the go.
Adobe Mix, Line and Sketch are meant to showcase what the new hardware can do for professionals who don't want to be tethered to the desktop, or even pen and paper.
Unfortunately, the software company's first pieces of hardware – the Ink and Slide stylus and ruler set – accompanying the software launch won't make it to Singapore for now. They will go on sale in the United States for US$199.
Thankfully, the new apps are pretty good.
Adobe Photoshop Mix is another effort by Adobe, following Photoshop Touch and PS Express, to enable iPad users to manipulate and touch up photos.
Unlike those earlier efforts, Photoshop Mix lets users apply pretty effects that many other photo editing apps on the iPad already let you do, like tweak colours, saturation, exposure, contrast, and the like. But it lets you apply magical effects, like remove backgrounds from objects you've selected, so you can do creative things like change the background image.
Adobe Sketch is pretty much similar to Fifty-Three's popular Paper app. It appeals to anyone who wants to sketch simply on the go without being distracted by complicated controls.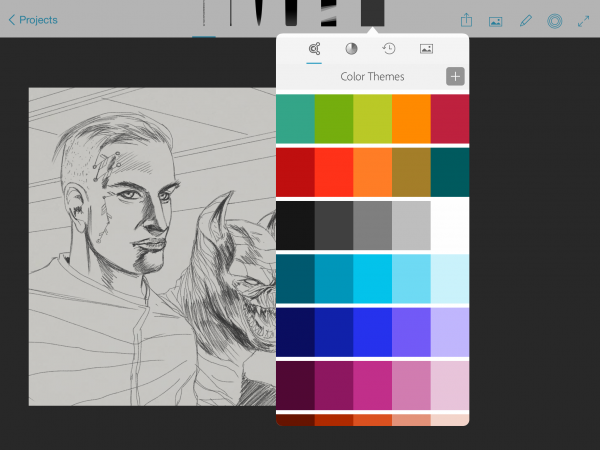 But its simplicity means there's nothing like layers support, or the ability to control the size of your brushes or lines. Again, the app's potential would only be unleashed with Adobe's Ink and Slide hardware. Using the app at the Singapore launch last week, I often wished I could control the size of pens and paint brush, but found Sketch an enjoyable experience nonetheless.
As someone who dabbles with painting on the iPad, I found Adobe's inclusion of Color Themes really useful. Color Themes are a set of colours that go well together. You can create your own Color Themes from selecting a photo or image. Sketch will simply convert that to a new palette set. It's that smart.
Finally, Adobe's Line app is a drawing app with another user group in mind: designers, architects and such. It is as it sounds, an app great for doing line work. It also incorporates a perspective tool to aid you in your technical drawings. It also comes with certain shapes like circles, French curves and even Herman Miller chairs to juice up your creativity.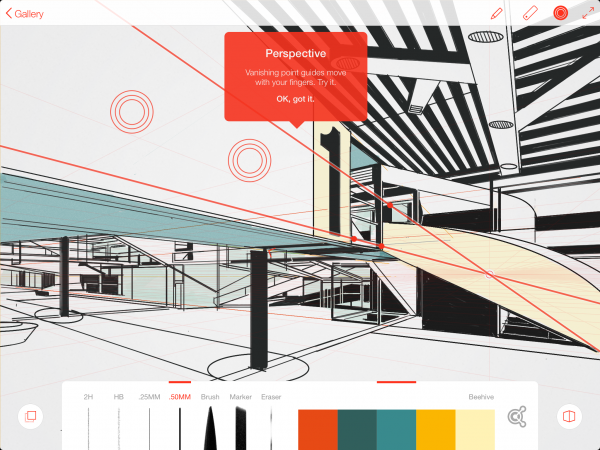 Of all the apps, Line is probably the one with a slightly higher learning curve. At times, I'm not sure what the symbols on the perspective grid or tools mean. I'm sure I'll get the hang of it once I tinker around some more.
These apps come on the heels of the recent release of Lightroom for iPad and iPhone.
All three apps are Creative Cloud-enabled, so your output is synced across devices. You can also publish your work to Adobe's Behance community—a social media platform for sharing and discovering art.
For subscribers of Adobe's Creative Cloud, it also means you can prototype work on your iPad, and send it to Photoshop on your desktop to make final tweaks.
Bottom line, while it's disappointing that Ink and Slide aren't coming to our shores, we can thank Adobe for giving creative hands the power to doodle and put vision to paper no matter where they are. No more sketching on that old bar napkin.