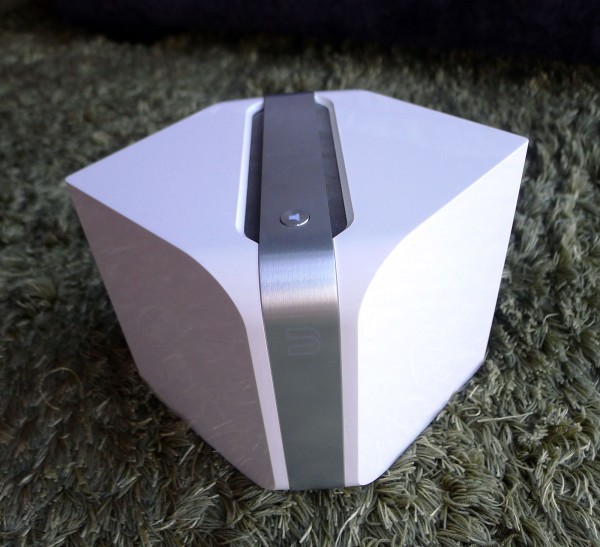 If you want to stream your music at home, there are lots of ways today. Connecting your smartphone to a supporting amplifier via Bluetooth or hooking up a USB hard drive are two popular optipns.
But there are times you want more. If you want your thousands of songs centralised in a network server that everyone can access from their PCs and tablets, besides your living room hi-fi, then the Bluesound Node is what you might be interested in.

This purpose-built box is a streaming device that takes songs in various formats over the network and connects up to your hi-fi system either digitally to a DAC (digital analog converter) or via an analog connection to your pre-amplifier.
I have in my library 180GB of music and 9,700 files, including cover images. No way am I fitting all that into a small device like the smartphone. When I store the songs in a central network attached storage (NAS) device, the Node is an easy way to play them back in the living room.
I actually tested the device both at home and at a friend's place. Both of us found the setting up really easy after taking the unit out of the box.
Like hi-fi speakers, the Node is nicely packed in a protective cloth bag, while the cables are individually contained in neat plastic bags telling you what's inside.
The unit itself has hints of metal and comes in either black or white. Both look accomplished and should fit in with the rest of your living room components.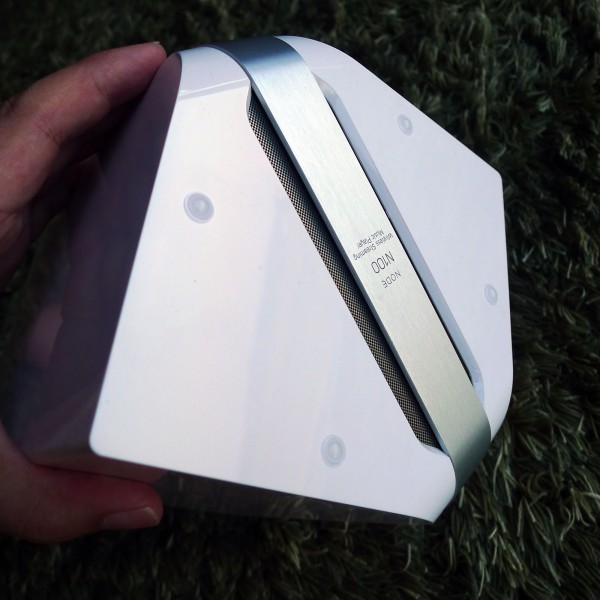 The only issue I have is its size. Essentially a small device inside, it has a stylish angular exterior that makes it larger than it needs to be. Not an issue if you got space, but in tight Singapore apartments, this could be an important consideration.
Like the excellent Logitech Squeezebox Touch before it, the Node supports both Ethernet and Wi-Fi connections to your home network. The difference is in the Node's 802.11n support, which lets you hook up to newer networks without forcing your router to hang around for the older 802.11b standard.
During my tests, my pal and I hooked up to our DACs via an optical connection. Sorry, no S/PDIF here for folks looking for an electrical link. Doesn't matter to most users unless you already invested in an expensive S/PDIF cable, of course.
The edge that the Node has over other streamers, such as the sadly discontinued Squeezebox Touch and the current Sonos Connect, is support for very high-resolution 24-bit, 192Khz tracks. If you buy lots of such tracks from sites like Hdtracks, then the Node lets you play them back at maximum resolution.
There's always the question of whether you can hear the difference. But hey, it's good to have hardware that doesn't limit you, especially if you have already invested in those tracks.
Setting up the unit was easy enough. Follow the instructions to download the app to your Android or iOS smartphone and you get started quite quickly. The various colours on the LED light at the front gives you a hint of what's going on as the Node processes songs in the network.
That's actually one thing I'd hope the Node could do faster. The Arm Cortex A8 processor running Bluesound's Linux-based BluOS should be pretty zippy but it can still take quite a few minutes to index the songs in a large library. Fortunately, you only do this massive process once, even if you add music later.
Decisions to buy such streaming units often come down to the interface used to control and scan through the music library. Here, I found things really smooth, whether I was using the Bluesound app on an Apple iPad mini or a Samsung Galaxy S4.
I found the look and feel niftier on iOS, because it doesn't suffer from Android's inherent need to list things in a very systematic if unattractive manner. Album art is easy to flip through, as if you are looking through a row of CDs or records.
And that's from someone who has been using the Squeezebox Touch and accompanying Squeeze Commander app all this while on his Android devices. With the Bluesound app, I did find it hard to locate the slider to move through a track initially, but I'm sure this was down to getting used to things.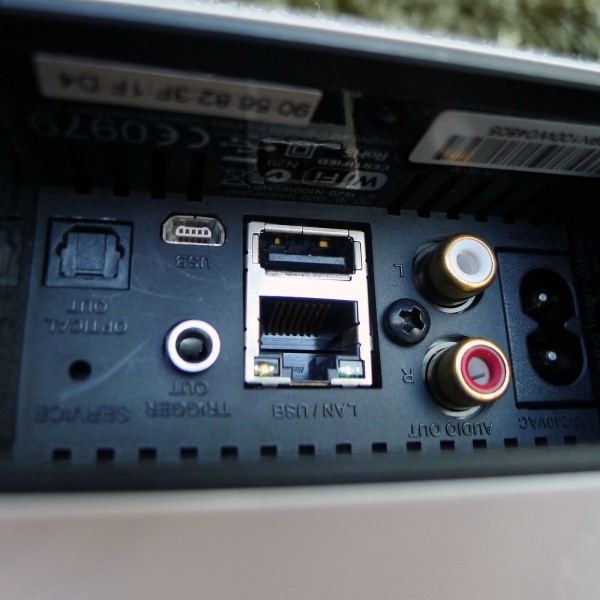 How does the Node sound? I won't put much emphasis on this in this review because most of the time, I connected the device digitally to both the DACs I tested it with (a Belcanto DAC3.5VB and a PS Audio Digital Link III).
That means it didn't do much sound processing that affected the final output – unless you believe the decoding of tracks has some effect on audio (I haven't heard this myself).
Certainly, songs I played on the Node sounded similar to when I heard them delivered on my Squeezebox Touch, which I still use today (see the original setup). I would have tested the Node's in-built DAC more thoroughly here, but this Cirrus Logic unit won't be the main reason I'd be buying the Node.
Its real selling point is the convenience of streaming thousands of tracks from a central storage location, while supporting some of the most popular formats such as MP3, AAC, WMA, FLAC and WAV.
There's also support for TuneIn Radio, which works but isn't spectacular after you get used to lossless quality music. There's no Spotify, but I guess this is when you can stream via Bluetooth from your phone to the Node, which it supports as well.
On the whole, I liked this streamer. Better than what Sonos and Logitech have put out of late – they have turned to more "mass market" connected boomboxes – the Node is one device that folks looking to digitise their music collections should seriously consider.
Yes, there are hi-fi companies throwing the kitchen sink, including big touch screens, into expensive network streaming kits costing a few grand. No need for them, unless they come with great built-in DACs you actually plan to use.
I'd easily spend the money saved from buying the S$649 Node on something that really matters, like a separate DAC, a pre-amplifier or a pair of speakers.
The Node itself isn't cheap compared to the S$499 I paid for the Logitech Squeezebox Touch back in 2010 but then that discontinued product is going for around US$699 (S$872) on Amazon now.
That's testament to the demand for a good standalone streaming device that doesn't burst the budget. The Node is that device now.
If I don't already have the Squeezebox in place, I'd have gone with the Node as the centrepiece today to get my high-quality music files played on my hi-fi setup.
UPDATE 01/10/2014: The Bluesound Node now supports Spotify, so it streams directly the millions of songs available in that catalog.