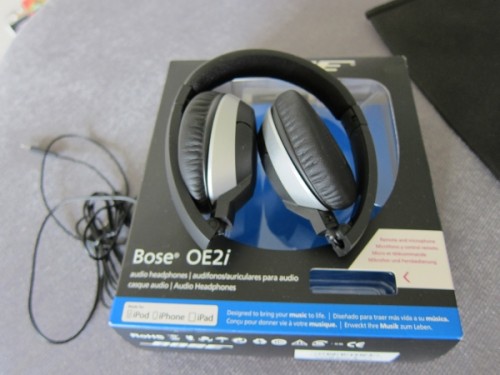 Bose makes some good, if expensive, active noise-cancelling headphones in its Quiet Comfort series, so when I tried out its more affordable OE2i headphones last week, I had high expectations.
The "i" in OE2i refers to the additional microphone and inline remote control that you can use with Apple devices such as iPhones and Macbooks. If you don't need these features on the S$269 headphones, then there is the S$219 OE2 – without the "i" – which works like a typical pair of headphones.
First off, like all things Bose, the OE2i impresses with its petite design. It is not that much bigger than most small headphones that you'd bring on an everyday train ride, and it gets even smaller when you manage to fold up the headphones.
The earpieces themselves can be folded in, along with two other joints on the head band, making the OE2i a really nifty pair of headphones to carry around. The cable attaching the main unit to your MP3 player, smartphone or computer is also removable, so there's no excuse for ugly tangled wires either.
Surprisingly, for a pair of headphones this small, they sound much bigger than you'd think. The top-end is not harsh, thin or overly bright, as you might expect of many small headphones. Instead, you get a roundedness and body in the sound that is a little unexpected.
To be sure, there are limitations. The separation of, say, the different instruments at play, will be nowhere as precise as headphones which feature much bigger drivers. But yet another thing I was quite happy to discover with the OE2i was that there was an absence of a muddy bass or headache-inducing over-emphasis on the low-end of the sound spectrum.
Playing Massive Attack, for example, let me know that the OE2i were actually quite careful with the delivery of the bass. Actually, at times, I feel Bose is being a little too polite with the bass, but I'm not complaining since I play jazz vocals and bossa nova tracks more often.
Generally, when I tried the OE2i with both my Apple iPod Nano (playing MP3s) and Samsung Galaxy S II phone (playing lossless FLAC files), I can have few complaints about the headphones, if my preference was indeed for a compact unit.
Sure, compared to much bigger headphones or active noise-cancelling cans, the OE2i does not cut out external noise as successfully. But again, for its size, it does a pretty good job of it. Certainly, the quiet hum of air-conditioners and fans are generally not an issue – perhaps loud chatter on a busy MRT train might be more of a challenge.
What also impressed me about the OE2i is the comfort it offers. Again, this belies the small size of the headphones and the padding included. The "memory foam" on the ear pieces helps make sure that your ears are never pressed too tightly despite a snug fit, while the padding on top of the head band softens the grip of the headphones effectively.
Like all Bose gear, the OE2i is not cheap. But if you like a really compact pair of headphones that offers above average audio, they are well worth checking out. And if your budget is a little tight, the OE2 which costs S$50 less without the extras may be a more attractive bet.