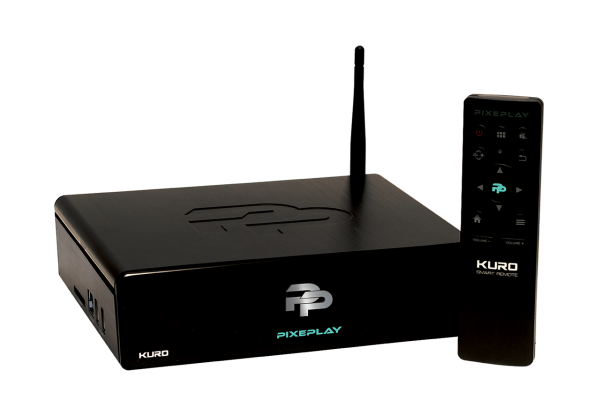 It isn't the first to come up with an Android TV box, but Singapore-based PixePlay sure has one of the most high-powered ones around in its recently-unveiled Kuro Smart Player.
Plug this device, the size of a box of chocolates, to your TV and it delivers various sources of videos and images from the Net, your network drive at home or a hard drive connected to it.
As an Android device, it streams various programmes, say, TV channels, using similar apps that you'd use on your tablet or mobile phone.
What the folks at PixePlay have also included in the Kuro is support for Windows networking, so you can connect up to your home network drive or other PCs storing the videos.
This is also an enclosure for popping in your own 3.5-inch or 2.5-inch hard disk. And yes, it doubles up as a download station should you be a regular downloader of stuff over the Net.
What powers this do-it-all box is a dual-core Huawei HiSilicon 3719C chip, 400MHz Extreme 3D graphics, 1GB of RAM and 8GB of flash memory. Trust Singaporeans to get the top-end hardware onboard.
According to PixePlay, its capabilities are better than rival offerings such as AC Ryan (see comparison chart). I'd also applaud the company for including handy USB 3.0 and HDMI 1.4 cables in the package.
If the specs don't interest you, it's suffice to say that the hardware onboard will play most of your Full HD videos without fuss. Formats it supports include the regular AVI, MKV and MP4 formats as well as Blu-ray specific ones such as BD-ISO (rips from Blu-ray discs).
Audio-wise, the box works with high-quality formats such as Dolby Digital TrueHD and DTS-HD Master Audio. So, if you're playing back high-quality videos, you'll be fine with the Kuro.
During the time I tested out the box, I also tried streaming videos from the Net. You can download the apps for PPTV or Tudou, popular channels that deliver Chinese drama serials and the like, but if you want to view the latest stuff, you'll find that they are blocked for audiences outside of China.
On the PC, many users "unblock" this by installing a plugin on their browsers. On an Android box, this is a little trickier. One workaround is to sign up with a broadband operator such as ViewQwest, which has a deal to bring PPTV content to Singapore.
One thing that struck me about the Kuro was its rather neat interface. PixePlay has put up a nice home screen that gives instant access to movies, for example, without having you look for an icon on the Android App Drawer.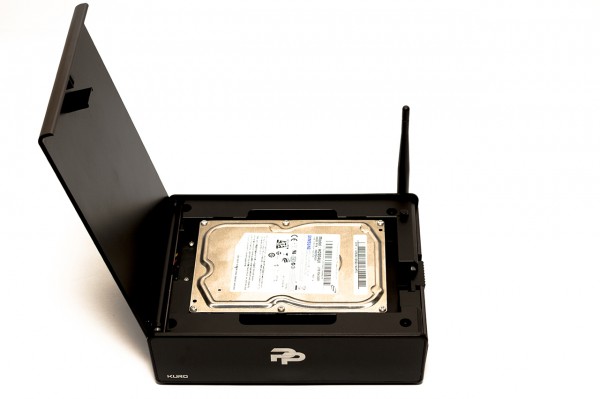 Even the easy flip cover to pop in a hard disk is idiot-proof. You don't have to know how to install one beforehand to add up to 4TB of storage to your Kuro box.
Another thing I have to mention is the very nice remote controller that comes with the Kuro. On top of the usual directional keys to move around menus, it lets you move the cursor on the screen by waving it at your TV like a wand. This really helps you get around much faster because Android is largely a touch-based interface.
The remote also lets you more easily play any Android games you might download. It takes a bit of getting used to but it's a nice addition if you got kids at home who want to play casual games without powering on an Xbox or Playstation.
On the whole, I'd say the Kuro does its job pretty well. At S$229, it is not the cheapest box around, but it's surely one of the most feature-rich and easy to use.
Its main competition comes from smaller, cheaper streaming-only boxes from the likes of Xiaomi. The Chinese company's MiBox Pro has a quad-core chip, 2GB RAM and does 4K video for just ¥399 (S$80). You don't have a compartment for slotting in a hard disk, but you can hook up an external hard disk.
Compared to its smaller rivals, the Kuro is still worth considering for its capabilities and user-friendly interface. Just make sure you shop around and look out for the best deal that fits your needs.
UPDATE (Jun 24, 2014, 1:15pm SGT): The price for the PixePlay Kuro was initially stated as S$199. The manufacturer has clarified that the price was for a promotion that is over now. The current retail price is S$229.