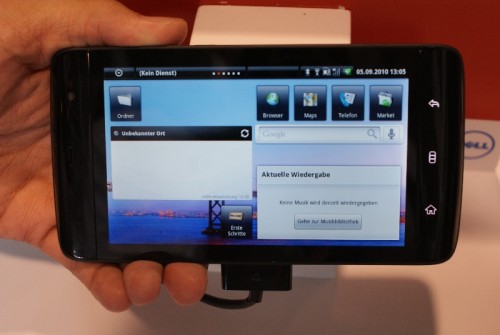 From the Dell Streak to Viewsonic's Viewpad, tablets were out in force at the IFA Berlin electronics show this week.
At least in their current state, none of them are as good as the Samsung Galaxy Tab, whether this boils down to the responsiveness or screen brightness. But at least you'll be spoilt for choice come Christmas, when these gizmos hit the shelves at differing price points.
In order of excellence, here are some quick hands-on opinions on non-Galaxy Tab tablets:
1. Dell Streak
If I hadn't seen the Galaxy Tab, this slick number with a 5-inch screen would have earned my vote as the best tablet around. It's small, so you won't want to read too many e-books on it. But it's fast, responsive, really sleek and has a pretty bright screen. Now on Android 1.6, but with Android 2.2 updates promised very soon, this is the only real competition for Samsung.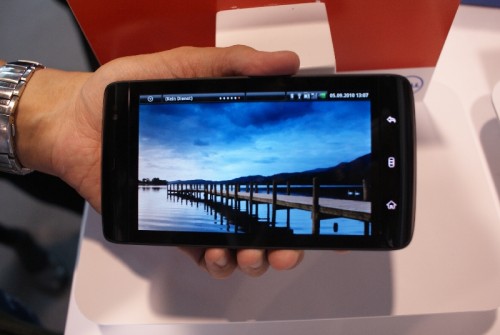 2. Toshiba Folio 100
Toshiba look like they have not finished an otherwise promising looking product here. A 10-inch screen means it means business and a rather nifty response to swipes across the screen tells us this €399 Nvidia Tegra-based device has the power to deliver demanding tasks. But the Folio needs a bit more polish – this looks like a plain vanilla device now, without any customisation.
3.  Viewsonic Viewpad 7 and 100
This LCD screen maker has come up with not one but two tablets here at IFA. The smaller Viewpad 7 has a 7-inch screen offering Android 2.2 goodness. It's still a prototype, so we'd be kind here. The 800Mhz processor here is a little slow, thus contributing to a slight lag when switching apps. This €399 device is out possibly as early as next month, say Viewsonic folks at their booth.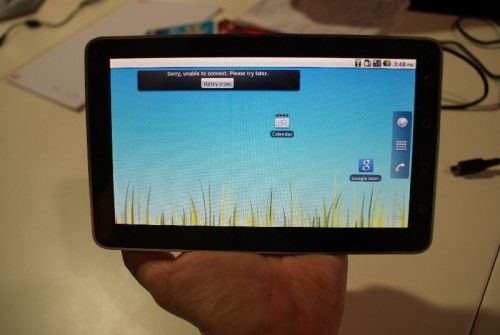 What we didn't get to see today was the Viewpad 100, which seemed pretty unique. Running a more beefy Intel Atom processor, the 10-inch tablet runs both Android and Windows 7. Want to save power and surf the Web? Use Android. Require a more robust interface? Fire up Windows. We have to be cautious with this €529 device though. Like Viewsonic, rival HTC has done a Windows (Vista) device before called Shift, and it didn't do too well because Windows required a full bootup.
4. Huawei Ideos S7
It is running Android 2.1 alright, but of all the tablets I came across here, this had the worst screen. Not just dim, it was hardly responsive when I swiped my finger across. The browser also looked dated next to newer Android 2.2 devices listed above. A lot more work is needed from Huawei before this will be welcomed by users. The Ideos S7 is also proof that you cannot simply slap together some commonly-used hardware and fire up Android on a tablet.