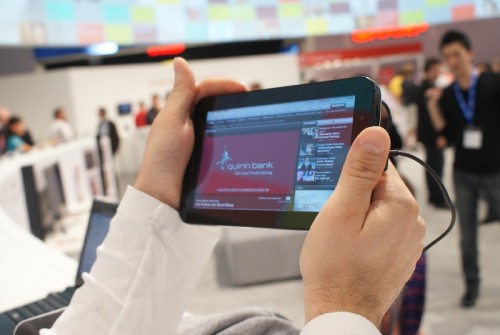 When I got my hands on the Galaxy Tab here at the IFA show yesterday, I couldn't help an evil thought: what would Steve Jobs' face look like if he had seen this little Android wonder from the Korean electronics maker?
After the iPhone made smartphones popular, along came better, improved versions from Samsung, HTC and Sony Ericsson which are now making the Android platform more popular than Apple's.
Now, just months after Jobs and his Apple hyped the iPad to high heaven, along comes a better version from Samsung in the shape of the Galaxy Tab. The formula is clear: let Apple "lead the market" with the hype, then enter it with better products.
Make no mistake, this tablet from Samsung looks set to popularise tablets among the masses, particularly among the growing group of users who prefer Android's open approach to Apple's take-it-or-leave-it way of doing things.
What's great about the Galaxy Tab, after a brief hands-on with the device?
>> Great look and feel
Smaller and more "pocketable" (in a suit pocket, perhaps) than Apple's iPad, the 380-gram Galaxy Tab boasts a 7-inch screen that makes it both light and easy to handle. I feel this is the right size. It's bigger than the more phone-like Dell Streak and less bulky than the iPhone, which is troublesome to bring on travels.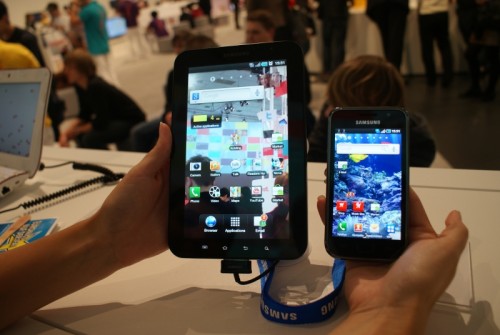 >> Really responsive
And I mean, really, responsive.  The underlying Froyo 2.2 OS from Google looks heavily optimised by Samsung here. Whether you are switching between apps (like YouTube), or zooming in and out of a newspaper page on the included e-reader software, the tablet responds instantaneously without any lag. Of course, it also helps that the tablet has a 1GHz app processor and PowerVR SGX540 graphics.
>> Speedy e-reader
Of all the software I saw on the Galaxy Tab, I am happiest with the e-reader. Loaded with newspapers such as USA Today and other magazines and books, it works like a gem. Zooming in and out of a page is fast and effortless, as is flipping through the pages. I can flip a newspaper page on-screen faster than an actual physical page. For once, I think I will read newspapers on a screen.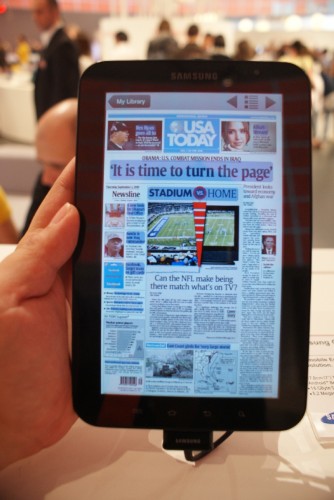 >> Dual cameras
What, not one but two cameras, boasting 1.3-meg and 3-meg respectively? Yeah, I can feel your pain, iPad users. The Galaxy Tab lets you take pictures and make video calls with front- and back-mounted cameras. To store your stuff, I'm sure the 16GB or 32GB onboard memory, plus a slot for add-on a microSD card (up to 32GB) will come in handy.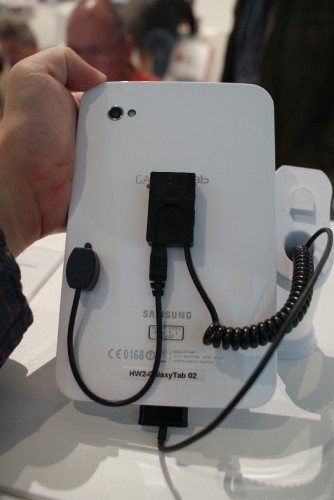 >> Useful software package
Anyone who's used Swype will tell you how fast it lets you text, and it's a good thing that Samsung has included the input software in the Galaxy Tab. Also here, of course, is Flash 10.1 for Android. If Flash doesn't matter that much to you on your Android phone, then surely it will do so on the bigger screen.
Think of booking tickets on sites that support Flash, or playing Flash-based games online. And, of course, watching videos on sites other than YouTube. It's a full Web experience – something the iPad will not give you.
Unknowns
The one big unknown here is the Galaxy Tab' battery life. Because all the demo units here at the IFA electronics show were hooked up to power supplies, there was no way to check how fast the pretty hefty 4,000mAh power pack drained.
Another question is price. Depending on who you believe, the Galaxy Tab will sell for between €699 and €799 (S$1,209 to S$1,381)in Europe.
The Samsung folks in Singapore, as expected, did not give any more details on pricing or availability, except to say that the tablet will ship by the end of the year.
If there is something I don't like – and which will stop me from buying it at launch – it's the price. I hope Samsung Singapore prices this sensibly.
With tablets from other electronics firms such as Toshiba's €399 Folio 100 (boasting a fast Nvidia Tegra chip and 10.1-inch screen, but looking a little less polished than the Galaxy Tab, to be fair) coming up with new offerings, it looks like consumers will have a good number of choices come Christmas.